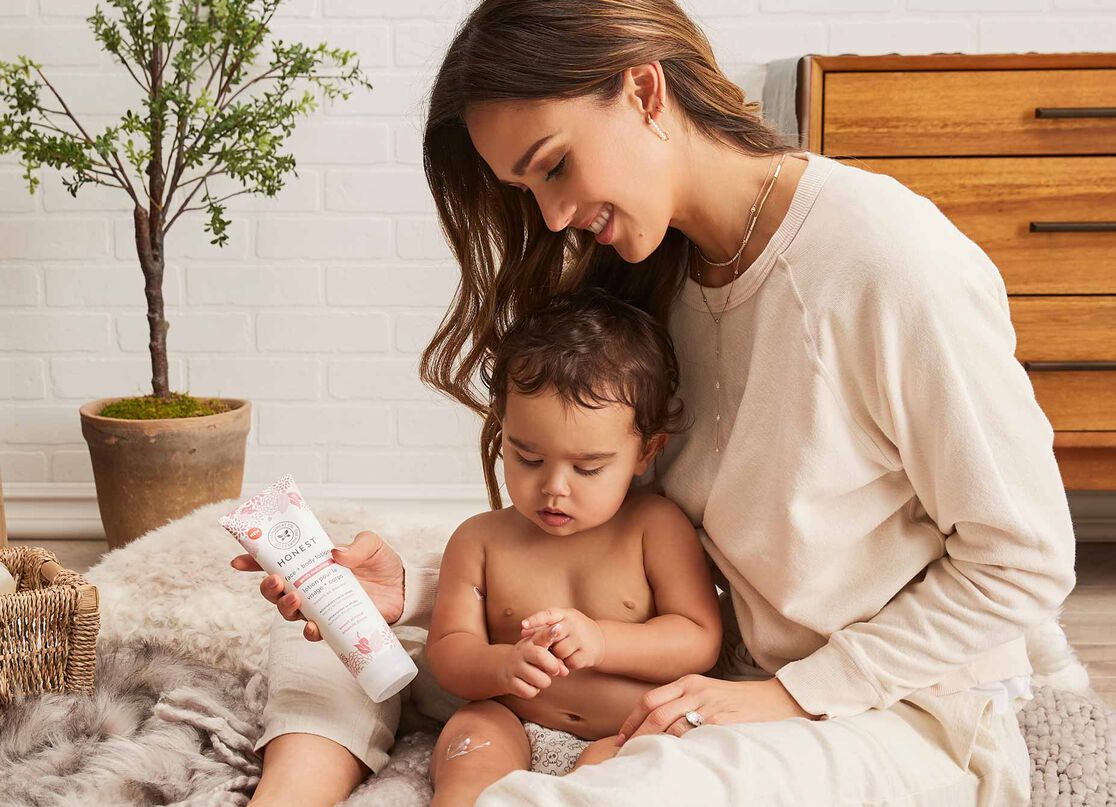 I've dealt with eczema symptoms, dermatitis, sensitive and dry patchy skin my whole life. Unfortunately, all three of my kiddos inherited my skin issues on various scales. Honor and Haven experience different levels of eczema flare-ups and dry patches, depending on what products they use, the climate, or their diet. On the other hand, Hayes is more like me - he has consistent problem areas. The skin on his outer thighs and arms are usually dry, raised and feel scaly.
I'm not going to lie, it's been challenging finding the right combination of products that would both ease his discomfort and nurture his sensitive skin. I felt helpless and frustrated that nothing really worked. My go-to MacGyvering tactics failed me, but worst of all, failed my little man.
In the meantime, we've been working on a very special project that's close to my heart. I'm so excited to share with you our Gently Nourishing moisture routine, made especially for babies with dry skin.
At the office, I'm steps away from our Honest in-house lab and I've been working with the team for a while to up our skincare game. And like all good things in life, it took time. Lucky for me and my Haysie boo, we got an early batch of the Gently Nourishing line to try and in one week, no joke, his dry patches disappeared completely.
We've been using our Gently Nourishing regimen religiously ever since! The Face + Body Lotion is next level: it moisturizes skin for 24-hours, smells heavenly and absorbs evenly and quickly into skin. I challenge y'all to find another lotion out there that is made with our level of plant-based ingredients and delivers this kind of performance. It's safe, it's gentle, and it gets the job done.
I'm always so proud of our team at Honest for creating these amazing products – especially for all the little babes out there like Hayes. Because, as parents, the one thing we should never have to compromise on is keeping our kids safe and happy.
Xo,
Jessica
For more skin-nourishing products, we recommend trying our Eczema Cream or Eczema Soothing Therapy Balm. Both products contain naturally-derived ingredients and prebiotics that temporarily protect and relieve minor skin irritation without harsh steroids.