Now that winter break is over and life is back in full swing, I look for fuss-free hairstyles for my little girls (they're great for moms too). We wash and go and avoid tangled topknots on a daily basis with these fresh new looks. And I promise doing their hair in a variety of ways doesn't need to be complicated. Here are some simple, stylish ways I mix up my girls' getting ready routine: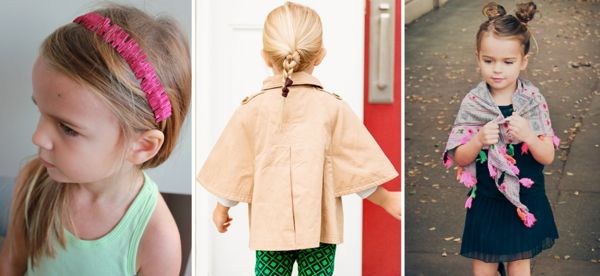 1. Add a bright headband. This headband took five minutes to make out of recycled crepe paper, and both of my girls can wear it. It keeps the hair out of their eyes and adds instant brightness!
2. Create a simple braid and tie it with something interesting. A little ribbon, bow, or stretchy hair tie makes it look fun and playful.
3. Rather than a basic topknot, double it! It gives a youthful look for little girls and prevents hair from falling in front of their cute little faces.
4. If you have a child that has a little extra patience and long hair, you can create another cute style that takes a few extra minutes. Braid the child's hair in two braids, securing each end. When finished, pull them gently to meet at the top of the head and twist the ends under one another. Secure each end with bobby pins under the braid. I like it when it's a little loose and imperfect, but you can definitely make it more precise. I love this look for extra special days, like Valentine's Day!
What are your favorite simple hairstyles for kids? Find inspiration on Honest's Style Pinterest board. And whichever one you choose, the Honest Shampoo and Conditioning Mist are the perfect duo for prepping your child's hair—her hair gets a moisturizing boost and will have nice beachy waves when you loosen her braids.
~ Kate Brightbill of Style Smaller