Summer is just around the corner (cue happy dance) and with it increased frizz, flyaways and breakage (pause happy dance). As much as we love sandcastles and pool floaties, all the added humidity, sweat and chlorine of summer add up to major tress stress. Good thing it's also the season to let loose and give your hair a break from blowouts by embracing carefree style. Here's are the summer hair hacks you need to beat the heat with healthy, happy hair — and save time while you're at it (resume happy dance).  
Skip the Blow Dry
Instead of blasting hair with a steady stream of heat, style it wet. Work a bit of leave-in conditioner into damp, towel-dried hair, then comb (don't brush) it back into an easy twist secured by a clip — we're partial to the classic, yet casual style of (faux) tortoise shell.   
Honest hack: When towel drying, squeeze don't rub your hair to help cut down on friction and minimize breakage.
And the Hot Iron
We repeat, skip the heat. Try going iron-free and giving a moment to messy buns or braids held together with a tug-free hair tie (see our reco below for ties that are basically jewelry for your hair). You just might find the reclaimed time is worth staying unplugged indefinitely. If you can't kick the habit entirely, make sure you're using a heat defense spray before you fire up that iron.
Honest hack: To create pretty loose waves for later in the day, pull hair back when it's still damp after a spritz of texture-giving sea salt spray.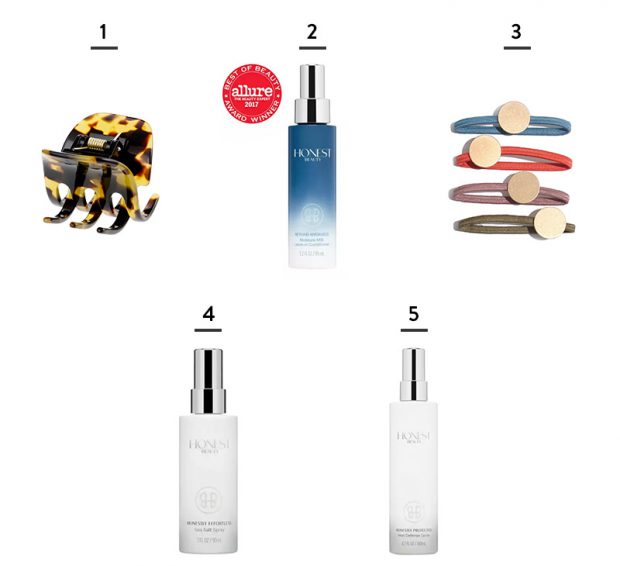 Pony Up (Or Down)
Although high and sleek ponytails will always be a go-to in our Book of Instant Chic, looser styles can help prevent hair from pulling too tight — which can cause breakage if hair is on the dry side. Now is a good time to own the low pony and bring your scrunchies back out of hiding (or replace them with the cuties below if, like us, you didn't keep your stash from the nineties).
Honest hack: Not feeling the scrunchie revival? A modern barrette is just as easy to pull off (and back into a half pony).
Do the Bobbi Stack
Updos aren't exactly practical for summer nights, but that doesn't mean you can't put all those accumulated bobbi pins to good use. The easiest summer hair trend is the bobbi stack — an elevated take on the behind-the-ear tuck (and a smart way to keep that tuck in place and hair out of your face). Short on bobbis? The ones below are GOLD.
Honest hack: To rock this style with short hair, try spraying the pins with a bit of hair spray to give them extra staying power without weighing down hair with excess product.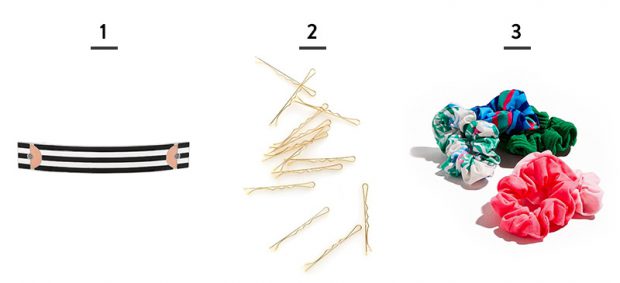 Keep It Under Wraps
Especially if you're going to be out in the sun, keeping your hair covered goes a long way toward preventing overdrying (and, ultimately, breakage and split ends). Straw hats are light, comfortable and easy to care for — and we think the floppier, the better. For a more polished look, a classic Panama hat is the way to go.
Honest hack: If your hair is struggling with brittle texture from over drying, try a head wrap instead of a hat. A repurposed silk scarf is ultra-gentle and sophisticated any way you wrap it.
Take Cold Showers
We're kidding (kind of). You could take cold showers to help seal cuticles and keep flyaways at bay, but we're not going that route because we like our showers steamy. Instead, try dabbing a nourishing balm like our fave below directly on flyaways to help smooth. Hot shower or cold, wash less often (but don't skip the shampoo entirely) and add a deeply nourishing hair mask to your haircare routine at least once a week.
Honest hack: Instead of your fingertips, use an old toothbrush or a clean mascara wand to comb the beauty balm at roots and tips.