Mom. There are no words that truly reflect everything she means to us. So, we look forward to showing her how much we love and appreciate her with special Mother's Day Gifts. From pampering presents to indulgent treats to homemade delights, we've narrowed down a sweet selection of eco-friendly, socially minded, and beautifully designed goods. Happy Mother's Day to all moms, grandmas, moms-to-be, and caregivers!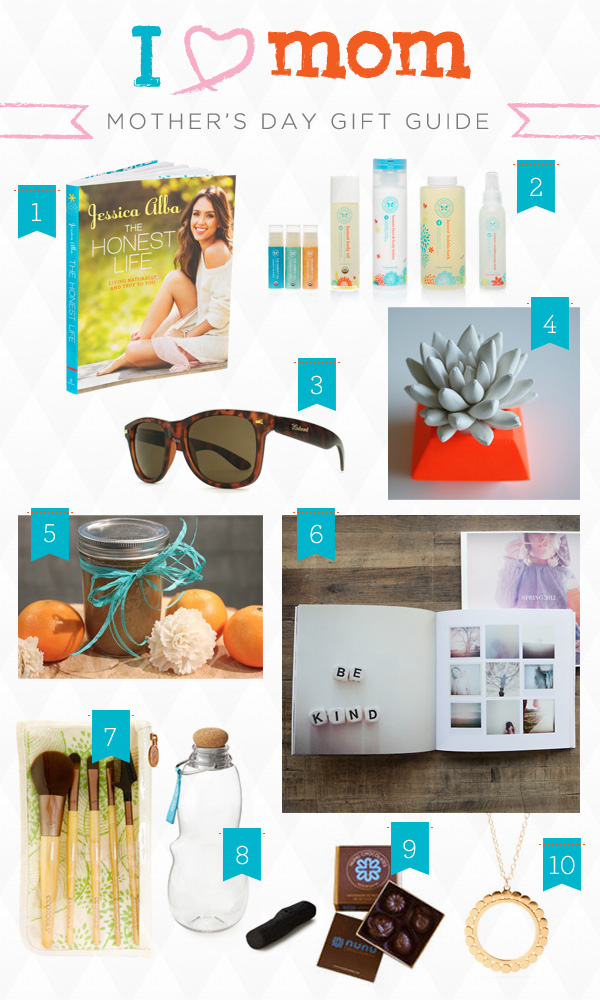 1. From one mom to another, Jessica Alba shares her tips and tricks for creating a healthy and stylish home. A go-to guide, The Honest Life is perfect for new moms as they seek to create a safe space for their little ones without sacrificing color, fashion, and fun.
2. Isn't Mother's Day all about spoiling your mom? Treat her to this indulgent Pampering Collection, so she can enjoy a spa-like escape at home.
3. For the chic mom-on-the-go, these cool Knockaround sunglasses in matte tortoise shell will be an instant classic that she can't live without.
4. Pretty and modern? Check. This handmade white succulent sculpture by Waterstone Succulents (sold via B Corp Etsy) is a stand-out alternative to flowers that will delight for years to come—no green thumb required.
5. A DIY gift often proves to be mom's favorite because of the love and care that went into making it. Try this simple and budget-friendly sugar scrub made from natural ingredients found at home.
6. Upload your favorite Instagram images and create a treasured book for your mom that captures your family's unforgettable moments. She won't put down this re-imagined photo album by Artifact Uprising.
7. Luxurious and eco-friendly makeup brushes from Eco Tools will leave your mom looking flawless and feeling pampered.
8. The sculptural Eau Good Water Bottle, which is BPA free and provides natural filtering, will look beautiful displayed on mom's desk—making even the mundane feel special.
9. Let your mom know how sweet she is with a great assortment of Nunu Chocolates that are totally natural and handmade from sustainably harvested ingredients.
10. Give mom a gift that gives back with this lovely Poppy Necklace, benefiting The Gorjana and Griffin Foundation and The Diabetes Research and Wellness Foundation (or support other charitable causes with these beautiful jewelry designs).
What are you surprising the moms in your life with on May 12th?