Valentine's Day has passed but, really, every day should be a day to celebrate love. Fall in love even deeper by experiencing a new destination together.
Evidence shows that trying new things with your partner keeps a relationship from getting stale. And traveling to a new place with your significant other is a great way to re-connect, laugh, and spend quality time together.
When you travel, you probably want the hotel to be as comfortable (or maybe more comfortable) than your home, but also easy on the environment. Many hotels and resorts now offer to skip the daily laundering of your linens to save water, energy, and soap, while others take the going-green a step further with organic and locally sourced food, eco-friendly room amenities, and sustainable building materials.
For your next getaway, we found a variety of eco-friendly hotels, resorts, and inns to suit your budget and spark some romance.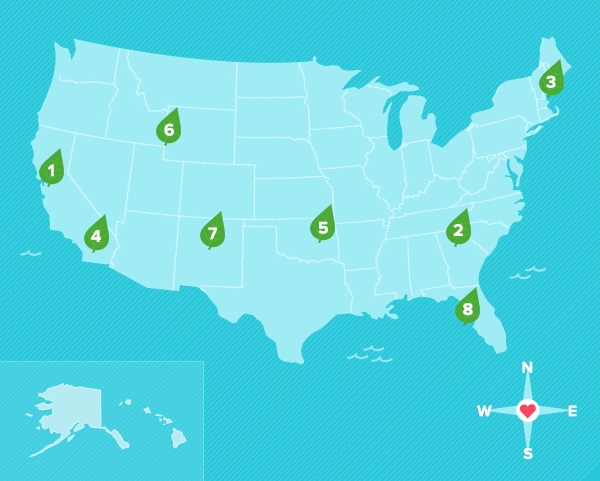 1. Bardessono in the small town of Yountville in Northern California's wine country is sleek, modern, and very luxurious. It's one of three hotels in the U.S. that is LEED Platinum Certified. Non-toxic and non-allergenic materials were used in construction of the hotel, the wood is milled from salvaged trees, and the linens are organic. You can also rent carbon-fiber bicycles to tour wine country or enjoy a complimentary yoga class.
2. Beechwood Inn in Clayton, Georgia located in the Georgia's mountainous wine country and is committed to eco-friendly practices. The Inn's guestrooms are stocked with organic linens and bamboo towels, plus biodegradable and dye-free products. Five acres of the property is designated as a bird sanctuary, and the Inn's habitat is certified by the National Wildlife Federation's worldwide network as a mini-refuge.
3. Inn by the Sea in Cape Elizabeth, Maine sits on Crescent Beach, located outside of Portland. The Inn offers sustainable and local cuisine in its restaurant, while rooms are stocked with eco-friendly items and bath products are packaged with recycled materials. The Inn is heated by biofuel and the pool with solar panels.
4. Sacred Sands Luxury Bed & Breakfast is one mile from Joshua Tree National Park. The structure was built using straw bales—a natural and sustainable building material that provides non-toxic insulation. The stucco and earth-plastered walls give the bed & breakfast an adobe-like feel. Each of the two guest rooms has a private outdoor spa with amazing views of the desert.
5. The Canebrake is Oklahoma's first eco-friendly resort. Sitting on a 250-acre family farm, the resort offers five miles of hiking trails through a varied landscape that includes marshlands, forests, and rolling hills. Take a yoga class at the resort's 1,700 square-foot studio constructed of sustainable and recycled materials (and painted with no-VOC paint!), or go fishing on the property's catch-and-release pond.
6. Fireside Resort in Jackson Hole, Wyoming takes camping to a whole new level. The resort offers romantic "glamping"—camping in style with hotel amenities. These tents help you tread more lightly on the earth than a typical energy-sucking hotel rooms. Sleep in a king-sized bed while listening to the sounds of nature. Step outside your tent and sit by the campfire or relax in the bath house with organic spa products.
7. The Bishop's Lodge Ranch, Resort & Spa in Santa Fe, New Mexico is naturally sustainable and green. Since it opened in 1916, local organic fruit grown on the property has been a staple of the cuisine served at the on-site restaurant. Water conservation is important at this high-desert ranch. The Lodge's housekeeping service avoids using cleaning, laundry supplies, or air fresheners containing fragrance. Take a sunset horseback ride while enjoying views of the mesas.
8. The Sandpearl Resort in Clearwater Beach, Florida is the first Silver LEED Certified in the state. Guests' leftover soap and shampoo is donated to an organization called Clean the World that melts down the soap, sanitizes it, and send it to impoverished countries. The resort uses ozone in its pools in order to sanitize the water while reducing chlorine levels. During your stay rent lounge chairs on the beach or take a kayaking eco-tour.
Have you ever stayed at an eco-friendly hotel? Tell us about it and your experience!