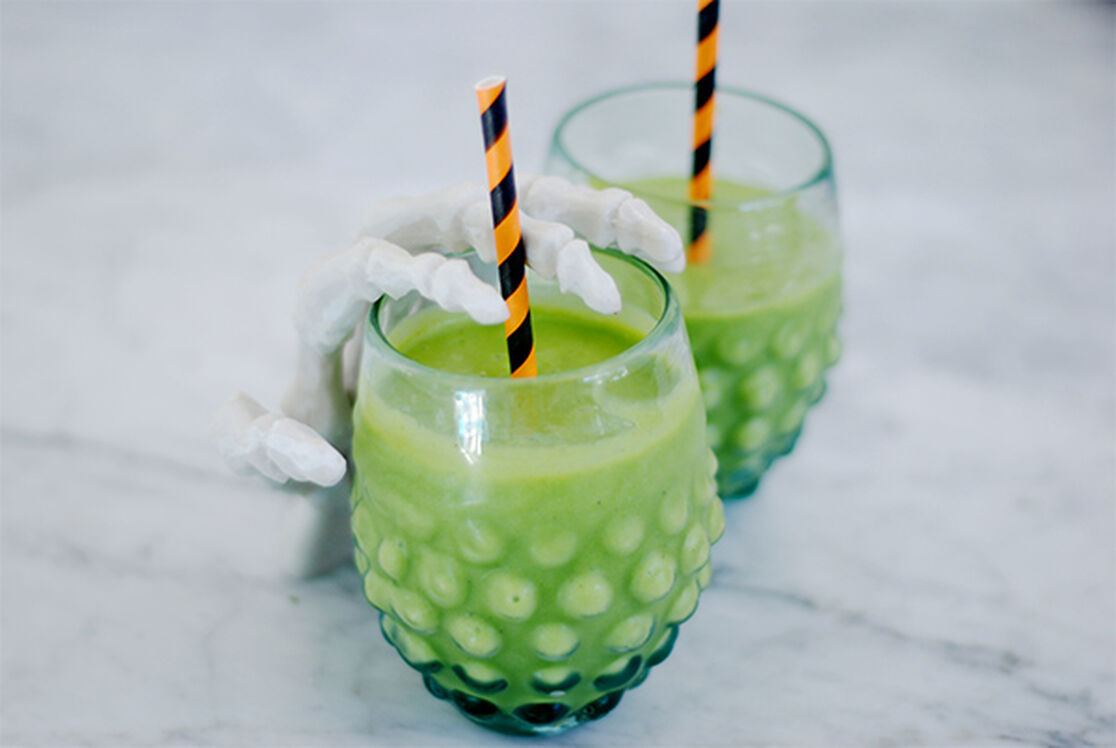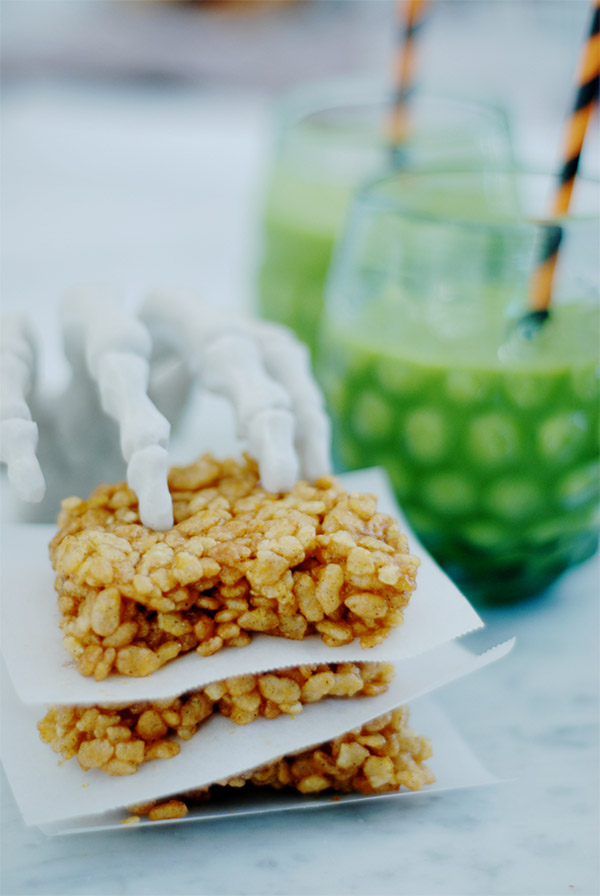 Here's Juli Novotny's fresh take on frightening snacks to prepare you for October's favorite festivities:
Halloween is already upon us and, as anybody that follows my Instagram knows, I'm a huge fan! A couple years ago, I adopted a life-size skeleton we named Skelly and now he's practically part of the family. He comes out annually around Halloween and finds a new place to hang out every day (check him out having tea at our dinner table). My kids get so excited each morning to wake up and see if Skelly has moved to a new spot.
Maybe Skelly is just as excited to share the treats that Halloween promises? You can still keep a sweet smile on your kid's face with healthy Halloween snacks that are so good it's downright spooky. From Ooey Gooey Green Slime Smoothies to Pumpkin Crispy Rice Bars, these alternatives to traditional Halloween candy can also be enjoyed year-round with just a simple change of name and decoration.
Check out the eerily excellent recipes below!
OOEY GOOEY SLIME SMOOTHIES
Ingredients
2 young coconuts, water and meat scraped out
3 handfuls of fresh organic spinach leaves
1 vanilla bean (insides scraped - throw out the hard bean shell)
Sweetener (2 tbsp agave or 10 drops stevia or 1 frozen banana)
Instructions
1. Combine first 3 ingredients in a high speed blender, then add in your sweetener of choice. I like using frozen bananas because my kids love them, but if you opt for agave or stevia instead, add a handful of ice along with it to maintain a thick consistency.
2. Blend until everything is smooth and there aren't any chunks. Mixture should be gooey.
3. Pour and enjoy!
PUMPKIN CRISPY RICE MARSHMALLOW BARS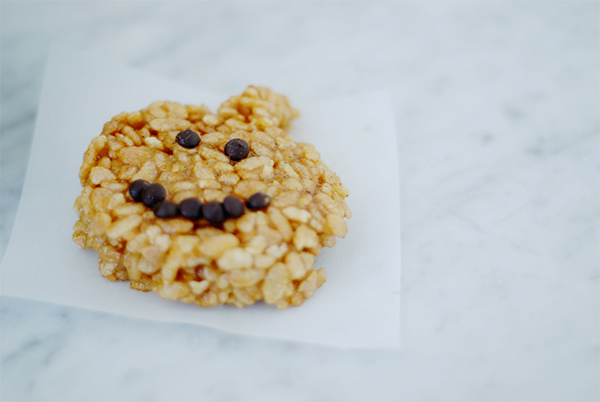 Ingredients
3 tbsp butter (or vegan margarine)
1 tsp arrowroot powder or cornstarch + very small amount of cold water
1 tub ricemellow creme
1 tsp vanilla extract + I used a little of the bean I used in the smoothies
1 tbsp pumpkin pie spice (mix of cardamom, cinnamon, nutmeg and cloves)
Agave syrup or brown rice syrup to taste
5 cups crisped rice cereal (I used Erewhon Crispy Brown Rice but you can use Koala Puffs or even Rice Krispies)
Instructions
1. Line pan with parchment paper. In a large pot, melt the butter over medium-high heat. Once butter is melted, add the arrowroot/cornstarch powder mixture and combine. Heat for another minute.
2. Add in the tub of ricemellow creme. Stir continuously until thoroughly mixed. Simmer for a couple of minutes. Add vanilla, pumpkin pie spices and agave syrup. Mix well.
3. Gradually add cereal, by incorporating 1 cup at a time. Continue to stir.
4. Spread mixture into pan and allow to cool. Cut into squares, and try not to eat them all at once!
Honest Tip: For orange color add a little dash of carrot juice or turmeric.
~ Juli Novotny of Pure Mamas
What are you most excited for this Halloween? Share your favorite Halloween traditions in the comments below!
We aim to provide you with the most honest and credible information possible. This article was reviewed for accuracy by The Honest Team and was written based on trusted sources that are linked at the bottom of the article.
blog_review_statement