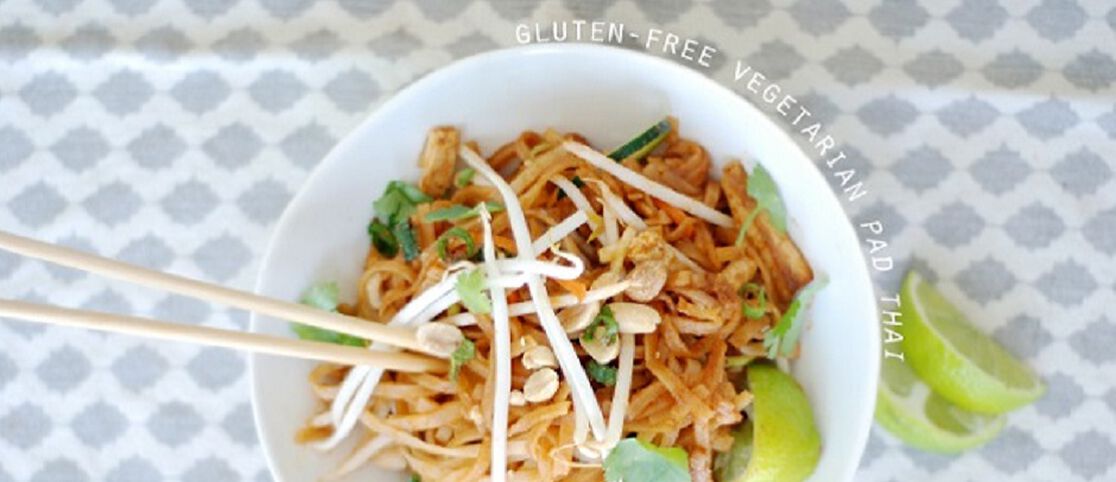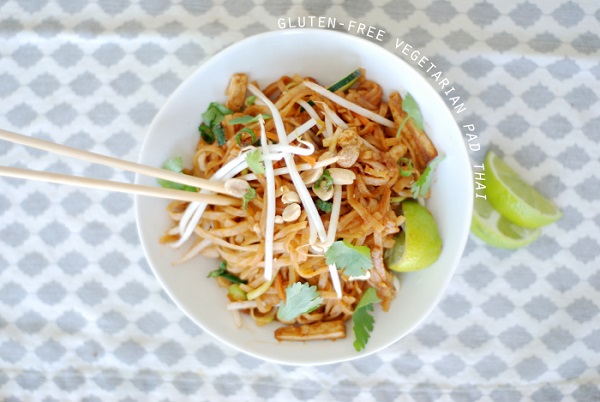 Keeping the family happy and healthy isn't always easy. But there are some dishes that everybody can agree on, including mom (the health food fan). I have made this pad Thai dish a few times, playing around with measurements and different ingredients. It's a fun dish to perfect because who doesn't love a good pad Thai? Sometimes I crave this dish but most Thai restaurants use soy sauce, which isn't gluten-free. So making it at home has been a wonderful treat!
I love my variation because it's not only gluten-free but it's also dairy and meat free. Fish sauce is a great tasting addition to the sauce but it's not vegan. If that doesn't matter to you, then start with 2 Tablespoons of it. You can play with different sweeteners as well. Egg (cooked alongside the tofu) is also a common addition to this dish if want to add that as well.
I hope you enjoy it as much as we do!
Gluten-Free, Vegetarian Pad Thai 
Serves 4-6
Ingredients:
8 oz pad Thai rice noodles (cooked according to package directions, immediately rinsed with cold water)

2 Tbsps coconut oil, divided

8 oz or 1/2 lb tofu, cut into small strips

2 cloves garlic, minced or pressed

2 scallions, thinly sliced

4 oz mung bean sprouts

1/2 - 1 cup lightly packed cilantro, chopped

lime wedges
For the sauce:
2 Tbsps organic chili sauce

1 1/2 Tbsps organic sriracha sauce (gluten-free)

2 Tbsps tamarind paste

6 Tbsps palm sugar or brown sugar

2 Tbsps mellow white miso

5 Tbsps tamari (gluten-free) or soy sauce (not gluten-free)

1 Tbsp olive oil

1 tsp toasted sesame oil
To serve:
1/2 zucchini, sliced thin with a knife or peeler

1 large carrot, sliced thin with a knife or peeler

1/2 cup roasted peanuts, chopped
Directions:
Preheat frying pan over medium heat with 1 tablespoon of coconut oil. Cook the tofu and garlic until browned on the bottom (about 3 minutes). Add a sprinkle of tamari to give it a browned look and saltier taste. Cook for another 5-7 minutes, tossing often, until browned.

Meanwhile, place the rice noodles in a bowl of super hot water (my sink faucet gets the water very hot). Let sit for about 7 minutes while you're making the sauce.

To make the sauce, blend all of the ingredients in a blender on low/medium until smooth.

In a large saucepan/frying pan combine the tofu, soaked noodles (discard the water), and 1 cup of the sauce. You can also add cooked veggies of your choice, but that's up to you. Heat on medium until noodles are warm and everything is well cooked.

Add the scallions, mung beans, cilantro and toss just to get it wilted. Add more sauce if needed. Top with shredded zucchini and carrots, additional herbs and peanuts. Lime wedges are wonderful for extra tang.
VARIATIONS: You can add fried eggs to this dish as well. Or you can even add a Tbsp or two of fish sauce to the sauce. I made it once with peanut butter as well. Use this as your foundation and play around with it. Your family will love it. You can add grilled broccoli or other vegetables as well.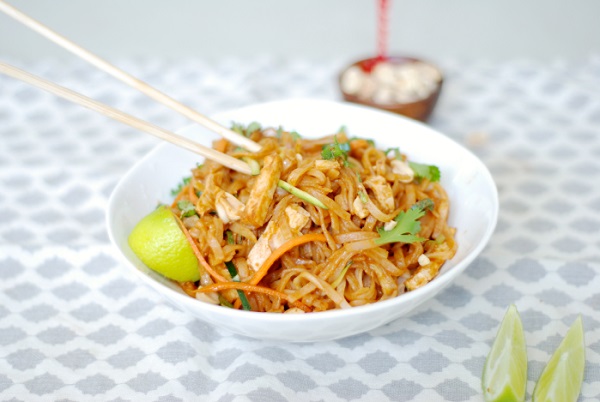 Have you ever made a gluten-free and/or vegetarian version of other popular Thai dishes? Share your recipes in the comments!  
~ Juli Novotny of Pure Mamas 
We aim to provide you with the most honest and credible information possible. This article was reviewed for accuracy by The Honest Team and was written based on trusted sources that are linked at the bottom of the article.
blog_review_statement