We're thrilled to introduce Lindsay Saccullo, Brooklyn based designer, blogger, and mom to baby Avery! Today she's sharing her story of the transition to motherhood, and showing us two ways to style the modern nursery. She's an expert at making the most of small spaces, and we love what she's done with a little Honest inspiration. 
I'll admit that before I became a mom, looking for responsibly made products wasn't first and foremost on my mind. Sure, I knew that there were safer products available, but it wasn't always a priority. As soon as I saw the first sonogram of our daughter Avery (which looked like a little dancing lima bean!) something in me changed forever. Just knowing that I would be accountable for another life was enough to turn my own life upside-down in the best of ways. I won't say I did a total 180 overnight, because that would be untrue and unrealistic. But since day one of pregnancy and beyond I've slowly integrated a more natural awareness into my life, and our life as a family.
Now I've got a rescue mutt and a tiny human trotting/toddling around our apartment (both often literally licking the floors!), so it's important to be able to trust what I bring into my home — from cleaning products to furniture. If only the 4-in-1 Convertible Crib and Dresser had been available in Coral and Navy before Avery's arrival! Sigh.
I'm so excited to live vicariously through these style boards, which feature the new colors of these beautiful (and responsible) nursery essentials. All of the items you'll find on the boards are mostly made from naturally-derived, recycled, or sustainable materials and without the use of harsh chemicals.
Coral, Tigers, & Orange... Oh My!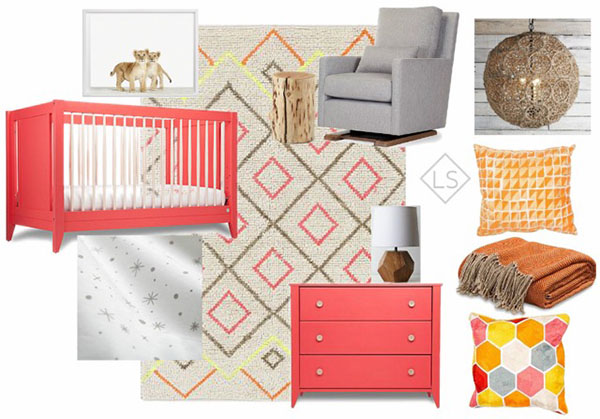 Honest 4-in-1 Convertible Crib with Toddler Rail / Gigi Rug / Honest Dresser with Changer Top / Como Glider / Macrame Jute Sphere Pendant / Natural Tree Stump Side Table / Star System Crib Fitted Sheet / Jaipur Honeycomb Pillow, Yellow / Jaipur Square Throw Pillow, Orange / Herringbone Throw, Orange / Between a Rock and a Lamp Base Table Lamp / Lion Cub Twins Print
Navy & Natural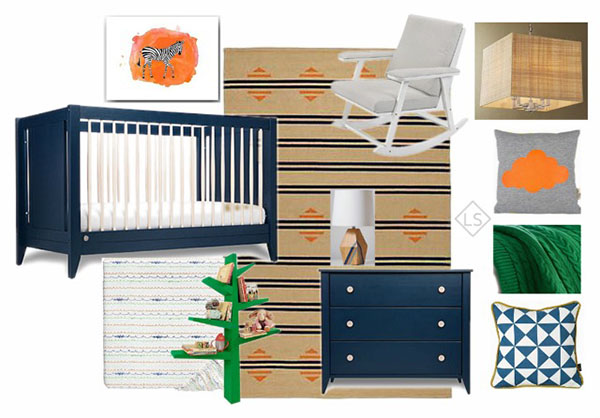 Motherhood isn't always perfect, so at the end of the day, it's about doing the best that we can. If we can make small, realistic changes every day, it not only lessens the mom-guilt just a tad, but makes the world a better place for our tiny humans to play!
~L.S.
Lindsay Saccullo is an Interior Designer and Blogger based in Brooklyn, NY. When she isn't sharing her knowledge and passion for all things design, she's spending time with her husband, daughter, and dog. For more decorating, home decor, and organizational tips, follow her on Instagram @LindsaySacculloInteriors.