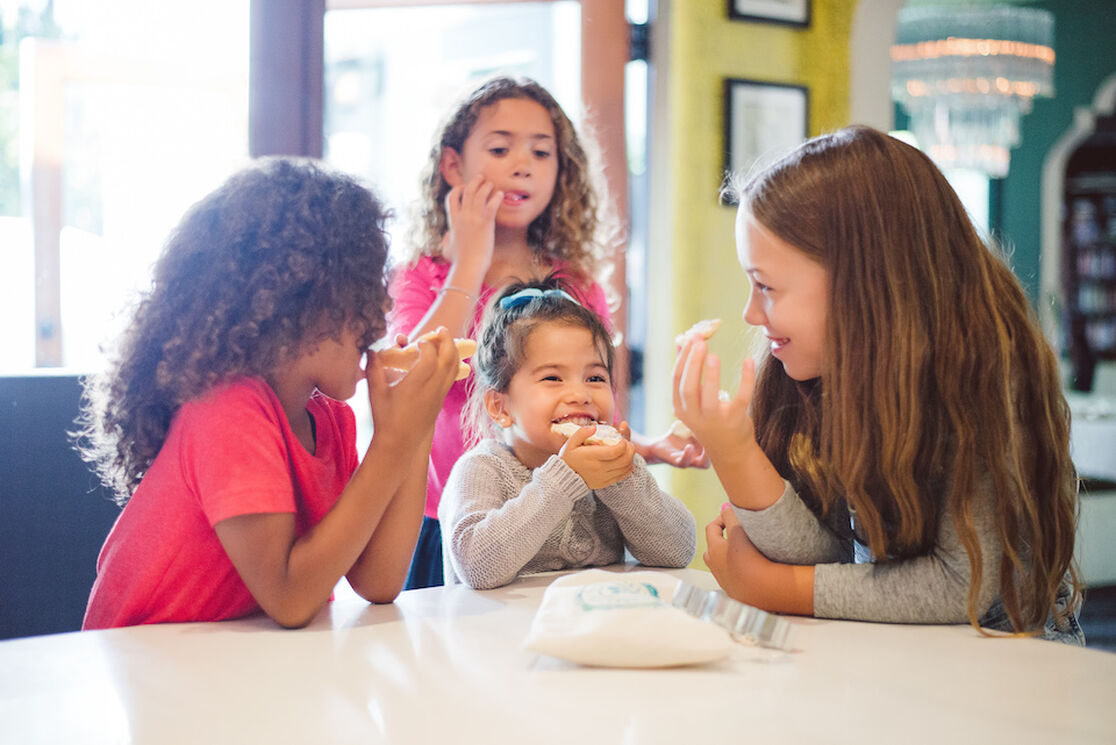 This season, we're focused on food—yes, we know that's not unusual when it comes to the most festive time of the year, but we're doing it the Honest way! As you may have read here, we're honored to partner with FoodCorps to cook up lasting change in schools and grow a generation of healthier children by supporting nutritional education, school gardens, and menus based on fresh, natural food. We're investing $125,000 for a range of programs to ensure that children nationwide have a safer, healthier, and sustainable foundation for their future growth and development.
The support of Honest families like yours allows us to make a difference with our social goodness programs all year round, so we've got one more gift to give—and it's for you!
We're surprising our bundle customers in their next delivery with a delightful treat to show our gratitude and allow you to join in the social goodness, right in your own kitchen: We've partnered with Foodstirs, creators of cooking and craft kits for kids, to create an organic cookie mix that comes with a special snowflake cookie cutter, all wrapped up in a beautiful cloth bag for you to keep. At Honest, we know that when you start a tradition of cooking with your family, you make more than food—you make memories! (And, yes, we do like to have a treat every now and then.)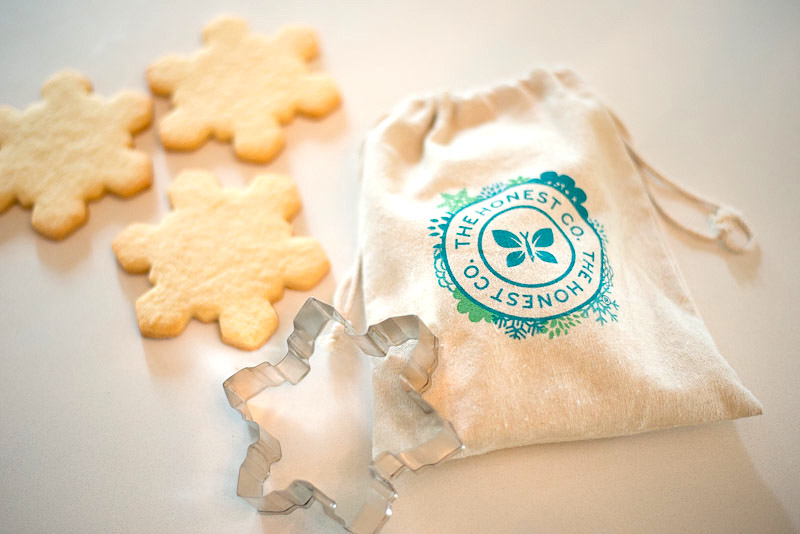 We thought the best way to show how fun and fulfilling cooking together can be was to bake a batch of cookies with the help of some Honest kids. Having kids in the kitchen teaches all kinds of skills that they can bring to the classroom and beyond: math and measurement; science and physics; time management; and cooperation and group learning, to name a few. Then again, it can also be just as simple as wanting to get their hands dirty!
See recipe below, then enjoy some of our favorite moments from our organic holiday cookie party: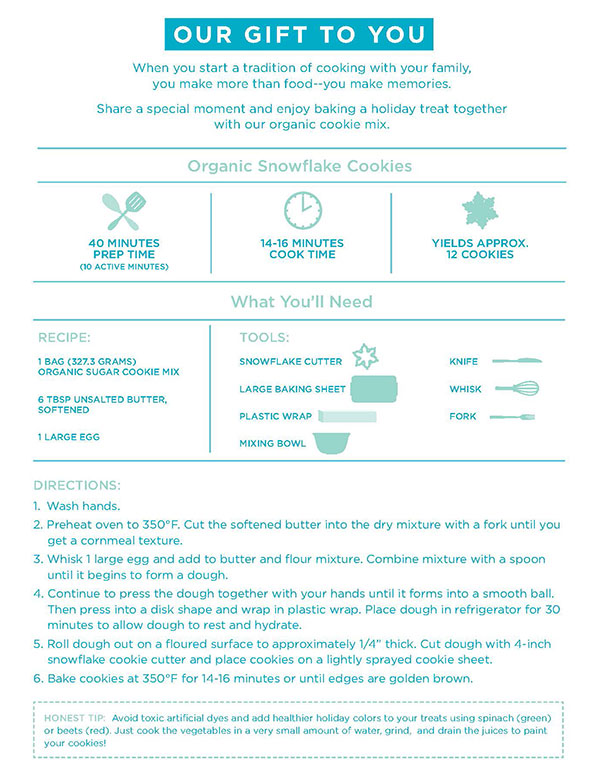 One of the most important steps in cooking usually isn't listed in any recipe: Wash your hands! (For tips on handwashing like a pro, check out our post on Global Handwashing Day.)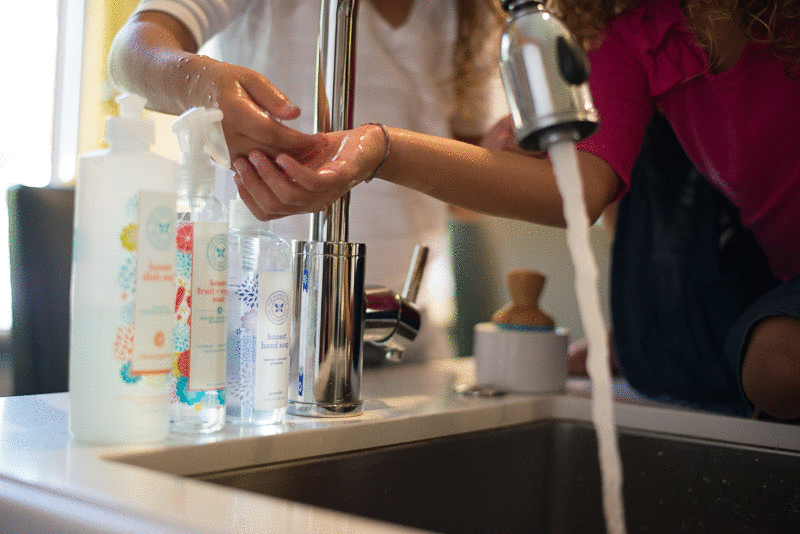 Once that's done, we whisk an egg to add to the mix…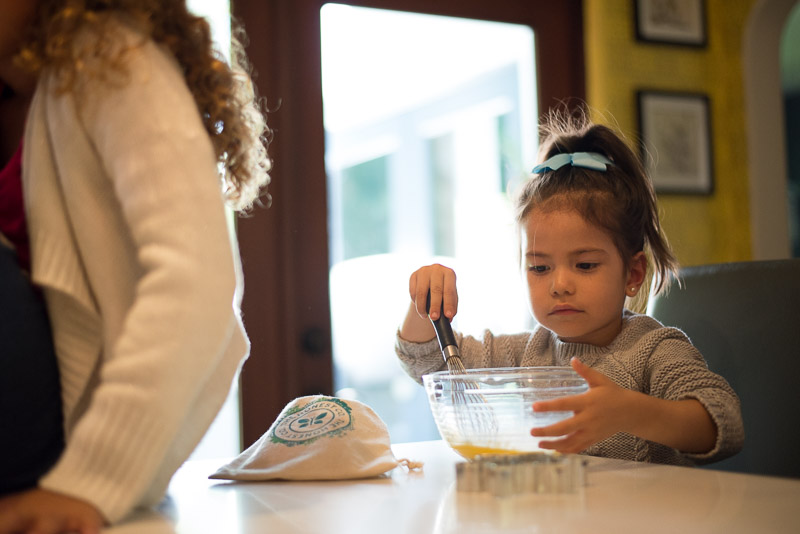 and then we get our hands dirty...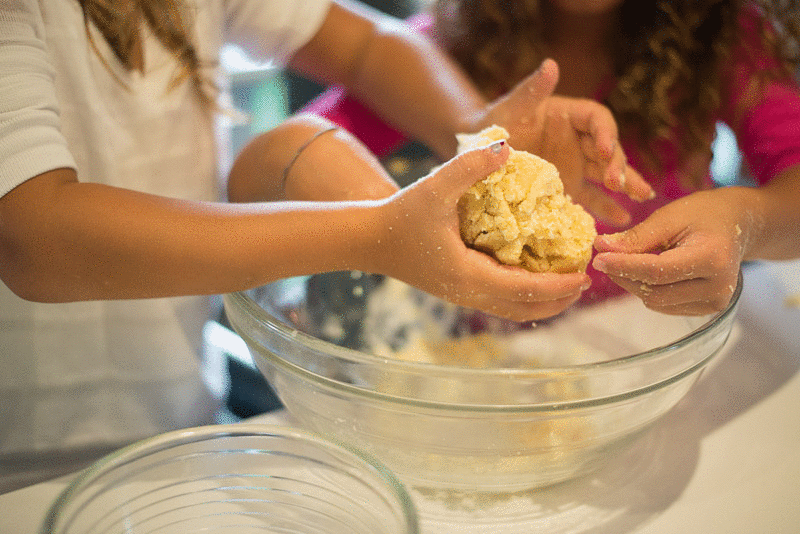 (Finally!)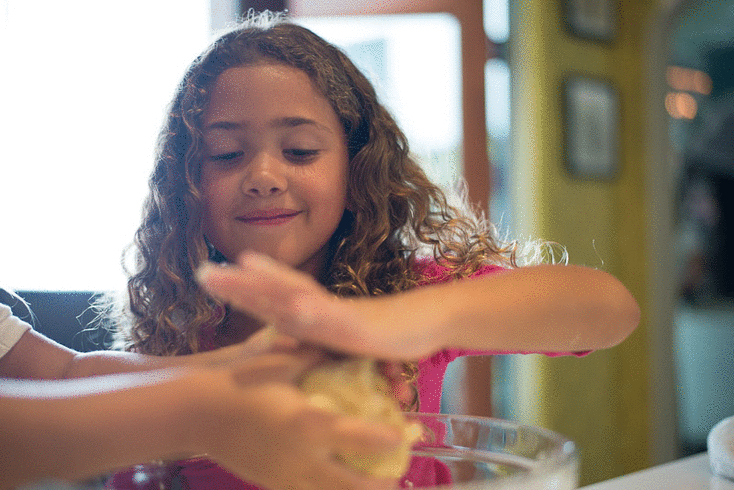 and roll the dough into a ball.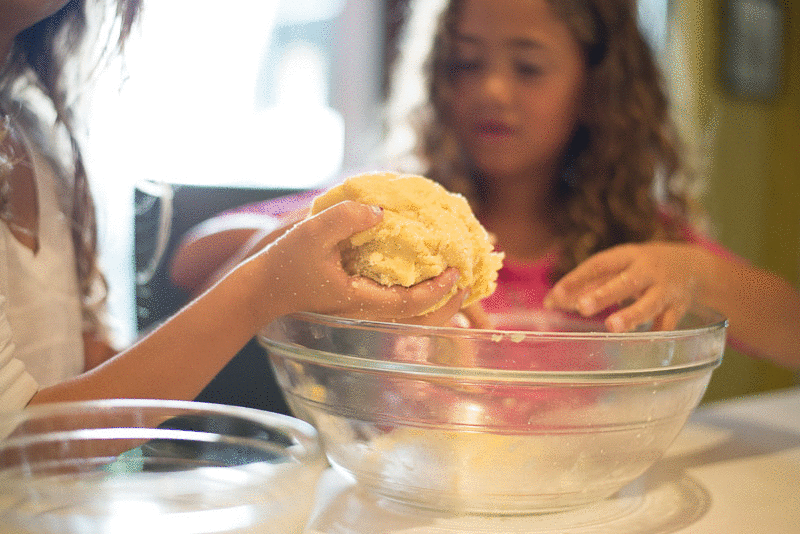 We keep things rolling along…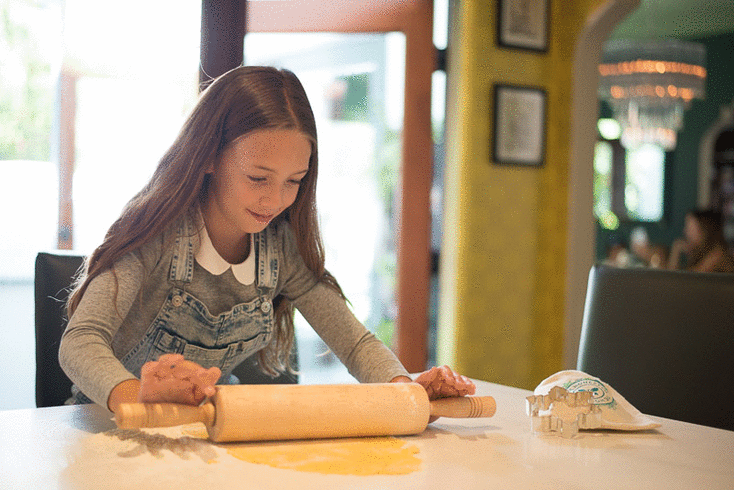 spreading the dough out and sprinkling flour so it doesn't stick to your surface or materials…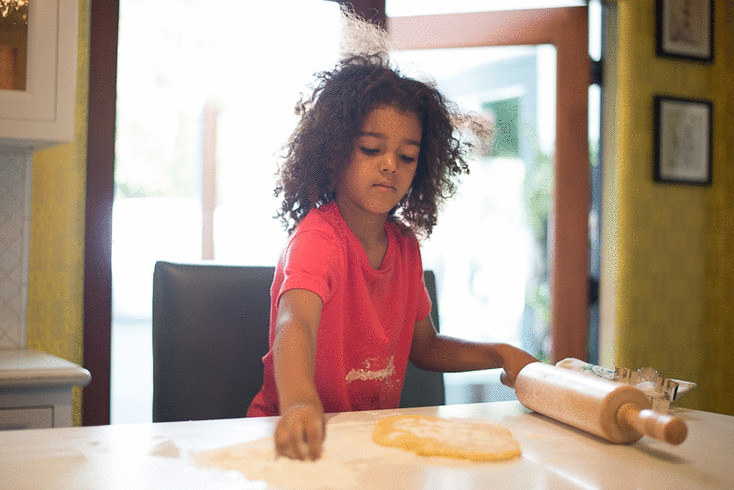 until our cuties could use their cookie cutters!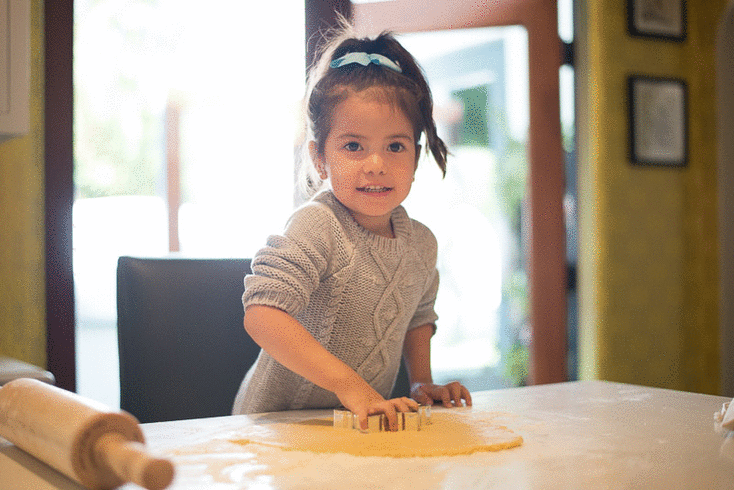 They're oven-ready!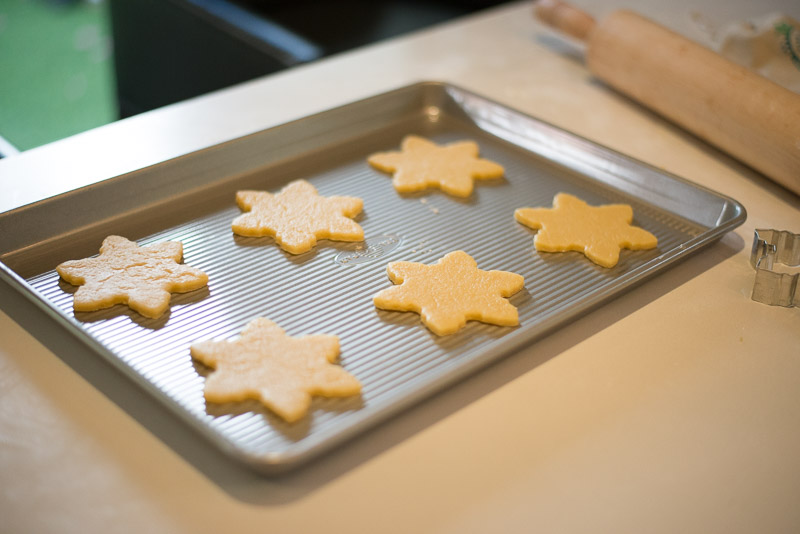 For those who want a classic sparkling finish to their holiday cookies, whisk another egg...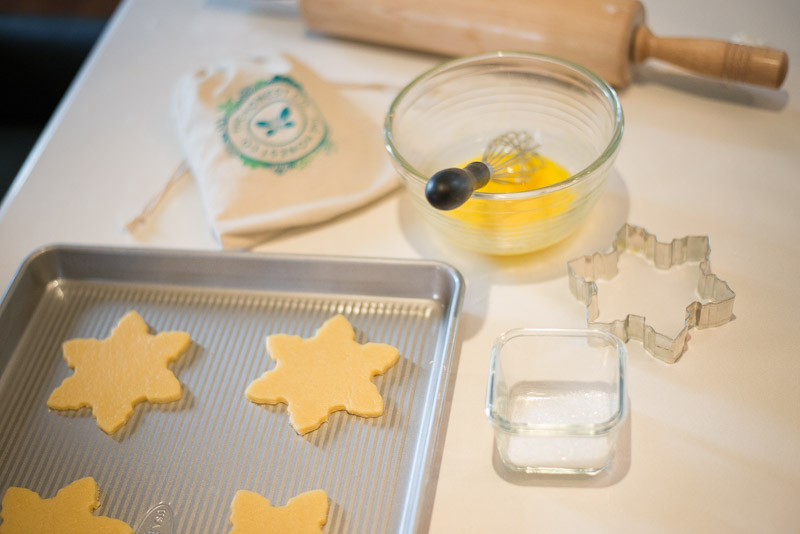 and brush it on the cookie surface before you sprinkle the sugar on top.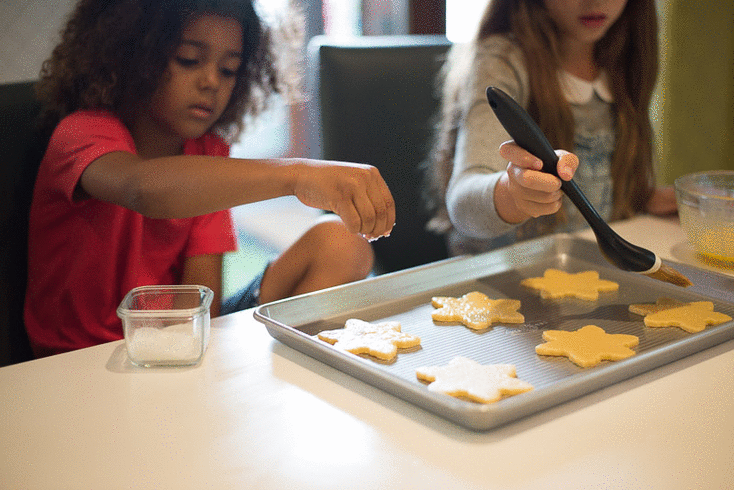 We put the squeeze on some kid-friendly organic frosting to put an artistic spin on our sugar cookies. Just like a snowflake, no two were alike!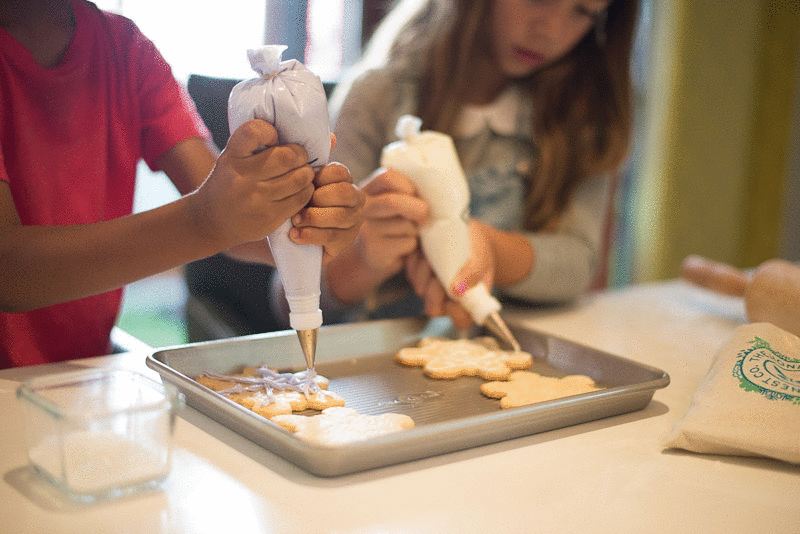 Honest Tip: Avoid toxic artificial dyes and add healthier holiday colors to your treats using spinach (green) or beets (red). Just cook the vegetables in a very small amount of water, grind, and drain the juices to paint your cookies!
Just fifteen minutes later we feasted on our fresh cookies!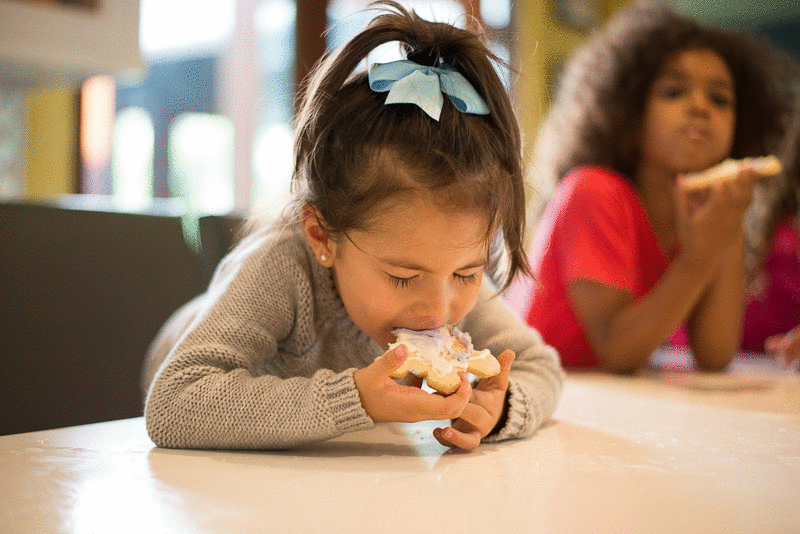 So, whether you choose a classic sparkle: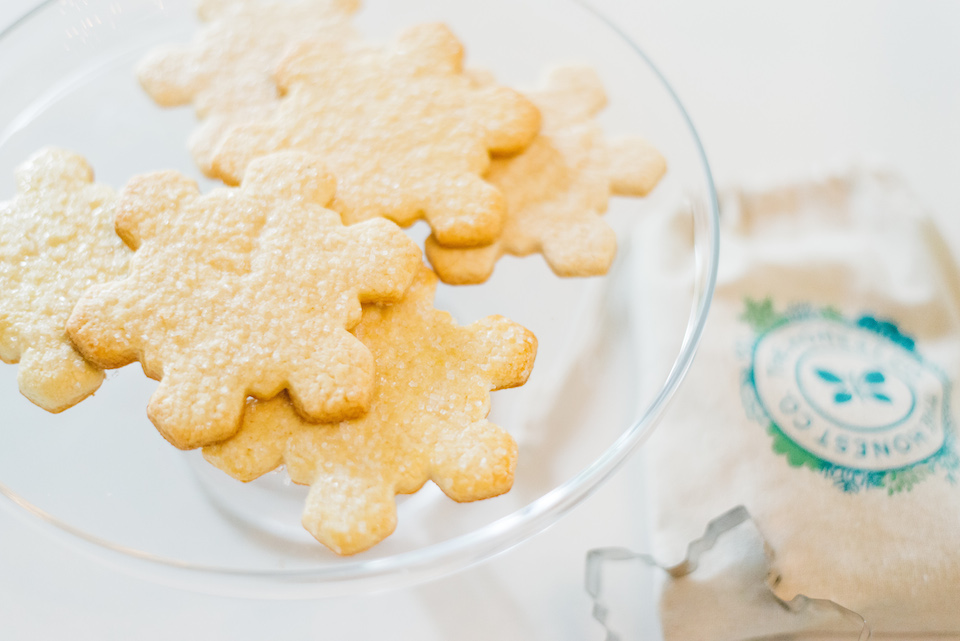 Or a frosted fantasy: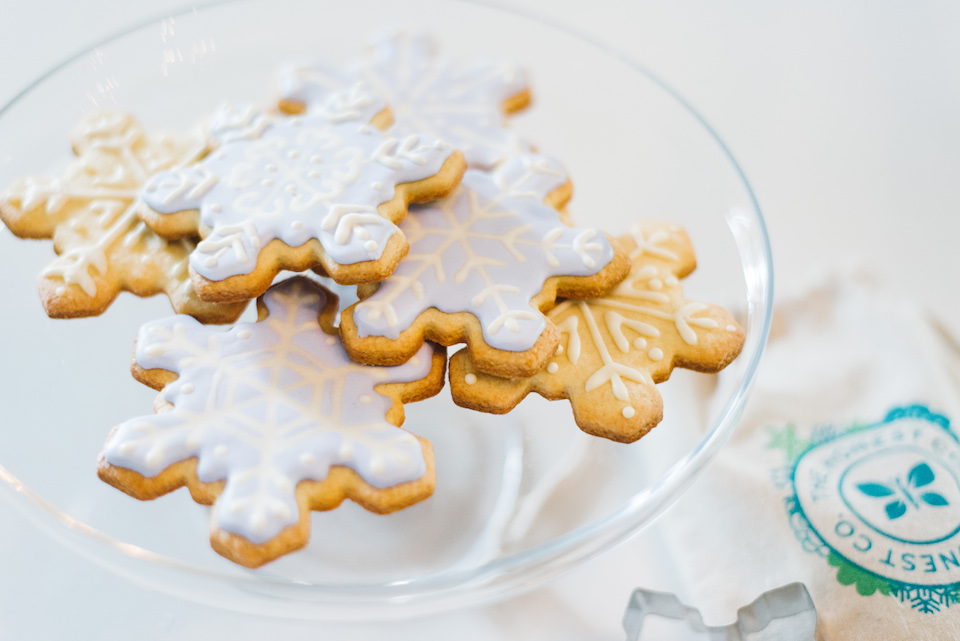 Or get creative with cute-as-a-cookie ornaments: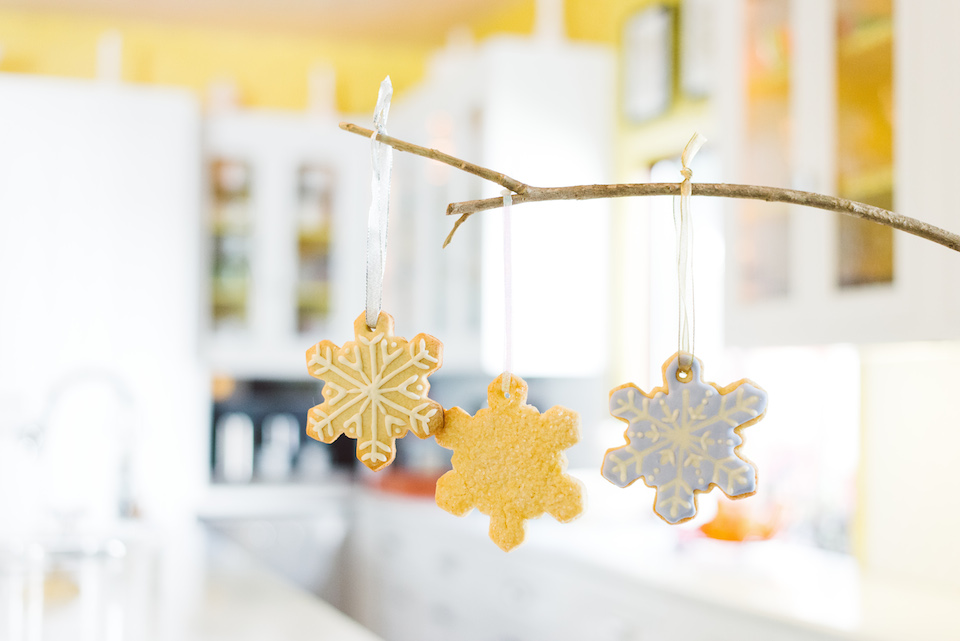 We know you'll love cooking together with Honest!
We'd like to thank the Honest kids (and parents) who helped us create a special moment of surprise and delight for us to share with you:
Honest Phoenix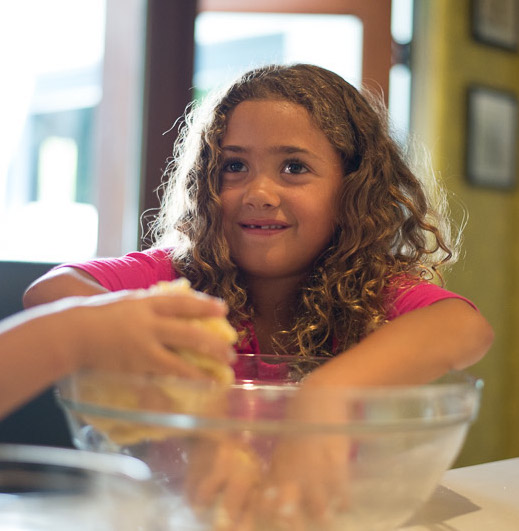 Honest Taj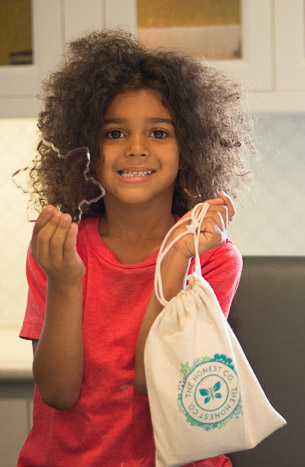 Honest Lyric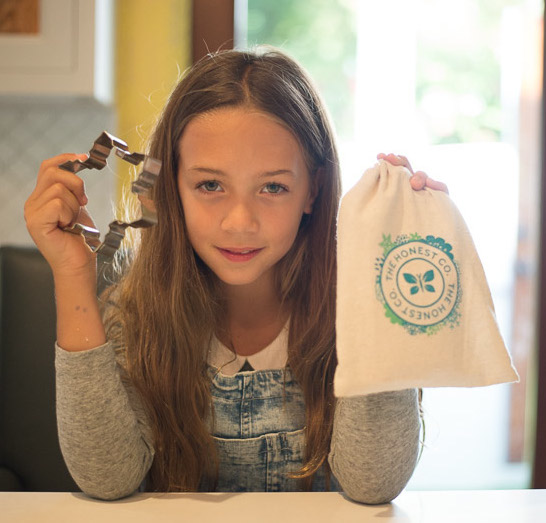 Honest Luna
Don't forget: Check back here for more inspiration and recipes for cooking together and share on social media with #honestgoodness to help us provide nutritional education to 1,000 more kids through FoodCorps!
Do you have a traditional cookie recipe that you create with your kids? How about a healthy spin on a holiday classic? Let us know in the comments below!
The gifts just keep coming: Our friends at Foodstirs are also offering a special bonus exclusively for our Honest families! Visit Foodstirs online for cooking and craft kits delivered directly to your door and use the code HONESTHOLIDAY for $5 off your order. (Offer expires January 1st, 2015. Limit one per user.)
We aim to provide you with the most honest and credible information possible. This article was reviewed for accuracy by The Honest Team and was written based on trusted sources that are linked at the bottom of the article.
blog_review_statement