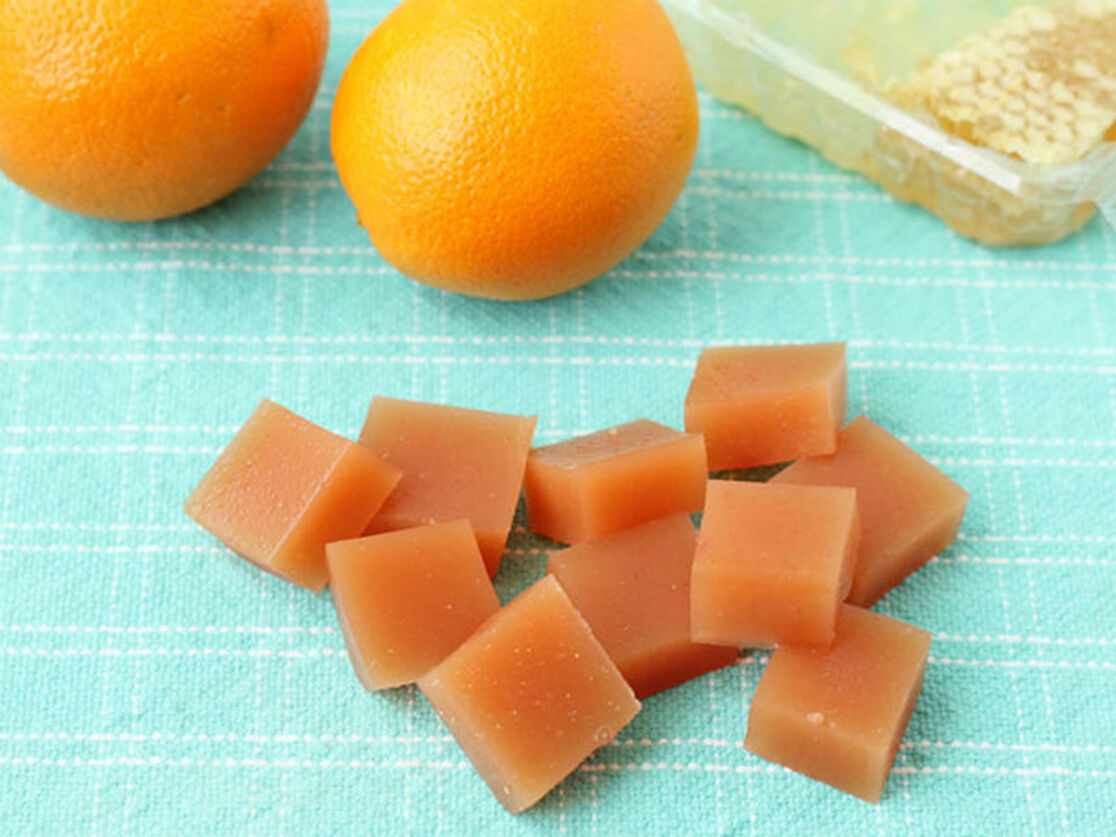 We were so delighted last week when Honest mom Amy shared her creative recipe on our Facebook page, that we just had to post here too! Your kiddos are sure to love her tasty fruit snacks, and you'll like the botanical boost they provide for little immune systems. 
My girl has had a cold for nearly a month now. Since she hasn't had a fever and is still her energetic self, we just have to wait it out. (Believe me, I keep asking!). I think that the cold temperatures, the lack of fresh air, and being around other sniffling little ones during the day is making that wait longer than anyone expected though, so I had to pull out the big guns: Homemade Orange-Honey Fruit Snacks.
My kiddo gets really, really selective about what she eats and drinks when she's not feeling well, but her love of fruit snacks knows no bounds. I'm not in the habit of making homemade ones regularly—I actually hadn't made them in over a year—and I certainly don't have a stock of tiny cookie cutters or molds to make them in. (Though these little daisies are pretty sweet!) But I will try almost anything to help my girl feel better, especially when it's as easy as stirring together a few ingredients and letting the fridge do the rest.
And so, on the sick days when I'm not snuggled up with her on the couch repeatedly reading One Morning In Maine, I often take to the kitchen. I know that she may not eat or drink what I make her, but it at least helps me to feel a little bit better when I try.
These little squares are made with orange juice, honey (I used local honeycomb that we happened to have from a nearby farm—our pediatrician recommended it for helping to soothe her throat), and plain gelatin. I added in some Kid's Immunity Boost because I figured that it couldn't hurt to try to boost her immune system. I simply cut them into squares and offered a few at a time. And when she takes a nibble here and there, it makes me feel I am doing something concrete to help her feel better, which, in itself is a bit of a relief.
Orange-Honey Fruit Snacks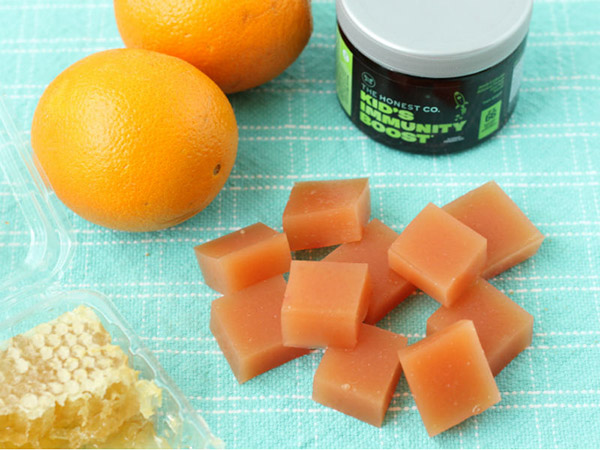 These fruit snacks have a pretty coral color, a soft texture, and a mellow flavor. Obviously, they are not meant to be a substitute for medicine or medical advice that your kiddo may need, and I cannot promise that they will cure a cold. But they are a good source of Vitamin C, which has been shown to be helpful for those in group childcare situations, and they are particularly soothing when served very cold.
Makes about 60 1-inch squares
Ingredients
2 cups pulp-free orange juice
1 tablespoon raw or local honey
4 packets plain gelatin (or vegan alternative like Agar Agar)
1-1 1/2 teaspoon Kid's Immunity Boost
Instructions
Pour one cup of the juice into a medium bowl. Sprinkle the gelatin over it.

Heat the remaining cup of juice in a microwave-safe glass or bowl (I used a 2 cup glass measuring cup) until boiling, about 3 minutes. Pour into bowl with the cold juice. Add the honey and Immunity Boost, and whisk until everything is dissolved.

Pour into an 8x8 baking dish and refrigerate for at least 4 hours or up to overnight. Cut into squares and store in the fridge in an airtight container. Serve cold.
~Amy Palanjian, Yummy Toddler Food 
Amy Palanjian is a writer, editor, recipe developer, and crafter for magazines, books, and websites. She's also mama to a very energetic toddler who inspires her to share wholesome, yet realistic recipes and feeding tips with other parents of little ones at her site Yummy Toddler Food. For more inspiration, check out her website and Instagram.
Do you have any honestly great recipes of your own? Share with us on our Facebook page and you could be featured next!