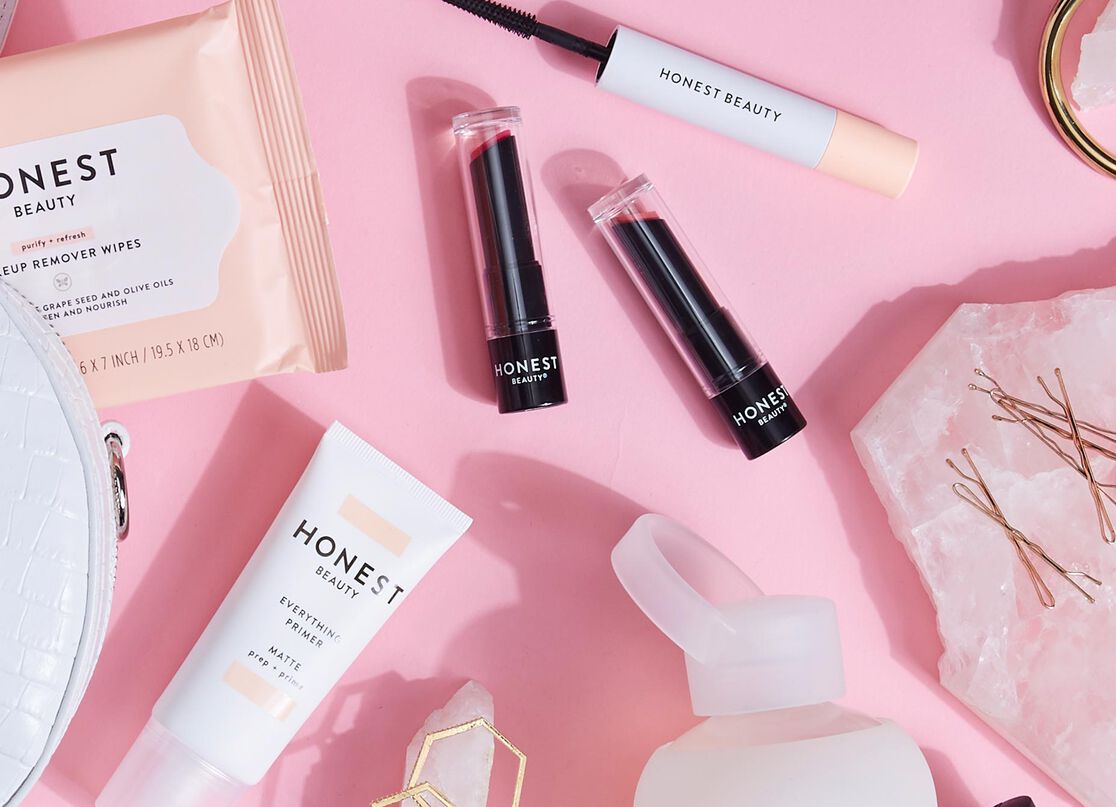 Makeup for Mamas to Be
Is pregnancy glow a thing? 98% of the time it doesn't feel like it. That's where makeup can be a huge mama-to-be confidence booster. The tricky part is whatever products you chose for your makeup routine, you're also choosing for your little one. So, it's super important to pick clean makeup products that still make you feel like the beauty that you are.
To make it easy for you (because you have enough on your plate right now), we created three makeup looks using only pregnancy-safe products so you can have more of those "oh, I'm a goddess" kind of days, whether or not your have the energy to go through a full glam situation.  
Look 1: Get Out the Door
After your skincare routine, apply Everything Glow Primer all over your face and neck. For sun protection and a little bit of coverage, use clean hands or a makeup sponge to apply a tinted moisturizer with SPF.
Then dab Tinted Lip Balm in Lychee Glow onto your bottom and rub your lips together to spread the color evenly and naturally.
Apply a few dots of Cream Blush in Coral Peach to the apples of your cheeks and blend with your fingers or a buffing brush.
Look 2: Enhance the Glow
Dab Magic Beauty Balm Stick over the tops of your cheekbones and blend.
Then, apply one coat of Tinted Lip Balm in Summer Melon over the lips.
Using our Eyeshadow Palette create an in-a-minute eye look starting by sweeping Vanilla'd Velvet over your entire eyelid.
Then, apply Iced Cotton from the lash line to the crease. Line your upper lashline with Gilded Mauve.
Finish by relining your eye with Burnt Mocha.
Look 3: Full Goddess Glam
Start by applying Everything Creme Foundation all over your face and neck using a buffing brush. This foundation is buildable, so you can also use it as concealer! Using your ring finger apply in dots to your under eye area and just over your cheekbones. Then, blend again.
Using your brush sweep Creme Cheek Blush in Peony Pink over your cheeks and working upward, following your natural bone structure. Smile and add a bit of blush over those apples.
Starting at the edges of your lips, apply Demi Matte Lip Crayon in Strawberry almost like you would a lip liner, then work your way in toward the center. Lightly press your lips together to even out your color.
Using our Eyeshadow Palette create a smudged cat eye starting by sweeping Vanilla'd Velvet over the entire eyelid as a base.
Then, grab a liner brush and apply Burnt Mocha across the upper lash line and up above the corner of your eye to create a wing.
Apply Gilded Mauve to the outer corner of the eyelid and smudge out the shape of the cat eye wing.
The Finishing Touch, Always
Finish off each one of these looks with our favorite Honest Beauty product, Extreme Length Mascara + Primer.