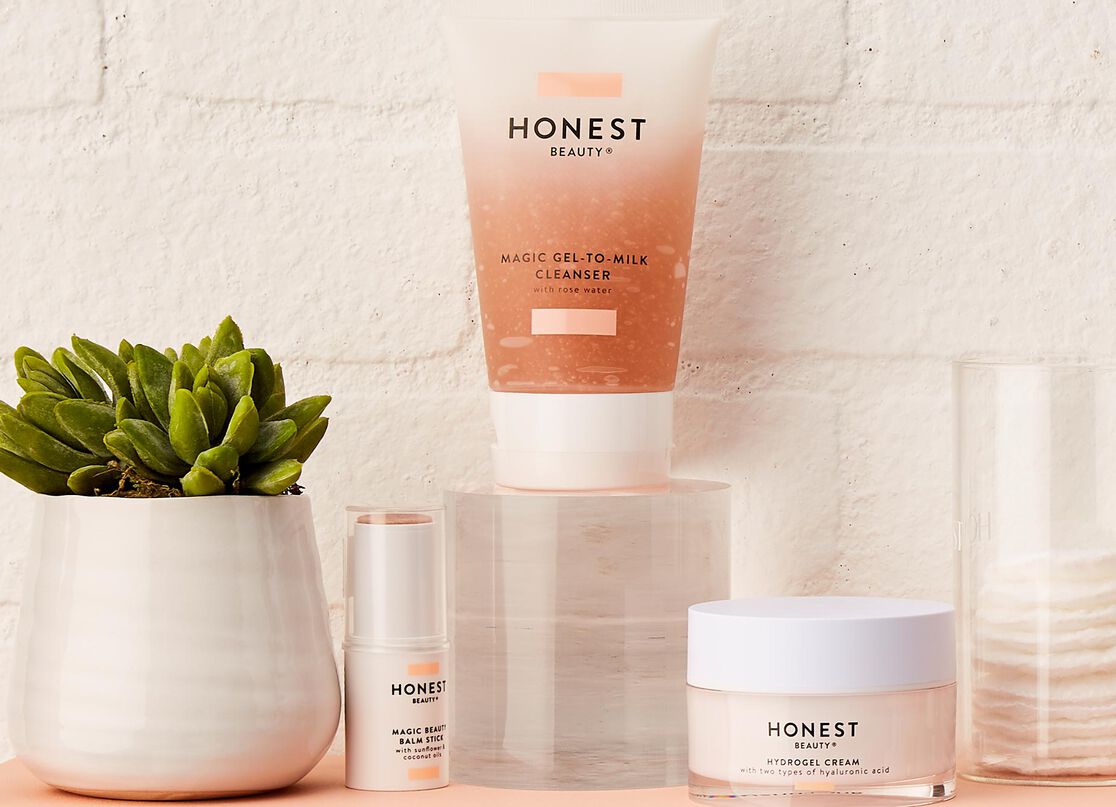 Sometimes pregnancy can feel like a constant state of change, from your growing belly to your crazy sense of smell to the whole list of new products and foods you're no longer allowed to have. R.I.P black coffee.
On top of that, the research isn't easy. When it comes to skincare, we had a hard time finding one simplified list of not just what you can't use, but what you can use. So, we decided to make it for you.
Read on for our list of pregnancy skincare no-nos and few clean skincare routines we put together for you. Now, you can stop reading ingredient lists and get on with that glow.
Skincare Ingredients to Avoid When You're Pregnant:
Salicylic Acid
Also known as beta hydroxy acid, this ingredient is often used to treat acne, but studies show that it's safest to stop using them when you're carrying a little one.
Retinoids
Typically used in skincare products for their anti-aging effects, doctors do not recommend using them while you're pregnant.
Parabens
It's always a good idea to avoid the types of preservatives that are known as parabens — like methylparaben, ethylparaben, propylparaben and butylparaben — but it's especially important during pregnancy. You can learn even more about parabens here.
Synthetic Fragrances
Some companies use the word "fragrance" as a blanket term and don't actually list all the ingredients that fall under that term on their packaging — i.e. you're not actually reading the full ingredient list. During pregnancy, it's extra important to know about everything you're putting in, on and around your body.
Formaldehyde Donors
Some skincare products use ingredients that are classified as formaldehyde donors as preservatives to prevent bacteria, yeast and mold growth. But, guess what? There are different preservative systems out there that we think are safer for pregnant women, so we suggest avoiding formaldehyde donors across the board.
Phthalates
Phthalates have been known to be used to soften plastics. But they also are used as solvents for other materials. Read more about phthalates and why to avoid them here.
Petrolatum
It's best to avoid petrolatum (aka petroleum jelly) because it may contain potentially harmful contaminants. Learn more about petroleum jelly and petrolatum here.
Skincare Products That Are Safe During Pregnancy
During pregnancy your skin can start going a little crazy. Whether you're experiencing pregnancy acne or your skin has suddenly gone from dry to oily, there's not a one-size-fits-all fix that works for every woman. To help you out, we put together a few skincare routines that are safe for preggos, based on the different skin issues you might be experiencing.
If You Have Oily Skin:
Step 1: Double Cleanse with Makeup Remover Wipes + Gel-to-Milk Cleanser.
Start by using a wipe to cut through any makeup or grime from the day or night, then massage a dime-sized amount of Gel-to-Milk cleanser all over your face before getting it wet. Once that's done, splash water on your face and continue to massage as the gel turns to milk.
Step 2: Hydrate with Hydrogel Cream
Even if you have oily skin, you might still need some hydration especially after jumping out of the shower and toweling off. This advanced moisture-release cream with delivers firmer, smoother, more supple-feeling skin and gives you a dewy glow.
Step 3: Spot Treat with Instant Plump Eye Cream
The skin around eyes requires a little extra TLC. This eye cream is formulated with chamomile and calendula blend to help soothe those delicate areas. Dealing with stubborn dryness? You can dab this eye cream on other places on your face for targeted hydration.
If You Have Dry Skin:
Step 1: Cleanse with Gel-to-Milk Cleanser
This cleanser is also great for people with dry skin because it's formulated to remove makeup and impurities without over-drying. Plus, pink kaolin clay leaves the skin feeling smooth and silky.
Step 2: Moisturize: with Organic Beauty Facial Oil
One of the best ways to moisturize dry skin by applying oil. With a blend of pure seed and fruit oils like avocado and apricot kernel, this gentle facial oil helps immediately replenish the skin and leave it feeling softer.
Step 3: Replenish with Deep Hydration Face Cream
Made with daikon radish and baobab seed oils rich in fatty acids, the creamy formula helps to support skin's natural moisture barrier.
If You Have Sensitive Skin:
Step 1: Cleanse with Gentle Gel Cleanser
Great for any skin type, this mild cleanser gets rid of makeup without drying you out. Plus, with soothing chamomile and calendula it gives you that post-spa refreshed feeling.
Step 2: Moisturize with Everyday Radiance Moisturizer
This lightweight and non-greasy moisturizer is great for people who need a little moisture, but need it to be delivered in an extra-gentle way. It goes on feeling light and airy and leaves you with a nice glow.
Step 3: Spot Treat with Organic All-Purpose Balm
This is one of our all-time favorite products. It's made with organic sunflower, olive, and coconut oils to nourish, moisturize, and help relieve extra-dry and sensitive skin. Use whenever you need a little more love (even your cuticles!) Tip: this stuff is great to have around when the baby comes too.
If You Have Pregnancy Acne:
Pregnancy acne can be tough because most of the tried-and-true acne treatments like retinol and salicylic acid are not recommended while you're carrying a little one. We suggest giving our sensitive skin pregnancy routine a try, plus drinking a cup of spearmint tea in the morning and at night. Why? Because spearmint tea has been shown to help balance the hormones that cause this type of acne.