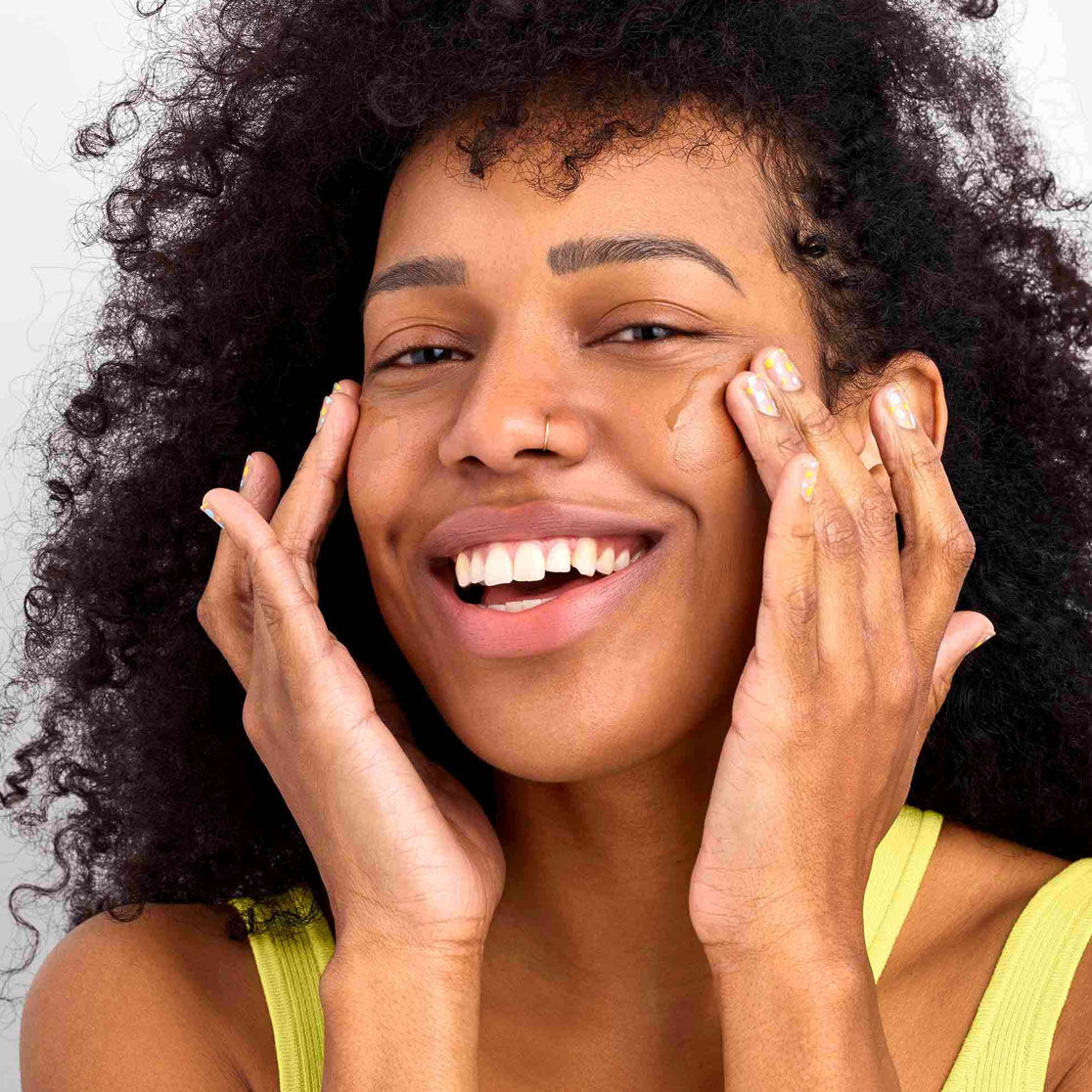 Foundation Finishes 101
Foundation is often a key component in any makeup routine. It's great to help even out your skin complexion, conceal blemishes, and create a nice base to apply the rest of your makeup. However, finding the right foundation is no easy task!
Since everyone's skin is different, it's important to find a formula that works well with your skin type and doesn't cause more problems than it solves. Add to that the task of finding a foundation finish that you love, and it seems like the search only becomes more complex! Thankfully, it doesn't have to be. Keep reading for our best tips on finding the right foundation finish for you.
Foundation Finish Types
There are three basic foundation finishes; dewy, matte, and sheer. However, nowadays there are subcategories of these foundations also available that can certainly make choosing your best formula more challenging, to say the least.
Before we get into discussing all of these foundation finishes in more detail, the first thing we recommend is taking a look at your skin condition and type and then choosing your finish based on that.
Although the foundation finish you choose is mostly a personal preference, the truth is that some skin types do fare better with certain foundation finishes than others. Therefore it might behoove you to make your determinations not just on what you like most, but also on what suits your skin type best.
Sheer Foundation Finish
Although sheer finishes are still called a foundation, they technically work more like a tinted moisturizer than a foundation. Sheer foundations are designed to even out your skin tone just enough to cover up any discoloration or hyperpigmentation, and mask any marks on the skin.
They are designed to allow your skin's natural beauty to shine though. Sheer finish foundations work best with dry and combination skin types, and may not work very well with oily skin.
However, that's not to say you can't use it with oily skin. If you do, you may have to use it in conjunction with a matte setting powder. Additionally, sheer foundations have an ultra-lightweight formula, making them feel as though you're not even wearing makeup at all.
Natural Foundation Finish
In today's world of makeup, one of the hottest skincare trends is the 'no-makeup makeup' look. Ironic, isn't it? For such a look to work, you need to use a foundation with a natural finish instead of a heavy one.
Natural finish foundations are designed to be breathable, lightweight, and easy to wear. They provide just enough coverage to hide acne scars and zits, without going overboard and giving you that full on glam look. Natural finish foundation is usually suitable for all skin types, dry or oily, mature or young.
Dewy Foundation Finish
There's no doubt about it, dewy skin is a makeup trend that's here to stay, just like faux freckles. Dewy makeup foundations are a wonderful addition to your makeup kit when you want to get that lovely lit-from-within glow. They are lightweight and easy to wear in any season, including winter or summer.
Moreover, most of the dewy foundation formulas have a hydrating component that make it quite good for your skin as well, especially for those with dry skin or mature skin.
However, dewy foundation may not look the greatest on oily skin or acne-prone skin. This is because it can make your skin look greasy, and make acne appear more prominent. If you can pull it off though, dewy foundations offer a radiant and luminous finish.
Semi-Matte Foundation Finish
As the name suggests, semi-matte foundation provides a semi-matte finish. The finish of a semi-matte foundation lies somewhere just between a full matte and a dewy finish.
Semi-matte foundation has the long-lasting finish of matte foundation, combined with the subtle glow of a dewy foundation. So if you're wondering how to make makeup last all day, this type of finish is right up your alley. This type of foundation finish is ideal for oily skin, although it may also work for mature skin types.
Matte Foundation Finish
Matte finish foundations are a classic in the makeup world. Although matte finish foundations started with a heavy formula, the science of makeup has progressed enough now to provide the same finish using lightweight matte foundations.
Matte foundations usually provide a full or buildable type of coverage, and create a shine-free, oil-free base for the rest of your makeup. The heavy coverage results in a flawless finish that is long-lasting.
These foundations are best for people with oily or combination skin. Matte foundations can also help to minimize the appearance of bumps, zits, scars and such, as well as reduce the appearance of your pores. That makes it ideal for acne-prone skin, too.
Satin Foundation Finish
Foundations with a satin finish are arguably the most commonly worn foundations and generally suit all skin types. A satin finish lies somewhere between matte and dewy, giving you the best of both worlds.
These foundations are typically long-lasting, without feeling heavy on your skin. Additionally, like dewy foundations, they offer a radiant finish, although with satin foundations the glow is more subtle.
Types of Foundation
You can find foundation in several different formula types. Which you use will depend largely on personal preference and what your needs are.
Stick Foundation
Stick foundation is something you can depend on to always provide you with the coverage you need. Though it can be applied with a brush, your fingers work excellently to blend in a stick foundation as well.
Dab some product onto your face in the main areas and then blend using your preferred tool. Stick foundations usually provide a matte or semi-matte finish, with a medium to full, buildable coverage.
Powder Foundation
The best way to apply a powder foundation is with a dense and fluffy powder brush. Swirl the brush around in the powder compact, tap off excess product from the brush, and then apply onto your face.
You can build up the coverage as required. An important point to consider with powder foundation is to be sure to apply any concealer beforehand. This is because applying liquid or cream products on top of a powder foundation may result in clumps, patches, or a caked look. Powder foundations generally provide a matte or semi-matte finish.
Liquid or Cream Foundation
Liquid and cream foundations are best applied with a fiber brush, or a slightly damp makeup sponge. To apply the foundation, dab some on the back of your hand or onto a makeup palette.
Using the brush or sponge, dot the product onto your face all around, and then blend, using outward strokes. You can add more product to your face as needed, but it's always better to start with less. Liquid and cream foundations are available in all types of finishes, from matte to dewy and all the in-betweens.
How to Apply Foundation Successfully
Technique certainly matters! So does proper preparation. Follow the steps below to get the best results from your chosen foundation finish.
Prep Your Skin
The first step in any makeup routine is skincare. The better your skin looks, the better your makeup will look. A dehydrated or dry skin type will result in patchy and crinkled makeup. Too much oil and your makeup will look like it's melting. By caring for your skin and applying the right skincare products, you'll create a nourished, healthy canvas to paint on. If you are looking to add an extra boost of hydration to your daily skincare regimen, it may be worth exploring both the many castor oil benefits, along with the advantages of using jojoba oil for skin.
Prime Your Skin
Primers are makeup products designed to create a layer on your skin that will cover any imperfections. When foundation is applied on top of this layer of primer, it appears even and well-settled.
Additionally, primers help makeup last longer by creating a sturdy and solid surface for your makeup to bind with. There are numerous primers available on the market, including hydrating primers, poreless primers that minimize the appearance of pores, as well as mattifying primers. Apply a dime sized amount and blend well.
Apply Your Foundation
Whatever makeup foundation or finish you choose, the key is to blend it well. You can apply the foundation using a blending brush or a makeup sponge, or dab it on your face using your fingers and use the brush or sponge to blend only. The goal is to make sure the foundation is well-blended so your face doesn't look patchy.
Set Your Foundation
Once you've applied your foundation, the final step is to set it. Try using a translucent setting powder to do this, and apply the powder with a fluffy powder brush evenly.
Makeup is fun and has its place, but it can certainly be intimidating sometimes. There are so many products on the market today and several different foundation finish types, which can make determining where to start somewhat confusing.
We hope this guide has helped bring more clarity on the types of foundation and finishes that will be best suited for your skin and how to go about using them! For more on the latest makeup and skincare trends like dolphin skin, visit Honest® today.
Sources:
https://www.beautybay.com/edited/foundation-finishes/
https://www.buymebeauty.com/blog/learn-about-types-of-foundation-finishes/
https://www.escentual.com/blog/2016/11/17/foundation-finishes-explained/
https://www.ipsy.com/blog/how-to-apply-foundation
https://www.instructables.com/5-Different-Foundation-Finishes-1-Foundation/