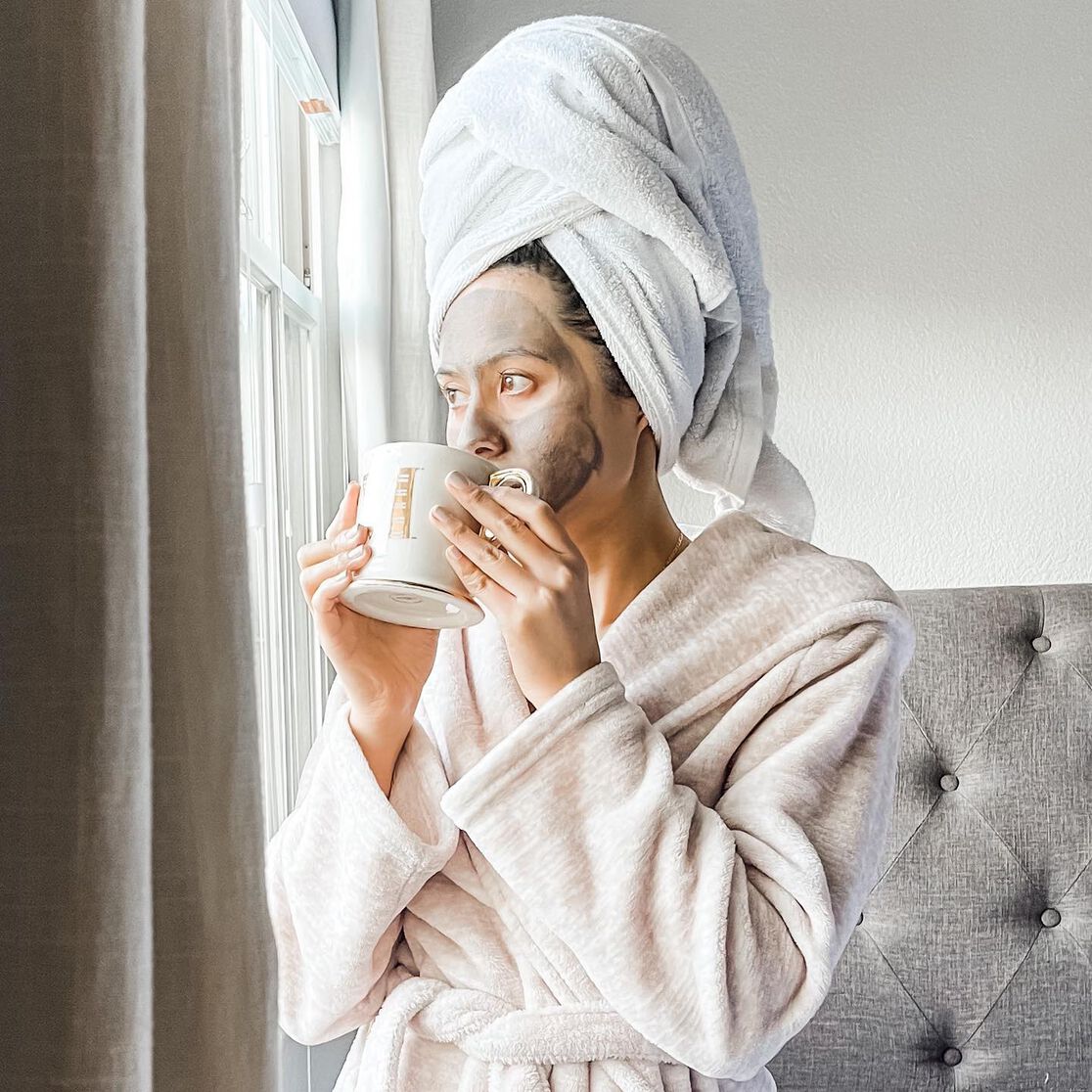 Image shared by @ohbythebay
Facials are a wonderful way to destress your mind and your body at the same time. Facials are a form of self care that involves using various skincare treatments for your face, including things like:
Cleansers
Exfoliators
Extraction of gunk and blackheads
Moisturizers
Treatments and massage serums
Creams and lotions
Facial masks and peels
Although facials are often done at spas and beauty salons, there is no reason why you can't do one at home, too. So, let's discuss everything you need to know about how to do a facial at home!
Why Do You Need a Facial?
Facials aren't just good for your face, at Honest® we believe they're good for your mind too. By deep cleaning your skin you allow it to breathe, help clear up your clogged pores and hair follicles, and remove dead skin cells from its surface, allowing your natural, healthy glow to shine through.
The massage part of a facial treatment not only relaxes your facial muscles, promotes lymphatic drainage, and improves blood circulation, but it also allows you to mentally relax and let your mind drift so you can simply be in the moment and enjoy.
How to Do a Facial at Home
Things You'll Need:
Cleanser––choose one that's suitable for your skin type that will remove impurities. Just make sure it's gentle and doesn't irritate your skin.
Exfoliator––once your skin is clean, you can move on to using an exfoliator. You can opt for a physical or chemical exfoliator, although many salons use physical exfoliators. Whatever you use, just make sure it doesn't contain microbeads or particles in the formulation as they can create micro-tears in your skin. Our Gentle Konaj Sponge is a must try!
Face Mask––facial masks are designed to be applied to your skin and work their magic in 20 minutes or less (give or take). Options and formulas vary depending on your wants and needs. You can do a detoxifying mask, a skin tone brightening mask, a hydrating and moisturizing mask, a clarifying mask––just be sure to choose one that targets your skin concerns.
Moisturizer––you can use the same moisturizer you use every day, or choose a special one for facial day. Either way, it should provide an optimum amount of moisture and hydration to your skin to ensure it doesn't dry out from all the treatments and cleansing.
Hot Water––for a facial treatment at home, you simply can't do without hot water, especially for steam!
Towel––towels are required not only because of their usefulness, but also because they will help create that 'spa-like' experience.
Scented Candles––like the towels, scented candles can take your at-home facial experience to the next level. Be sure to choose a scent that's relaxing and soothing.
How to Do It:
Set Up––the first thing to do is to set up your facial area. Gather all your required skin care tools into one place, including your towels and bowls to assemble everything and steam your face. Light up those candles, open your window blinds (or close them!), put on some music, and get ready to relax and enjoy.
Cleanse––remember the first step in your skin care routine is cleansing. A professional facial routine requires deep cleansing to be done, and even if it's done at home, you should do the same. If your skin is not properly cleansed, the second step will do more harm than good. So… proceed with caution!
Steam––after you've removed dirt and impurities from your skin, you can use steam to open up your pores. To steam your face at home without a real facial steamer, you have two options. You can use a towel dipped in hot water and put it on your face for a few minutes. Just make sure the water isn't hot enough to burn. Or you can boil some water and stand over it with a towel around your head; this will put your face directly over the steam, while the towel makes sure it doesn't escape.
Exfoliate––no facial, DIY facial or not, can be complete without exfoliation! Exfoliators help remove settled in dirt, grime, and the top layer of dead skin cells. If you have acne prone skin, exfoliation can also minimize any blackheads, whiteheads, and help prevent acne breakouts and hyperpigmentation. Note that you can exfoliate with things other than gritty soap – read our blog post about how to use a konjac sponge for more information.
Mask––once you've opened your pores and cleaned the gunk from inside them, it's time to apply your mask. The exfoliation process helps your mask ingredients get deep into the skin. For best results, massage the mask into your skin a few times right after you apply it. Let it sit for a while and 'dry', then wash it off using cold or room temp water. If you're wondering how often to use a face mask for optimal results, understand that it all depends on the type of mask you are using.
Moisturize––once your skin is thoroughly cleansed and feels rejuvenated, you can apply a layer of your favorite moisturizer. Wondering when to use face serum? Right before this step, you can apply any other serum that you like. The moisturizer will then create a seal of hydration that helps protect your skin and keeps it moist. Even if you have oily skin, moisturizing is still important.
Facial Massage––As you apply your moisturizer, you can massage your skin in circular motions, targeting small sections of your face at a time. Close your eyes and say, "Ahhhhh!" Remember that massage helps reduce signs of aging and drains your lymphatic system. All wins in our book!
As you can see, facial steps at home aren't all that different from those you'll experience at a day spa. With the right tools and ingredients, you can easily do the same thing and never leave your house! One word of caution though, it's probably best to skip the extraction step during your at home facial and leave that to esthetician professionals. This will help to avoid causing infections or potentially scarring your skin.
Now, time to decompress!
Sources:
https://www.avaneclinic.com/blog/benefits-of-regular-skin-facials/
https://www.goodhousekeeping.com/beauty/anti-aging/a32146277/at-home-facial/
We aim to provide you with the most honest and credible information possible. This article was reviewed for accuracy by The Honest Team and was written based on trusted sources that are linked at the bottom of the article.
blog_review_statement