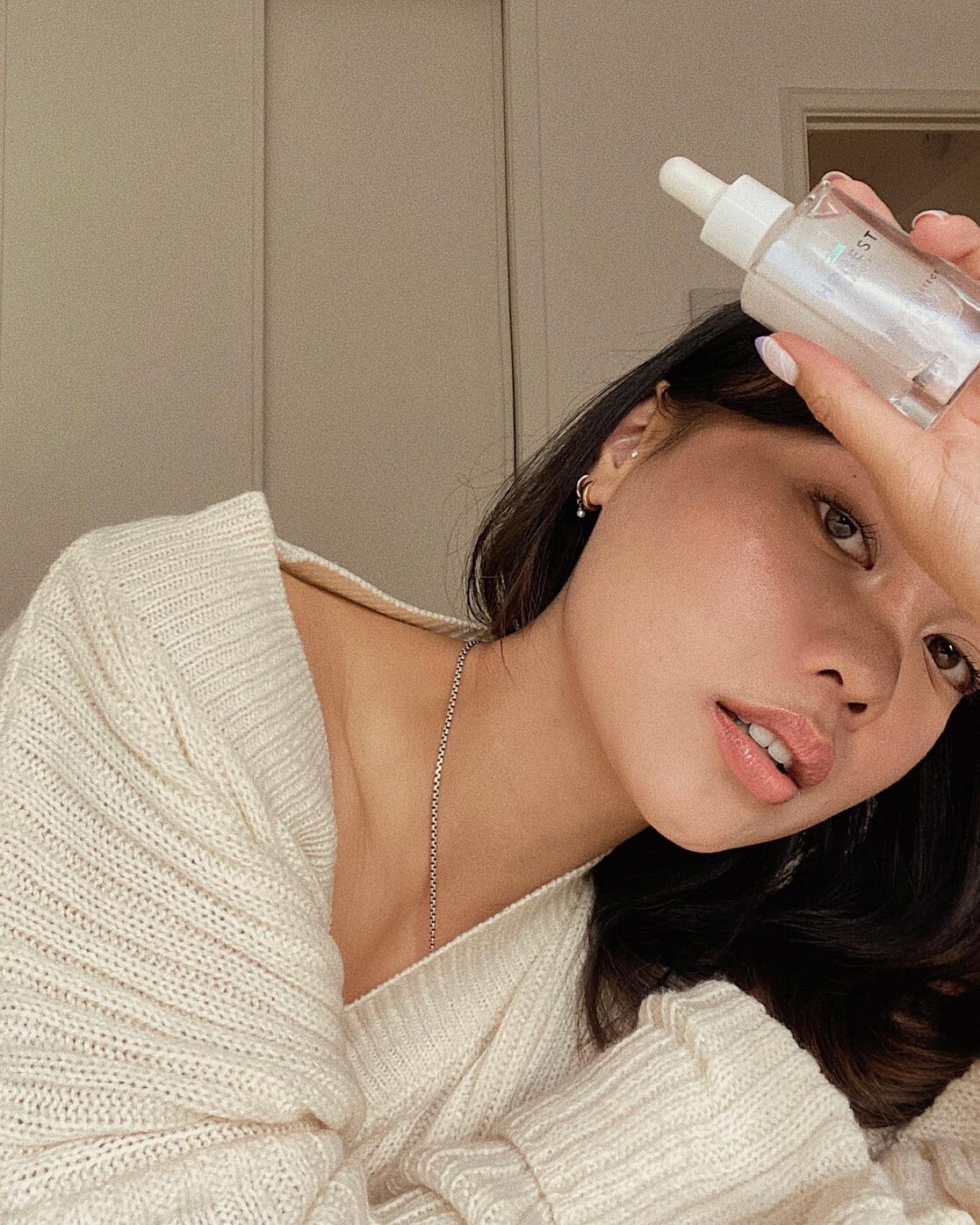 Image shared by @katiecung
If you suffer from any kind of complexion woes, a good serum in your life might be the answer you've been looking for. A great serum that's suited for your skin type can offer a range of benefits, including:
Boosting the effects of your moisturizer
Boosting your skin's radiance
Clarifying your skin
Giving your skin a more matte look
Reducing visible signs of aging
Reducing inflammation from things like acne and breakouts
What are Serums?
First thing's first! In simple terms, serums are concentrated skin products that are designed to deliver a boost of goodness to your skin in a light formulation that's easy to absorb.
They efficiently deliver active ingredients wrapped in small molecules that penetrate your skin better than heavier creams. These ingredients are formulated to enhance all your best skin qualities and minimize your worst.
Most of the active ingredients tend to be some combination of antioxidants, vitamins, acids, botanical extracts, and peptides, encased in formulas that are light-weight and deeply nourish your skin.
Oftentimes, serums are water-based and come in a thin liquid or gel formulation that makes it easy for your skin to soak up the product. It is important to understand when to use a face serum and the proper order of face products so that the active ingredients in your serum and other skincare products can start doing their job as fast as possible.
The thin consistency also allows the product to have a higher concentration of active nutrients because there are no additives or other ingredients getting in the way and 'taking up space', so to speak.
For example, a hydrating serum helps to nourish the skin by sinking deep into your skin's layers. This results in a stronger impact on your skin than say, a hydrating moisturizer that just sits on your skin's surface.
There are a wide variety of serums available on the market these days, each boasting of a unique formulation and the ability to fight specific problems. Your issue could be a lack of hydration, acne, dull skin, or something else. Whatever the problem, there is a serum for all skin types!
Serums are best applied before you apply any moisturizer, since moisturizers can create a seal on the top layer of your skin and hinder how well the serum can be absorbed. However, when applied properly as part of a thorough skincare routine, serums can serve as targeted treatments for a number of skin woes.
Serums for All Skin Types
Before choosing a facial serum, it's wise to figure out what your skin type is. Common skin types include:
Oily skin
Dry skin
Mature or aging skin
Combination skin
Sensitive skin
You should also identify any skin concerns you might have before trying a serum. Common skin woes include:
Acne prone skin
Dry skin
Breakout prone skin
Wrinkled skin
Dull skin
Once you know your skin type and the problems you want to overcome by using a face serum, it will become easier to shortlist the most suitable serums for yourself. There are so many options available that if you don't streamline your choices, it can be overwhelming. However, as a general rule of thumb, the most popular and effective serums are those that offer some combination of antioxidants, hydration, and extracts.
For Oily Skin
Some of the best serum options for oily skin might contain ingredients like glycolic acid and salicylic acid. These acids increase your skin's cell turnover and ensure your skin stays looking clean and fresh. No clogged pores for you and your oily skin type!
It's also important to opt for a water-based serum so it doesn't increase the oil of your skin. The goal is to reduce the oil levels, not exacerbate them! Ingredients like niacinamide can also help regulate the production of sebum, which makes it ideal for oily skin.
For Dry Skin
If you have a dry skin concern, your ingredients will look a bit different. Serums for dry skin should contain hydrating ingredients. Some of the best of these types of ingredients include hyaluronic acid, which can hold up to 1000 times its weight in water. Creamy and heavy ingredients like ceramides and glycerin, as well as aloe vera and other similar plants are also excellent choices for skin that's prone to dryness.
For Aging and Mature Skin
If you have mature skin, hands down one of the best ingredients is definitely retinol, or retinoids as a whole. Retinoids help to slow down the effects of aging and minimize its visible signs. They do this by increasing your cell turnover rate.
Vitamin C is also a suitable ingredient since it brightens and rejuvenates your skin by flooding it with loads of antioxidants, which helps reverse and minimize sun exposure damage.
The keyword for aging and mature skin is antioxidants, as they help to counter almost all the related problems. But hey, you don't have to wait until you're older to start reaping the benefits of these types of ingredients. Anti-aging serums can even be used by people in their early 20s as a preventative measure.
The sooner you start caring for your skin like it's the only skin you've got, the sooner you'll start to see the rewards of those efforts on your healthy skin!
For Acne-Prone Skin
Similar to mature skin, retinoids are also one of the best choices for acne prone skin. By stimulating cell turnover, you help your skin shed those unhealthy skin cells faster and reveal the vibrant ones beneath.
However, keep in mind that high concentration retinoid serums and creams are by prescription only, so you may have to speak with your doctor to obtain the concentration best for your particular issues. Salicylic acid serums are also a suitable option for helping to control acne and breakouts and bonus––they don't typically require a script to obtain.
For Hyperpigmentation
Hyperpigmentation is a condition where your skin tone is unbalanced and shows areas of excess pigment. It can manifest in the form of melasma, sun spots, age spots, and even acne scars or dark spots from breakouts.
One of the best ways to help reduce these types of problems is to incorporate a Vitamin C serum into your regular skincare routine. Vitamin C works efficiently to target hyperpigmentation and can offer excellent results in many cases.
You can also use other antioxidant-based serums. And if you're looking for added benefits, try opting for a product that's infused with botanical extracts like azelaic acid, alpha arbutin, licorice, or kojic acid. Also, keep in mind that with vitamin C, you might want to try applying it during the day since it helps provide a small measure of protection against sun exposure.
For Sensitive Skin
If you have sensitive skin, you already know that it can become triggered and inflamed by any number of ingredients. The skin barrier is more fragile and reactive than your average Joe, which means you gotta be extra careful what you introduce to it.
Sensitive skin requires relatively straightforward products that contain as few ingredients as possible. For a safer and less intense version of a retinol serum, you might try a bakuchiol serum instead.
Bakuchiol serums provide similar anti-aging properties as retinol serums, but with a lower chance of triggering redness or dryness in your skin. Additionally be sure to look for formulas that are free of fragrances, artificial dyes, and anything else not absolutely necessary.
Tips and Tricks for Using Facial Serums
While there's no rulebook on using facial serums, there are some things you can do that can help make sure you're using them as effectively as possible.
How Often Do You Apply Serums?
Serums should be applied twice daily for best results. Once in the evening after cleansing to give your skin ample time to absorb the serum, as well as once in the morning before moisturizer to give your skin a boost for the day. However, it can take as little as 1 week, and as long as 7 weeks for a serum to have visible effects on your skin.
Using Serums
To incorporate using a serum into your skin care routine, make sure it doesn't contradict any other products you might use. Additionally, if you're just getting started, it's especially important to choose a serum with a low concentration of active ingredients, so you can give your skin time to adjust to it. You can increase the concentration over time, once you see that there aren't any negative effects.
Applying Serums
The first step is to always clean your face thoroughly. It's also an excellent idea to exfoliate. For exfoliation, you can use either a physical or chemical exfoliator of your choice. You can also use exfoliation tools – read our post about how to use a Konjac sponge for more details. Before applying anything else to your face, start by applying any acidic serums you're using. Let that one sit for about 20 minutes to make sure it absorbs into your skin fully.
After that, if you have any non-acidic serums you want to use, you can apply them. These might be serums with Niacinamide, or vitamin C and D. Once you're done applying your serums, you can then top off with a moisturizer of your choice.
Serums really aren't that complicated once you find the ones that are best suited for your skin type. They make a great addition to your daily skincare routine and offer a wide range of benefits. Why not give one a whirl? If you're interested in reading more Honest skincare articles, check out our blog posts about how to steam your face at home and how often you should use a face mask.
Sources:
https://www.humnutrition.com/blog/what-serum-should-i-use/
https://www.today.com/style/what-serum-everything-know-about-face-serum-t149981
https://theskincareedit.com/what-is-serum
https://www.instyle.com/beauty/skin/how-use-choose-facial-serums-skin-type
https://www.skincare.com/article/best-face-serum-for-your-skin-type