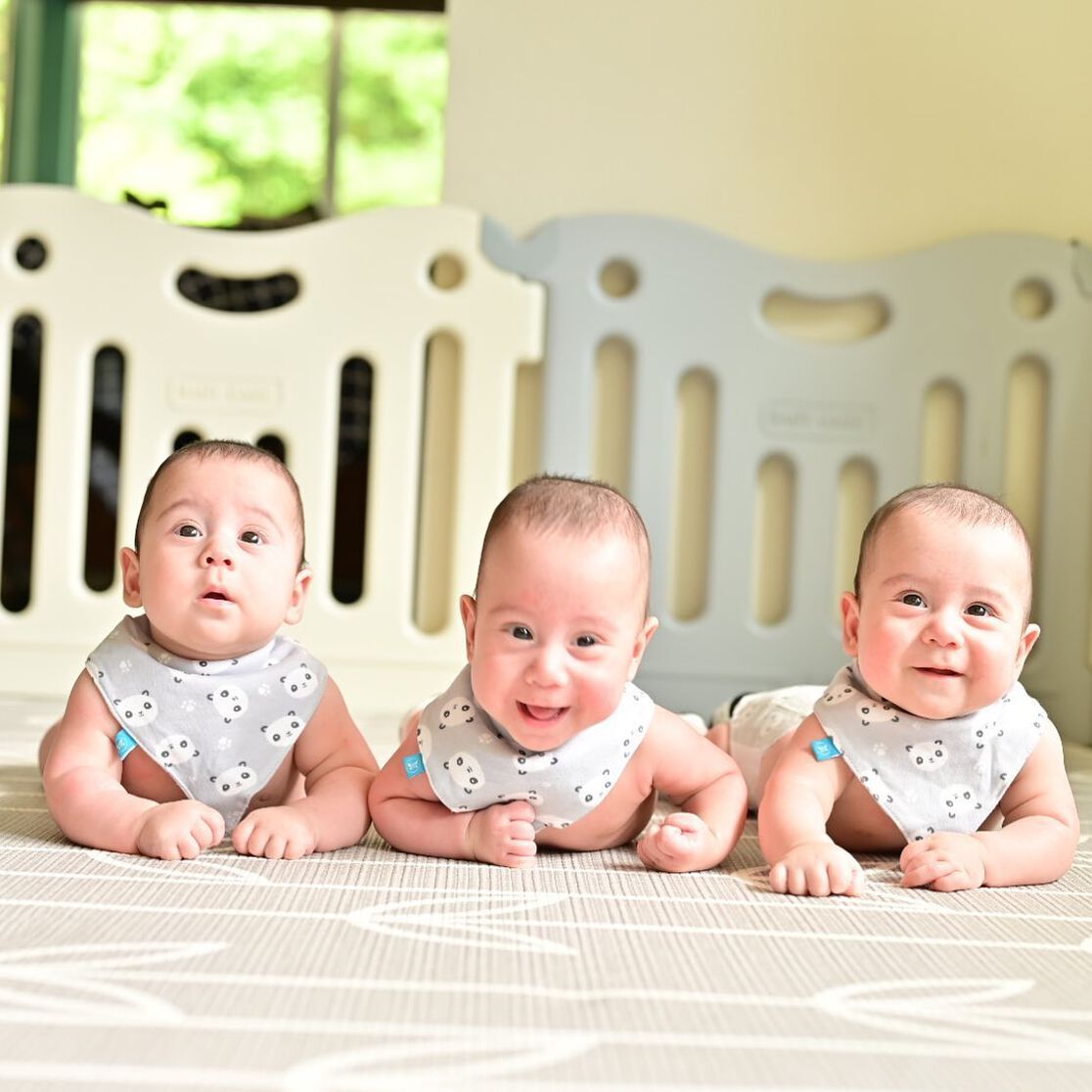 Image shared by @beltran_triplets_mom
Wondering how to look cute in school uniform? Wearing a school uniform does not mean you can't look cute while doing so. Most students that attend private schools are required to wear a uniform every day. Some schools, including many public schools, may not have a uniform per se, but they do have a standardized dress code which is basically—a uniform.
Whatever you want to call it, wearing a uniform can save you the hassle of choosing a new outfit every day. However, there's no arguing it can get boring wearing the same thing day in and day out.
How to Accessorize Your Uniform
There are tons of accessories to choose from, but you have to remember to stick to the code and conduct/policies of your school.
Socks
Wondering what back to school tips are? One of the simplest and easiest ways to ramp up your personal style is by choosing a cool pair of socks. Whether you like funky designs or solid colors, nifty knee socks help jazz up a bland uniform every time.
Jewelry
Another accessory you can add to show your personal style is a piece of jewelry. You can go with a single piece of jewelry or get a little crazy and wear multiple pieces of fashion jewelry. Bracelets, necklaces, rings, and earrings are all great choices to help spice up your school uniform without breaking any school rules or the school dress code.
Hair Accessories
There are always hair accessories you can make use of to add some pizazz and the best part is that most will work with almost any kind of hairstyle. If you like to wear a simple ponytail, you can add a fancy or classic hair tie as a hair accessory.
If you usually wear your hair down, why not add a pretty headband hair accessory or some cute pins to your look? Alternatively, you can use ribbons to dress up your hair. Sorry guys, unless you want to wear barrettes, you're out of luck in using your hair to stand out this school year.
Bags and Backpacks
Out of everyone on your school supplies list, we love this one the most! An easy way to accessorize and look a little different is by dressing up your backpack or carrying a cute purse. Some students like to alter their backpacks and add colorful tape and stickers, while others like to carry a purse, convertible tote bag, or shoulder bag in a distinctive style or color. The point is that your bag doesn't have to wear a uniform, so have fun with it.
How to Show Your Individuality While Complying with Guidelines
When it comes to individuality and uniqueness, you have to choose what your style is and what you're comfortable with, while also keeping school guidelines and uniform policy in mind.
Some might really love necklaces and bangles and choose to wear several at one time. Others might really love playing with different hairstyles to create unique looks each day, or wear different hair accessories. Girls with long hair can have a lot of fun with scrunchies, headbands, and pins.
Some students might even decide they just want to rock a cool haircut. Boys love to do things a little differently, like shaving the sides of their heads and sporting a mohawk style, while girls might decide to color their hair, provided the color doesn't clash with school rules.
Just be careful not to overdo it. Keep things simple and make sure to know what your school allows and doesn't allow; you don't want to end up in detention!
Best School Hairstyles
Some students tend to choose one hairstyle they like and wear it every day, while others like to change their hairstyles frequently.
A great option for a girl with long hair is a fishtail braid. If you don't know how to make one, there are many tutorials available online, and the more you practice the easier it becomes.
Some girls like to do a half up and half down hairdo. It's a great option for girls with a lot of hair. Ponytails can get heavy and trigger headaches, but wearing your hair fully down can be a hot mess. It is also to add into your school morning routine.
Half up and half down is like the best of both styles. You can even make two braids on each side and pull them back, securing them with a clip and letting the back hang down. The braids work kind of like a headband.
Some girls hate wearing their hair down at all during school, or might have school rules that prevent it. When that's the case, a low bun is great. It's both cute and elegant, and if you wear it a bit messy, it can also be sexy. Not to mention it's a look that's quick and easy to achieve, and it can be dressed up or dressed down with different hair accessories.
See? Figuring out how to dress up for school with a uniform so isn't that hard. Again, do what's comfortable and keep your school policies in mind, but beyond that, allow yourself to be creative!