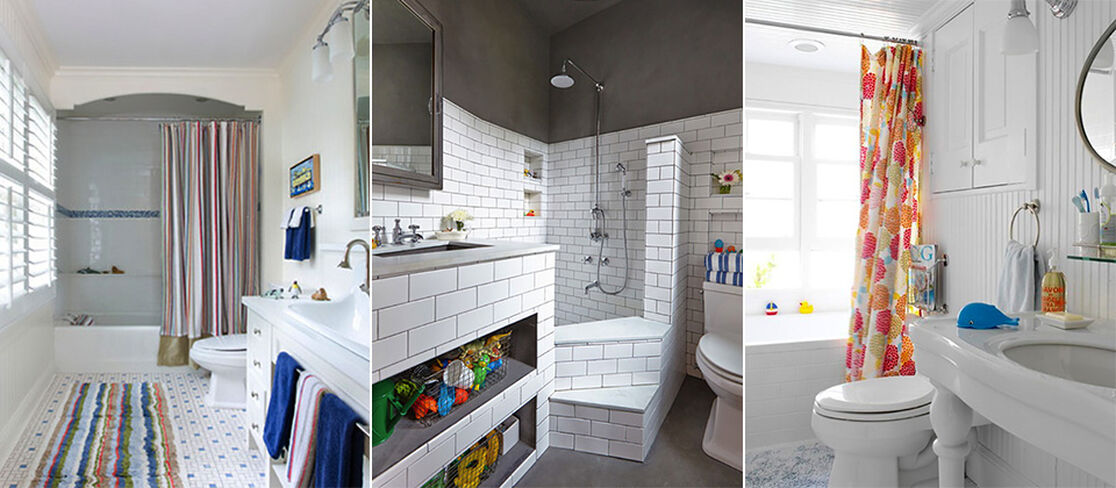 Adding a splash of color and hanging kid-height hooks are just two of the things you can do to create an all-ages bathroom. Check out these professional tips from our friends at Houzz.
There comes a time when your little one is old enough to start enjoying more independent bathroom time. From rubber bath toys to extra toothbrushes and towels, your tiny tot might start to take over this often-small space. When you're a single-bathroom household, you're left with no choice but to reorganize and update key features in your shared bathroom.
But retiling or adding a sink to accommodate the juniors can be rather costly. And there's limited space to work with. So how can you use the bathroom as one happy family? Consider these simple, budget-friendly ideas to make your adult bathroom more appealing and functional for the whole family.
10 Ways to Make Your Bathroom More Family-Friendly
1. Embrace color without sacrificing taste. A general rule of thumb for creating a shared adult and child bathroom is to add color without going overboard. No overarching child themes or cartoon characters, please. Your goal is to create a fun and interesting room for your kids that also feels relaxing to you. When a stranger walks into the room, they should see a cohesive style that reads as tasteful with a touch of whimsy.
[caption id="attachment_21599" align="aligncenter" width="600"]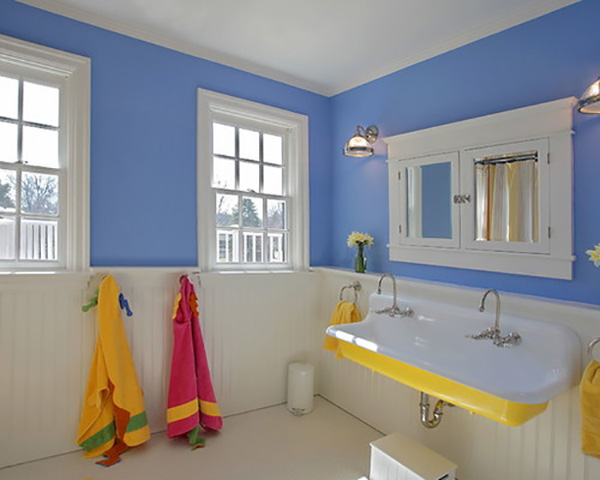 The Block Builders Group[/caption]
Honest Tip: Paint is a terrific, cost-efficient way to add color to a bathroom. It's also something you can easily change down the road as your child grows. If your bathroom is a pale hue such as white or gray, look to untiled walls to add a splash of color. Or, try painting a feature such as your cabinets or a sink in a bright hue. In this photo, blue and yellow create a fun, kid-friendly bathroom that is also comfortable for an adult.
2. Get a step stool. If you don't already have one, invest in a step stool for your little one. Bathroom counters are typically too high for a toddler or young child to reach, and a step stool will give them the access they need to brush their teeth and wash up. Since you're sharing the space with the rest of the family, look for a small version that can easily be kept in a corner of the bathroom. Some stools even fold up for easy placement behind a door or in a small nook, such as between the bathtub and sink.
Honest Tip: Consider splurging for a stool that has a theme or customized name design on it. This small detail will go a long way in adding a creative element to the room, as well as making your child feel like the adult bathroom is finally part of his or her world.
3. Hang (or hook) it low. Towel hooks and bars are usually placed pretty high up in most bathrooms, beyond where the typical toddler or young child can reach. So look for an available space — usually no less than 18 inches wide and 2 feet long — where you can place additional towel hooks or bars within reach of your pint-size family members.
Hooks are also useful since they don't take up a lot of room and they allow hung items to air-dry properly. They can also be a practical place to store gear like your child's robe or bath toys, which can be housed in a mesh bag. The lower part of the bathroom door — on the interior side — can be a good place for children to access a row of hooks.
[caption id="attachment_21598" align="aligncenter" width="600"]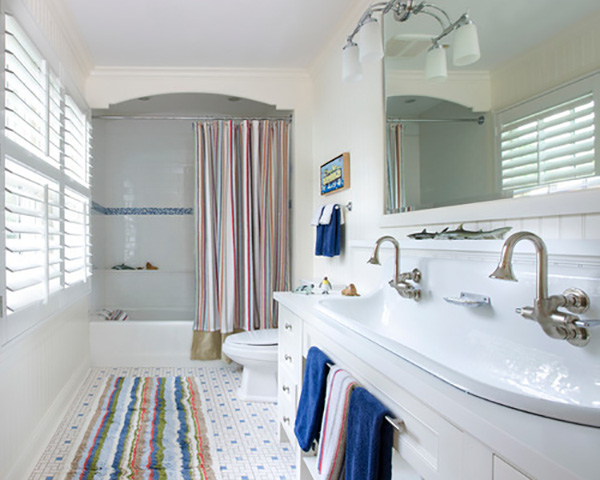 Jeannie Balsam Interiors[/caption]
Honest Tip: When you're sharing your bathroom with a child, large themed items and toys can start to overwhelm the small space. This feeling can be compounded by bright graphic towels decked out in, say, scenes or characters from popular children's movies. To keep an uncluttered feel, try selecting towels for children that have only a small pop of color detail but still coordinate with your grown-up towel collection.
4. Splurge for a separate toothbrush holder. Young tots like to feel integrated into their parents' world, but they also take great pleasure in small details crafted just for them. Give your kids a separate toothbrush holder for their toothbrushes. It might even help encourage them to brush their teeth.
Honest Tip: Select a toothbrush holder with personal details or a favorite theme. This budget-friendly item is small enough that it won't kill the adult bathroom vibe, but large enough to please the youngsters.
5. Use mesh or wire baskets. The bathroom is the perfect room of the house to embrace wire or mesh baskets, because their open design enables fast drying whereas enclosed storage items might get musty or mildewy. These airy containers work great for wet tub toys and even bath sponges. They come in a variety of sizes and are fairly inexpensive, starting around $5. If you have limited space, place baskets on a shelf or mount them on a wall.
[caption id="attachment_21597" align="aligncenter" width="600"]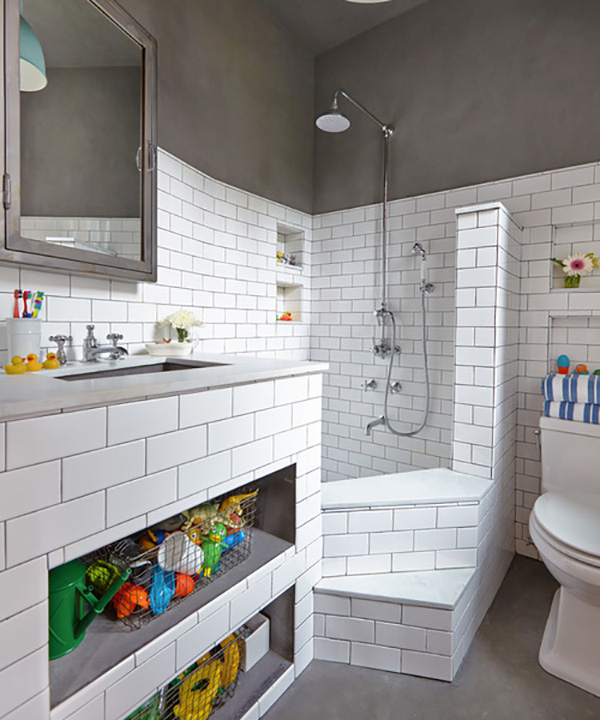 timothy bell photography[/caption]
Honest Tip: If your mesh baskets are in good shape after your kid gets a bathroom of his or her own, give the baskets a good scrub and spray-paint them for a fresh look. You can use them in another part of the house such as your home office or hung on a kitchen wall.
6. Get whimsical with hardware. Swapping out your ordinary bathroom cabinet hardware for something more unusual is an easy and cost-efficient way to alter the look of your bathroom. Cabinet hardware can start at just $3 or $4 per knob. Look for designs that are interesting but not entirely juvenile. The colored Lucite handles pictured here add a vibrant design element without screaming "toddler." They're also easy for small hands to grasp.
[caption id="attachment_21596" align="aligncenter" width="600"]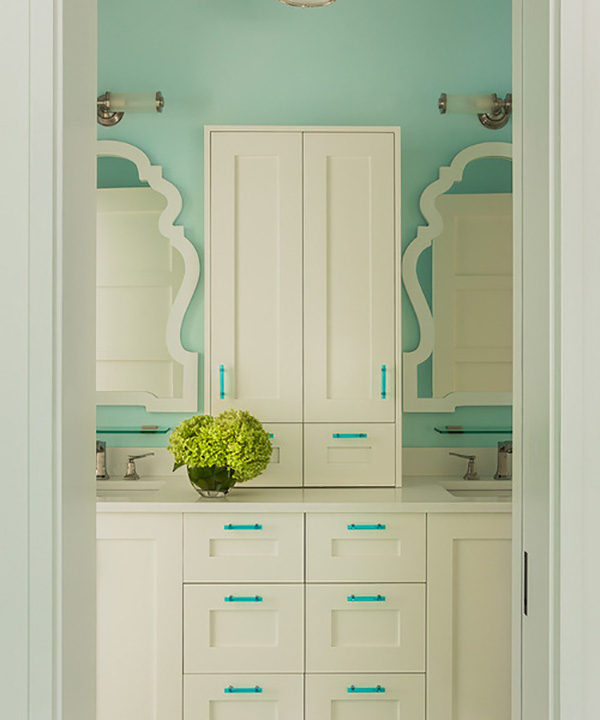 Wellen Construction[/caption]
Honest Tip: Once your child is all grown up and you've tired of the cabinet hardware, you can repurpose it on a piece of furniture, bringing a new look at no additional cost.
7. Have fun with hand soap. Kids love bubbles and textures. They also love seeing things disappear. Fun, foaming hand soap can provide a little extra entertainment — as well as an inexpensive design element — in your child-friendly bathroom.
8. Use a colorful bath mat. A bath rug can be a fun design element that can be changed out regularly. Textures like shag, bright colors such as vivid blue and fun shapes such as circles give you options to spice up the room for kids.
[caption id="attachment_21595" align="aligncenter" width="600"]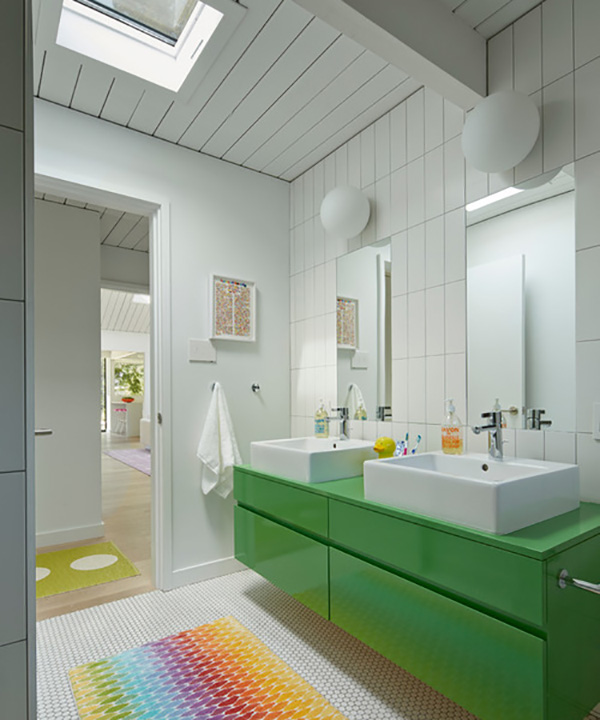 Flegel's Construction Co., Inc.[/caption]
Honest Tip: If changing the bath rugs isn't in your budget, buy just one fun or brightly colored bath mat and alternate it with your existing ones. Just be sure your new rugs coordinate with your towels and other decorative elements.
9. Stay neutral with shower curtains. If your tub requires a shower curtain, it's probably one of the most prominent features in your bathroom. Unless a bathroom is solely used by a child, I don't encourage themed or kid-inspired shower curtains. They tend to take over the entire space. Instead, look for a neutral color palette that will coordinate with all the other elements in the room. Solids or simple patterns like stripes are usually better suited for a small room with a few design elements since they won't compete for attention with all the different objects.
[caption id="attachment_21594" align="aligncenter" width="600"]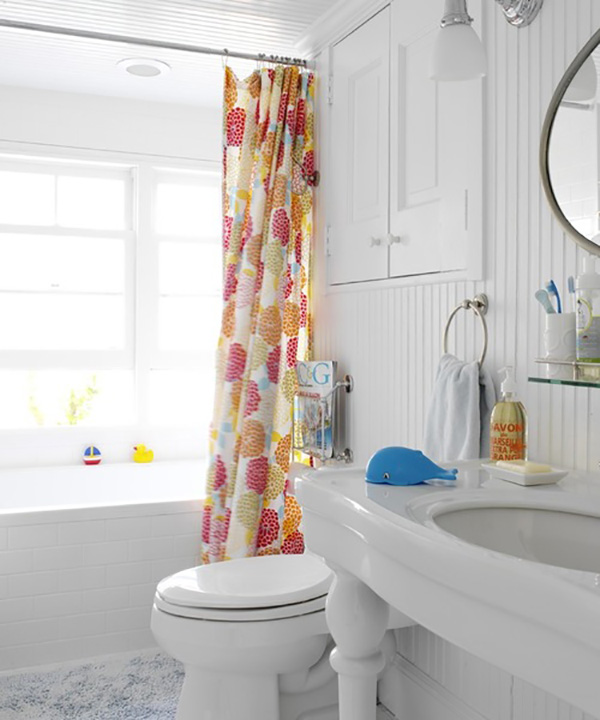 Tara Seawright Interior Design[/caption]
Honest Tip: The inverse of the previous guideline is if you have an all-white bathroom. If you do, then an inexpensive way to add that pop of color and child-friendly vibe is to only add a colorful shower curtain and make that the focal point of the room. Here, you can see how an all-white bathroom gets a touch of whimsy thanks to the floral shower curtain, giving it a fun and happy atmosphere for parents and kids alike.
10. Go wild with tub or shower accessories. In the tub is where the action is for most little ones. This is where it's OK to put that bright green frog suctioned to the wall, or a few rubber duckies and friends. Place these items low so your tots can easily access them. If you have a built-in tub shelf, that's the perfect spot. Otherwise, two separate bathtub storage holders — one for toys and one for cleaning gear — are usually enough for a fun bath time without getting in mom or dad's way.
Honest Tip: Look for storage containers that quickly air-dry, clean easily and adhere to the walls to accommodate different heights. Mesh or plastic containers with suction cups are ideal, as they are typically durable and mildew resistant.
~Neila Deen, Houzz
Houzz is a platform for home remodeling and design, bringing homeowners and home professionals together in a uniquely visual community.
For more bathroom tip and tricks, feel free to check out these other articles from Houzz.
Expert Safety Tips to Childproof Your Bathroom
Replace Your Grimy Shower Curtain With a Fresh One
We aim to provide you with the most honest and credible information possible. This article was reviewed for accuracy by The Honest Team and was written based on trusted sources that are linked at the bottom of the article.
blog_review_statement