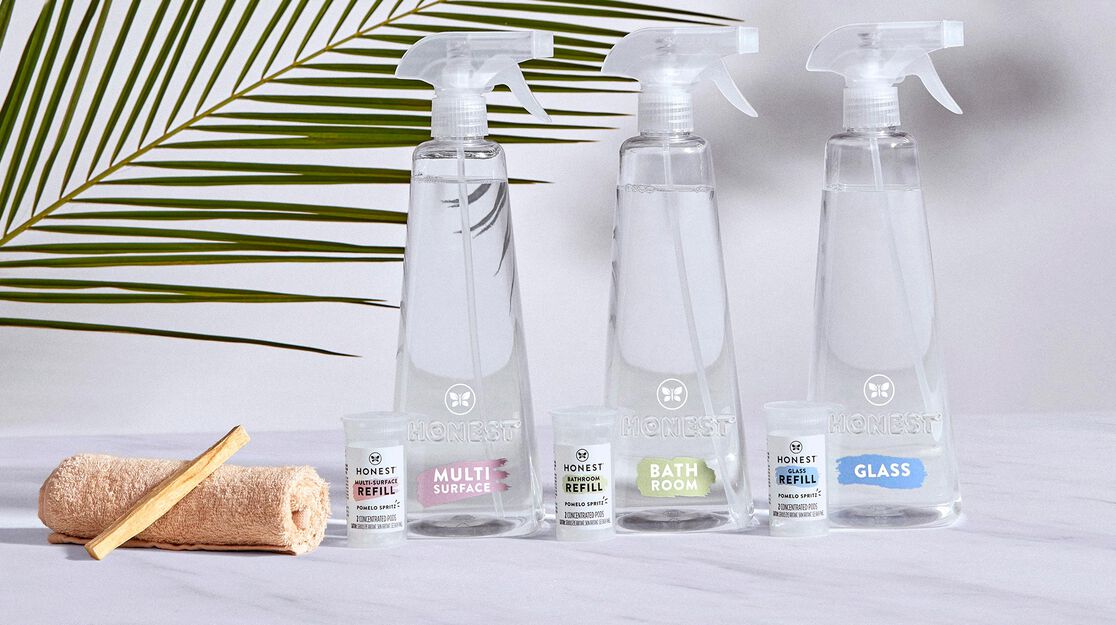 Here at Honest, we're always trying to make it easy to live a healthy, clean, sustainable lifestyle. Our latest innovation? Conscious Cleaning Essentials. We've taken a look at everything from the formula to the packaging and found smart, practical ways to make cleaning your home safe + more sustainable.
The kits
The waste is over. Our Clean Vibes Kit is basically a Conscious Cleaning starter pack filled with everything you need to never buy a single-use bottle of cleaning spray again. Here's what's in it:

3 empty spray bottles: durable, stylish, and labeled so you know which product is which.
3 refill pods: each containing two bottles worth of Multi-Surface Cleaner, Glass Cleaner, and Bathroom Cleaner — more details on our formulas below!
1 stick of Palo Santo to cleanse + purify your home's energy
1 bamboo microfiber cloth
We also have starter kits for the Multi-Surface, Glass + Bathroom Cleaners. Whether you want to try out one cleaner before committing to the full line or want a bottle of bathroom cleaner in every bathroom, every bottle refilled is one less bottle wasted.
The formula
We developed three new green cleaning formulas and condensed them into concentrated easy-to-use pods — just drop the pod in the spray bottle, add water, wait one minute, shake it up, and you're ready to clean. Our three Pomelo Spritz scented cleaners will cover all your everyday household needs:

Multi-surface Cleaner dissolves grease, films, smears, and fingerprints.
Glass Cleaner works excellent on glass, windows and hard surfaces as it deposits an invisible coating that resists re-soiling, smearing, and fingerprints while effectively freshening the surrounding environment.
Bathroom Cleaner effectively cleans + deodorizes. Use it on floors, walls, metal surfaces, stainless steel surfaces, glazed porcelain, glazed ceramic tile, plastic surfaces, showers, bathtubs, toilets, and cabinets.
And of course, our cleaners are made without Parabens, Phthalates, Bleach, Synthetic Fragrances, Ammonia, or Chlorine—like all your other Honest faves.
The design
We approached the packaging design holistically, creating products that are beautiful, functional + sustainable. Here's a peek into the design process and philosophy from our Brand Director, Jamil Moen:
"Design at Honest is about showing our values in ways that delight, right down to the smallest detail. It starts with a 100% PCR outer carton (just like all our shippers BTW) that acts as packaging AND shipper to save some trees. Our refillable Conscious Cleaning sprayers can last your lifetime and look cute on a counter -- we call that a win-win around here. And the same kind of thinking goes into our refills that come with every kit: no wrappers to toss, just fill up the sprayer with water and pop it right in. We want to make being conscious a breeze, not a bother!"
The impact
We're tackling waste on multiple fronts. The most obvious being the refillable bottle — the most effective way to reduce waste is to not create it in the first place. Did you know that according to IRI, in 2019 US households bought almost 600 million bottles of household surface cleaners (Multi Surface/Disinfectants, Bath and Glass)? Together we can make a dent in that number!
Diverting bottles from landfills (or worse) makes a big impact, but our sustainable changes go deeper than that. Transportation accounts for the largest percentage of Greenhouse Gases per year — that's why we are shipping our new Conscious Cleaning Essentials without water. This helps remove weight from trucks making them more fuel-efficient, which contributes to a lighter footprint and helps lower gas emissions. By using our concentrated pods, we save 1.8 pounds of water being shipped per bottle and almost 5.5 pounds in the three pack starter kit. The bottles themselves take this into consideration as well — we opted for a lightweight, durable plastic instead of glass to further reduce each kit's weight and increase efficiency in the shipping process.
And we didn't stop there. The shipping carton itself is made of 100% PCR (aka post consumer recycled) paper and is designed to be sturdy enough to ship in its own case so no additional corrugated boxes are needed.
We're beyond proud to bring you our Conscious Cleaning essentials, and inspired by the impact that simple, sustainable changes can make. Order your Clean Vibes Kit today + help us reduce waste one refill at a time.