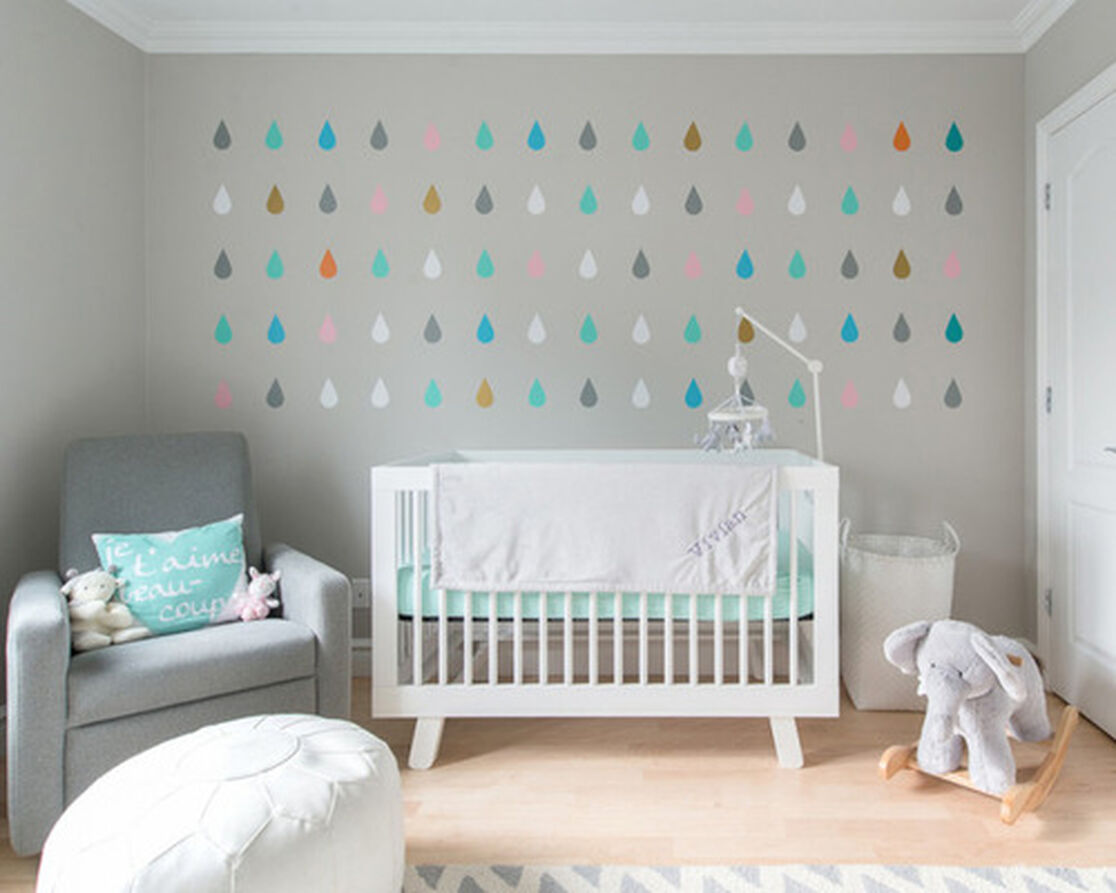 Getting ready to welcome a little one? This delightful design project doesn't have to be complicated or super costly. Find out where you should spend more and where to give your budget a break, courtesy of our friends at Houzz.
4 PLACES TO SAVE
[caption id="attachment_21199" align="aligncenter" width="500"]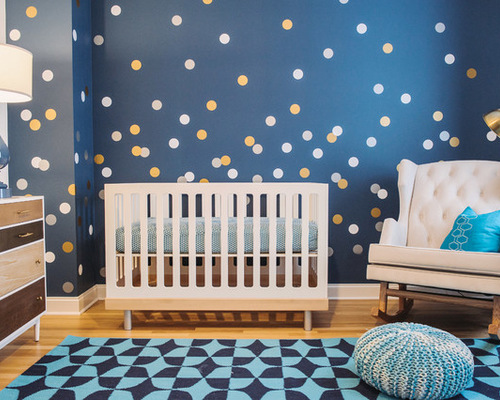 SuzAnn Kletzien Design[/caption]
1. Wall color and decor. The walls in a nursery are pretty much the most visual aspect of the room, and one of the least expensive to decorate. Whether it's paint, wallpaper, decals or a combination, none of these items need be expensive, and a little goes a long way.
Start by choosing a color scheme you're drawn to. Then decide on a theme or pattern. Maybe you imagine your little one sleeping in a playful jungle, or you want something serene and sophisticated in gray. The key is to layer your overall color and theme with different textures and complementary hues.
In a gray room, try accessorizing with shiny silver accents, such as an inexpensive shimmery pillow. For a vibrant jungle room, choose a piece of furniture with a wood-grained texture to emphasize the nature theme in the room.
Tip: For cost savings, you can feature just one wall in the room, such as the crib wall.
[caption id="attachment_21200" align="aligncenter" width="500"] Evelyn Lee Interiors[/caption]
2. Cribs. Shopping for a crib today can be mind-boggling. With different colors, styles, heights and sizes, how do you decide? And does more expensive mean better? In a nutshell, no. You don't have to spend $1,000 on a crib if that's not in your budget. Safety is the most important feature. Cribs that meet the guidelines of the U.S. Consumer Product Safety Commission or the National Institutes of Health are your best choices and are available in all price ranges. The Juvenile Products Manufacturers Association certifies cribs that meet safety guidelines, so look for its certification as you shop.
Once you've determined the security of the crib, select a style that reflects the decor of the room. Sleigh cribs, for example, are more traditional, while low-profile cribs present a more modern feel.
Choose a crib that's appropriate for the height of anyone caring for your little one. If you are tall, bending all the way down to a lower crib may be tough on your back over time.
Tip: Get even more use from your crib by looking for one with another feature, such as drawer storage or the ability to convert to a toddler bed later.
3. Bedding and pillows. Similar to cribs, nursery bedding runs the gamut in pricing. With eye-popping price tags for fancy blankets and pillows, you may be asking yourself, do I need to spend a lot on something that will get soiled or spit up on? Not at all. Your baby doesn't need 800-thread-count sheets or the most expensive and popular brand of muslin bedding and swaddles. For as little as $10, you can get soft crib sheets and textiles in adorable prints and lovely colors. After making sure that any textiles for your baby are nontoxic and nonflammable, the next most important thing is to marry style and function. Look for colors and patterns that are complementary to your overall design scheme, and that are healthy, safe and soft for your baby. Muslin, jersey knit and cotton poplin are the most popular and recommended fabrics because they are breathable and durable.
Tip: Try placing beautiful textiles and bedding throughout the nursery for an added decorative element. Colorful swaddles folded in a basket add a splash of color to a room.
[caption id="attachment_21201" align="aligncenter" width="500"]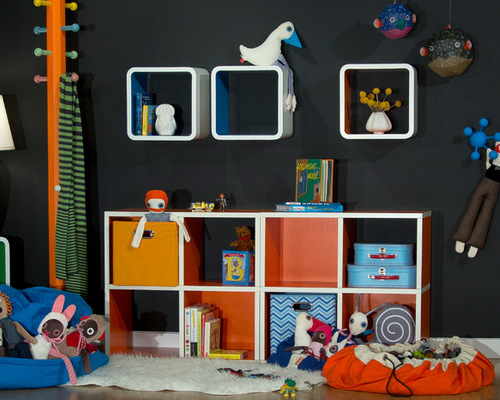 Sheila Schmitz[/caption]
4. Storage. When considering your storage in the nursery, think of shelving and cubed furniture (also known as cubby furniture) to store your baby's toys, books and sundries. Both of these choices are cost-efficient and extremely versatile as your baby grows. Toys become bigger and then smaller again. The same for books. Shelves on a wall can accommodate many sizes. Cubed furniture not only gives you the ability to use small or large storage containers, but also the flexibility to swap out storage baskets if your color or theme changes.
Tip: Wall-mounted shelves are also great as decorative accents, especially for small spaces. Arrange shelving in an artful way that creates visual interest in the room. Similarly, curate each shelf with personal and themed accents that highlight the decor of the room.
5 Items to Splurge On
1. Customized details. Personalizing your nursery will make this time in your life even more memorable and the room truly special. Think about having your little one's name hand-painted on the wall or monogrammed on a blanket. This personal touch may cost a little more, so use it as a feature in your nursery decor
Tip: Personalize an item that your child can grow with or use for a few years. Customized accessories like this include a lit marquee of their name or initial, or a storage chest.
[caption id="attachment_21202" align="aligncenter" width="500"]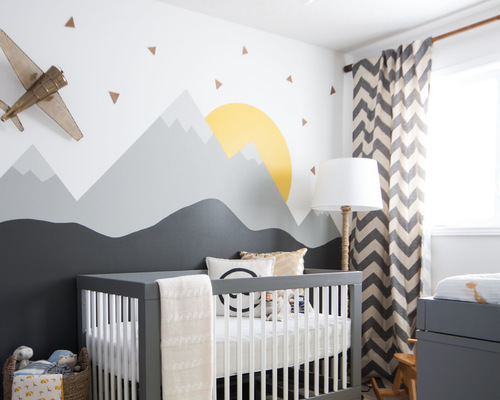 Leclair Decor[/caption]
2. Window treatments. One thing to keep in mind is that babies sleep better in the dark. Although pretty cotton curtains are often inexpensive and eye-catching, ask yourself if they also sufficiently block the light. If not, add a roller shade underneath. Other options are to pay a little extra for room-darkening blinds or blackout drapes. Roman shades with a blackout liner are also a great option. Ensuring that your little one sleeps soundly — or just that he or she sleeps — is priceless!
Tip: If you live in an area that gets cold in the winter, definitely splurge for a heavier fabric. This will absorb any cold air that might find its way into your little one's room.
3. Mattress. Since you don't have to spend a lot for a safe and attractive crib, use those savings to splurge on a good crib mattress. In most cases, it will be used for about three years, so you want to invest in something that's great for a small baby and an active toddler.
A good crib mattress should be certified by the U.S. Consumer Product Safety Commission (note that the Juvenile Products Manufacturers Association does not certify crib mattresses) and should be sized exactly for your crib. Specifically, the dimensions of the mattress should not leave a gap when placed in your crib, but instead fit snugly and securely.
Look for a mattress that's also firm and supportive for your baby's growing and delicate spine. Other top considerations for a quality crib mattress are a waterproof casing, and the breathability and toxicity of the materials used. While there isn't a set standard for these last three criteria, if your budget can handle the top-rated mattress for all these measures, go for it. Ensuring a safe and comfortable night's sleep for your child is crucial.
Tip: Select a mattress cover that is well-padded, soft and waterproof. This will not only protect the mattress, but will make your little one's crib even cozier too.
[caption id="attachment_21203" align="aligncenter" width="500"]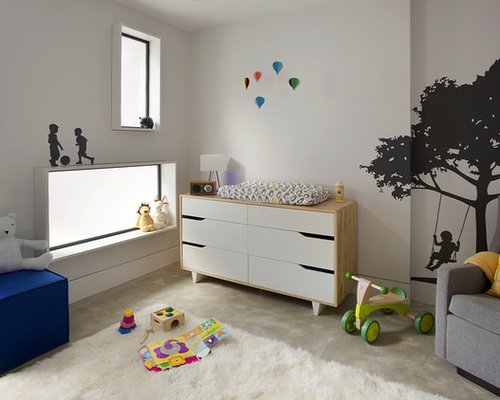 ZeroEnergy Design[/caption]
4. Changing table. Spending a little extra on a changing table may be worth your while. The key things to look for are its safety, functional height and storage options. A safe changing table is sturdy and wide enough for a changing pad, and allows the pad to be secured to the table or dresser itself. A functional height means that it's at a comfortable height for your arms, back and neck. Anything too low or too high will be physically challenging. And finally, optimal and accessible storage is paramount when you have a squirmy little one in front of you. Easy-to-open drawers or well-placed shelving will conveniently store your diapering sundries while making all those diapers changes a bit easier.
Tip: When choosing a changing table, look for something that isn't too age-specific. As your little one grows, a changing table with drawers can get a little more mileage as it becomes a dresser for an older child (or even you). Swapping out the hardware for something more elegant is another way to add to its flexible and enduring use.
5. Rocker or daybed. Many new parents imagine sleepless nights to be a part of the first few months of a baby's life. Unfortunately, 2 a.m. wake-ups happen long past that. The bottom line is, exhausted parents need to be comfortable for two years and counting. So if you have the space and budget, go for that gorgeous daybed decked out with a million pillows. Likewise, invest in a rocker or glider that is extra comfy and stylish. There's nothing worse than sitting in an uncomfortable chair in the middle of the night. Choose a chair that not only suits your nursery style, but that you look forward to sitting in too. Because the person for whom it's really important is you.
Tip: Whether it's a daybed or rocker, invest in something that is a little sophisticated (not too gender- or age-specific) so that it can be used as your child gets older or repurposed in another room of the home.
~Neila Deen, Houzz contributor and interior designer
Houzz is a platform for home remodeling and design, bringing homeowners and home professionals together in a uniquely visual community.
For more decor ideas, take a look at these other links from Houzz!
7 Kids' Bedroom Decor Ideas That Won't Break the Bank
We aim to provide you with the most honest and credible information possible. This article was reviewed for accuracy by The Honest Team and was written based on trusted sources that are linked at the bottom of the article.
blog_review_statement