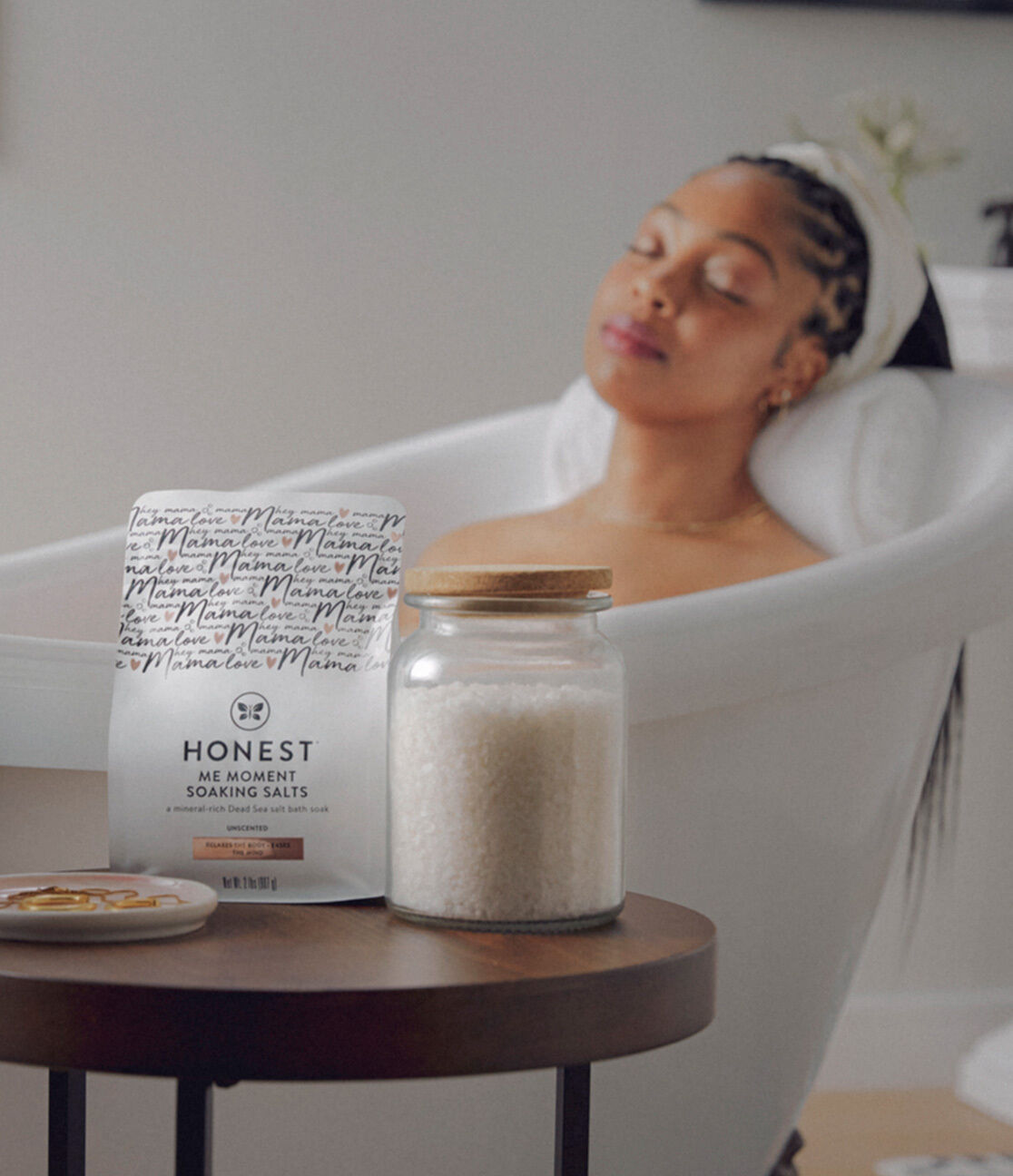 New Year, new me. Who doesn't like the sound of that? For the average person, this can be exciting, yet for a [new] mama, it can be overwhelming. If you got caught up in the whirlwind of annual New Year's resolutions, piling on affirmations and goals that you missed in the hullabaloo of 2022, then you know that next year's resolutions look like a daunting to-do list that needs more than solutions to get through.
That's why we challenge you to dare to do things differently in the New Year. Choose calm instead of the chaos of trying to reach a perfection that doesn't exist and focus on nourishing yourself. Whether that's ditching the cringe New Year's resolutions or adding a calming fave like our Truly Calming Lavender Bathtime collection to your daily self-care routine, it is time to do what is best for you.
Maybe you would prefer our Gently Nourishing Collection that includes bubble bath, shampoo + conditioner and face + body lotion that is gentle enough for you and baby? Whichever works, know that the journey to becoming the "best mother" is acknowledging that there is no such thing as a "best mother". After all, what is motherhood but a personal journey that looks different for every lucky lady called to the chaos? Here are some other things to remind yourself about motherhood:
1. Perfection lies in your imperfections.
In adult relationships, no one can connect with someone who tries to be perfect. It's suffocating! In your quest to be the perfect mother (who does not exist), you alienate yourself from your precious baby and the village designed to support you in this chaotic quest.
Give yourself grace, mama! What does grace look like? Baby's bathtime schedule got thrown off because your Zoom call ran longer than expected? It's okay. You let the screen babysit your feisty toddler for an hour while you finished some chores, although you swore your kid wouldn't be a screen kid? Totally okay. You're a human being, not a fictionalized super mom who can stretch herself in a thousand directions at once like Mrs. Incredible or something.
2. Be real with yourself and others, too.
Before having your first baby, you have no clue what you're doing. After a while, you hope to get in the swing of things but quickly realize that when it comes to raising babies, no two days are the same, and you never have all the answers! Lean into the unpredictability of motherhood and into your village even more.
Like you, your village may have no clue what to do, but at least they're there cheering on you and your little one every step of the way. This means if you are too tired to change a paw-printed diaper, let your spouse, mom, or whoever is with you know what you need. If you want someone to babysit for a few hours while you nap or step outside for fresh air, ask for help. Yes, the fear that you may not get the help you need when you need it is real. But the love that your village has for you is realer. Shoot your shot, mama.
3. Laugh, and cry, a little or a lot.
Some say, "if you don't laugh, you'll cry." Well, isn't crying cathartic? Crying releases oxytocin and endogenous opioids, feel-good chemicals that help ease emotional pain. As for laughter, we all know that a good laugh is the best form of medicine. When you miss your spa appointment for the umpteenth time, try our Me Time for Mama Daily Indulgence 10-piece set for new moms-to-be or Spa Time Anytime Luxury 10-piece set post-partum. If you still can't carve out time to indulge, laugh and cry a little or a lot. Whichever way, you will get the release you need and hopefully realize that the unscripted craziness of motherhood is ultimately worth it all!
4. Ditch the filter.
We get it - motherhood has a way of getting in the way of your glamorous moments. Messy, disheveled buns replace sleek ponytails. Pink and pouty lips look a lot more like dry, chapped lips season in and out. And let's not get started on eyeshadow for a casual but cute night out - do you even remember how to do a cut crease? While you may want to lament what feels like losses during motherhood, can we encourage you to look on the bright side?
Makeup-free days mean your skin has more time to breathe. Cutting back on your beauty routine gives you the opportunity to focus on your day-to-night skincare routine. Never mind if it's only three steps instead of your typical 12-step skincare routine. This looks like replacing your fave Honest foundation with Hydrogel Cream for dewy, brilliant skin even while the baby is having a complete meltdown. Or replace your eyeshadow with Depuff + C Eye Cream to help brighten the look of dark undereye circles and minimize the appearance of puffy eyes earned because the baby just can't seem to sleep through the night. When you finally strike a selfie, you'll be proud to show off your filter-free natural beauty.
Now, how do these sound for New Year's resolutions? Honestly doable? We think so! Remember: New Year, nourish you, always.
How will You Prioritize Nourishing You in the New Year?
Sources:
9 Benefits of Crying and Why it's Good and When to Get Help. Healthline. https://www.ncbi.nlm.nih.gov/pmc/articles/PMC6402489/
We aim to provide you with the most honest and credible information possible. This article was reviewed for accuracy by The Honest Team and was written based on trusted sources that are linked at the bottom of the article.
blog_review_statement