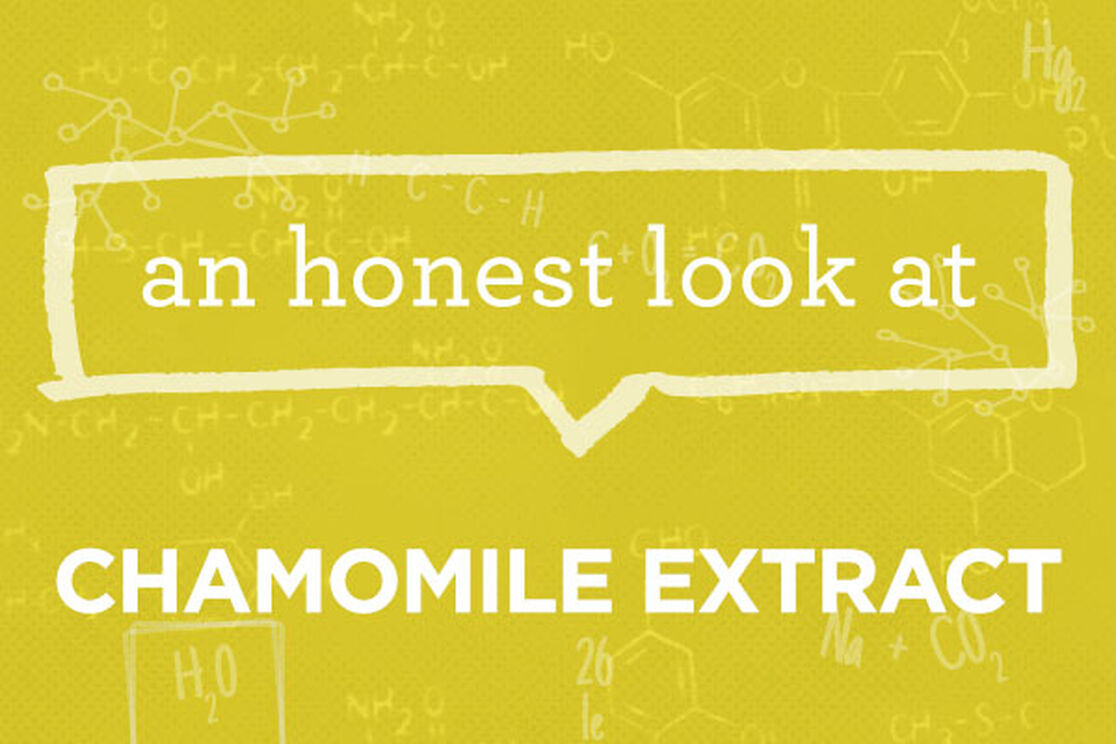 This is part of our ongoing series to help consumers better understand chemicals, chemistry and product formulations. We translate the science, bust the myths and give you an honest assessment, so you can make informed choices for your family!
Ingredient:
Chamomilla Recutita (Matricaria) Flower Extract (aka "German chamomile.")
What it is:
Just as the name implies, this is an extract from the flowers of the Chamomile (Matricaria) plant.
What it does:
You're probably familiar with chamomile tea, but this delicate little flower packs a lot of power beyond being a soothing beverage! Chamomile is a well-known medicinal plant used in herbal remedies for thousands of years and it offers a wide variety of benefits depending on how it's used. While formal research is still underway, initial studies show chamomile (and a-Bisabolol, the main active principle of the herb) works wonders for skin and hair and can help:
Support (1,2,3,4)

Soothe (1,2)

Calm (1,2)

Nourish (3,5)
Why we use it:
In addition to its naturally soothing and supportive qualities, it's a natural, renewable resource. We love finding gifts from nature that are not only effective and safe, but also easy to source and take relatively little effort to process into a raw ingredient for commercial use.  
Why we're featuring it today:
You will find chamomile in a variety of our products including our Body Oil, Face and Body Lotion, Organic Healing Balm and Baby Wipes (just to name a few). There are numerous varieties of chamomile, but the two most popular are German chamomile (Matricaria recutita) and Roman chamomile (Anthemis nobilis). We use both!
German chamomile extract is common in many of our formulas for its skin benefits, while the oil extract of Roman chamomile is used in our lotion and body oil because it has a stronger scent and it helps add to the emollient and moisturizing properties of the formulas. As you can see, we think chamomile is an all-around awesome ingredient.
References:
Kamatou, G. P., & Viljoen, A. M. (2010). A review of the application and pharmacological properties of α-bisabolol and α-bisabolol-rich oils.

Journal of the American Oil Chemists' Society

,

87

(1), 1-7.

Dawid-Pać, R. (2013). Medicinal plants used in treatment of inflammatory skin diseases.

Advances in Dermatology and Allergology/Postȩpy Dermatologii I Alergologii

,

30

(3), 170.

Morgan, M. (1996). Chamomile from a clinical perspective.

Modern Phytotherapist

,

3

(2), 17-19.

Andersen, F. A. (1999). Final report on the safety assessment of Bisabolol.

International journal of toxicology

,

18

(3 suppl), 33-40.

Srivastava J, Shankar E, Gupta S (2011) Chamomile: A herbal medicine of the past with bright future. Mol Med 3: 895–901.

Safety Assessment of Chamomilla Recutita-Derived Ingredients as Used in Cosmetics Final Report. Cosmetic Ingredient Review; January 9, 2014.

http://www.cir-safety.org/sites/default/files/chamom122013final.pdf
We aim to provide you with the most honest and credible information possible. This article was reviewed for accuracy by The Honest Team and was written based on trusted sources that are linked at the bottom of the article.
blog_review_statement