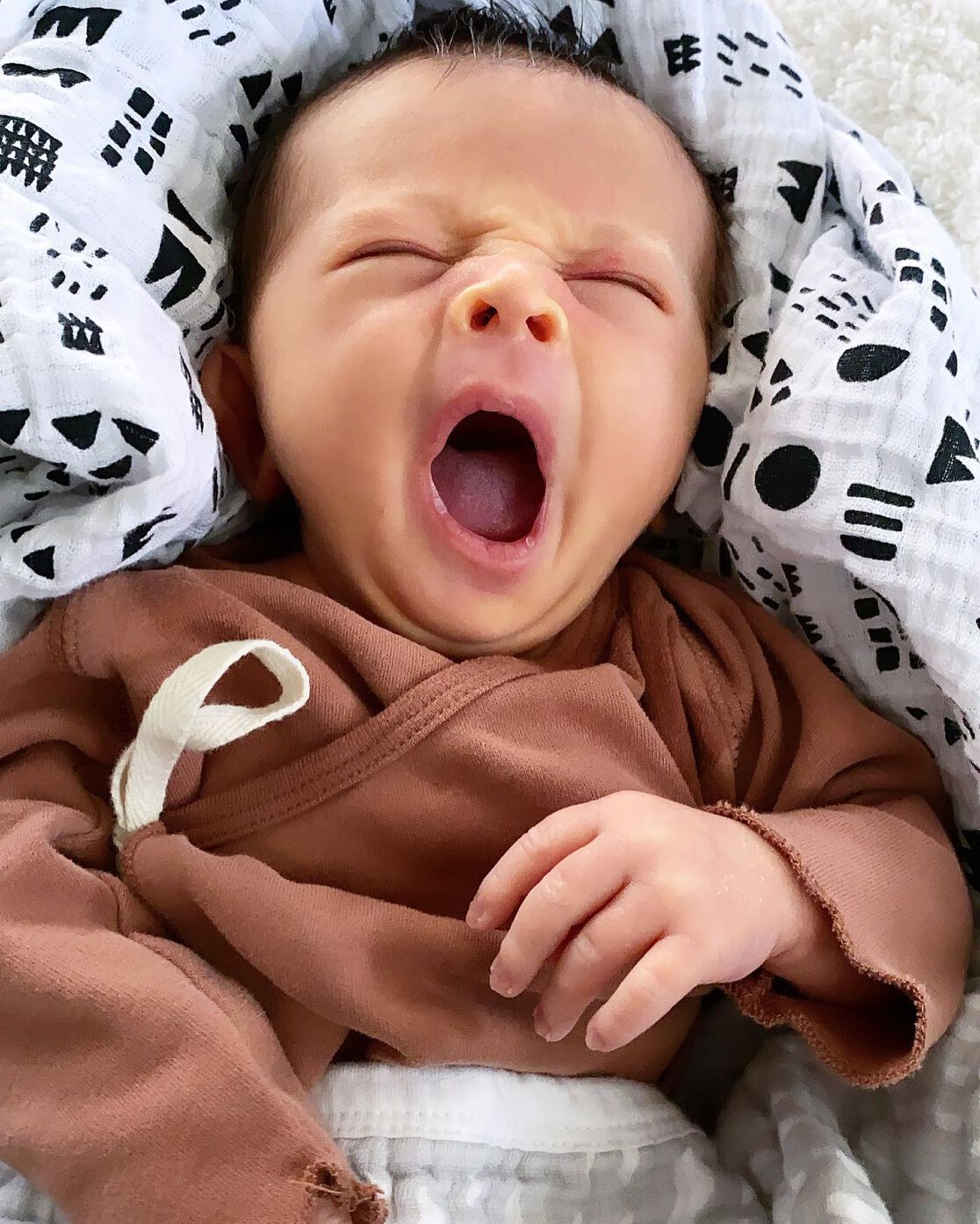 Image shared by @littlelordandladycope
Whether you're visiting family, escaping the winter cold, or jumping on a plane with your baby for any other reason, you're likely a little nervous the first time. A newborn baby is the most precious cargo you could possibly take on an airplane, but that doesn't mean it can't or shouldn't be done. With the right equipment (say goodbye to the days of packing light) and state of mind, flying with an infant can be easy—really!
Follow these tips for flying with a baby and both you and your little one can have a wonderful and safe trip from wheels up to wheels down.
Before You Go
As any new mom knows, you can never be too prepared. Before you go, there are a few steps you should take to set you and baby up for success.
Check in with Your Airline
Depending on how young your baby is, some airlines may not even allow your infant on board, so it's important to check the guidelines, ideally before you book. After 7 weeks, you're usually in the clear.
While you're checking your airline's guidelines for flying with an infant, note their checked baggage allowance for baby-related baggage such as car seats, strollers, and diaper bags. Some of these items may not count toward your carry-on total or can be checked for free. You'll want to know what you can check and what you can carry on (and if it will cost you anything) before you arrive at the airport.
Choose Your Seat Carefully
When flying domestically, any child under two years of age qualifies as a lap child and doesn't need their own seat, however, you may want to get them one anyway. If you purchase a seat for your baby, you can use the extra space to stow all the extras you'll have on you and for privacy. Plus, you may even be allowed to take on your baby's car seat, which is not only the safest place for them to sit, but can also make sleeping all the easier for them, and give you free hands during the flight.
If there are extra seats on the plane (preferably the window seat), you may not need to purchase the extra room at all. Most gate attendants will gladly give moms traveling with an infant or young child the spare seats, so be sure to ask when you check-in or arrive at your gate.
Keep in mind the "fly free" rule for children under two only applies to domestic flights. If you're traveling internationally with a lap child, you'll generally need to pay an infant fare, which is the taxes and fees on an adult fare, and in some cases 10% of the adult fare as well.
If you plan to fly with the baby on your lap and are able to choose your seat ahead of time, opting for a window seat may be best. This will allow you a bit of privacy and allow you to keep baby from getting distracted by, or bumped by, other passengers or cabin crew passing through the aisles.
Pack the Diaper Bag
Now's the time to put your type-A personality side to work and prepare your diaper bag with precision. Whether you want to travel with a backpack full of pockets or a chic travel tote, what matters is what's inside.
Packing a diaper bag when flying with an infant should naturally include all your regular diaper bag essentials, but a few travel-specific additions as well. Think plenty of diapers, bottles, swaddles, and baby food, plus pacifiers and teething toys. Keep the whole family germ-free with hand sanitizer and plenty of antibacterial wipes as well, and always carry a change of clothes (or two) for expected messes and accidents. Plus, pack the skin savers your baby will need on the go and on arrival—this kit comes with an all-purpose balm, face + body lotion, and shampoo + body wash all in teeny tiny sizes perfect for travel.
It's also a good idea to pack a "just-in-case" bag complete with baby Tylenol, baby allergy medication, and other helpful oils and treatments for teething, pain, gas, and allergic reactions.
If you're traveling with a toddler or small child, bring a lot (we mean a lot!) of snacks, plenty of books, stickers, and entertaining toys. As you reach milestones in the flight, feel free to break out "surprise" toys to encourage good behavior and create excitement around the flight. Keep in mind, any children 2 years or older will also need to wear a face mask on the flight as well, so pack a few.
At The Airport
Once you arrive at the airport, it can get a bit hectic. But if you arrive early, keep baby close, and bring the right gear, you'll be ready to take on the terminal.
Arrive Early
Traveling with a baby is the opposite of traveling light, and the more stuff you have, the more time you'll need at the airport. Arrive early and be prepared to show proof of identity for your little one or ones. Take their birth certificate, passport, or hospital discharge papers to verify their age.
Baby-Carry
Wear baby as much as possible when traveling through the airport. For one, this will keep baby close to you so he/she will be comfortable, at ease, and protected from contact with other people (because, you know, germs). Secondly, this will free up your hands to do everything else you need to do at the airport: check bags, go through security, fill up water bottles, and roll your carry-on.
Ask for Help
Don't forget to ask someone at check-in or the gate if there are any extra seats on the flight. The flight attendants will also be willing to help you once you're on board so don't be shy about asking for assistance, be it to stow your carryons, sneak you snacks, or help you switch seats.
Gate Check Your Baby Gear
As we mentioned above, most airlines check car seats and strollers for free, but that doesn't mean you should necessarily get rid of them at the bag drop. It may be easier to bring your stroller and car seat through the airport with you to hold all of your carryons and kids and check them at the gate. When you do this, you can often pick them up at the gate upon arrival as well so you have the wheels you need to tote baby and gear through the airport at your destination.
On The Plane
The actual flight is your time to shine, and if you do it right, you'll land without any major hiccups.
To Pre-Board or Not
With kids, you get to board before the rest of the plane regardless of your group. This can be great to get settled and situated without feeling rushed by a line of passengers behind you, and on airlines without seating assignments such as Southwest, can ensure your family can all sit together.
The flip-side, however, is that boarding early means more time on the plane. It can take thirty minutes or more for everyone to board after you, so determine whether or not it's worth it for you. If your baby gets antsy when still or in confined spaces, you may prefer waiting until the very end of boarding to take your seats.
Sanitize Your Area
By now, we're well aware of the germs we encounter on an airplane, so before you stow your diaper bag, luggage, and take a seat, sanitize everything you or your baby could touch. Reach for thosebaby wipes you packed, and wipe down the seats, armrests, tray tables, and seat belts.
Feed Baby During Take-Off & Landing
Whether you breastfeed or bottle-feed, feeding baby during the ascent and descent of the airplane can help their tiny ears adjust to the change in altitude. It ensures they are swallowing, which keeps their ears from getting plugged, so a pacifier can work well too. In addition to helping their bodies adjust to the cabin pressure, feeding at these times can help keep them calm as well.
Maintain Their Schedule, if Possible
It's easy to lose all track of time when traveling but to keep baby happy, try your best to stick to their schedule with the exception of feeding during take-off and landing. If it's nap time, it's nap time, if it's time to eat, it's time to eat… you get the picture. Sticking to their schedule will help baby adjust to new environments and time zones, and keep them happy (not hungry or tired) during the flight.
Break Out the Toys
While you may not use technology or light-up toys at home, the plane can be a "special" time for these kinds of toys and keep little ones entertained, when there aren't many alternatives. If your baby is inconsolable, don't be afraid to break them out and let them play sans mom guilt.
Try to Stay Calm
Easier said than done, we know, but keeping your cool even if baby isn't or when things don't go as planned can be the most helpful tip for both you and baby making it through the flight. Set your expectations, realizing that it's totally normal for your child to cry, be loud, and make a mess. Even infants can sense when mama's anxious, so try to take everything in stride. And definitely don't worry about the other passengers getting annoyed—if they can't stand to hear a crying baby, they can fly private!
If you plan to be traveling this summer, we share our best practices for ensuring a safe flight and preventing the transmission of covid.
Sources:
We aim to provide you with the most honest and credible information possible. This article was reviewed for accuracy by The Honest Team and was written based on trusted sources that are linked at the bottom of the article.
blog_review_statement