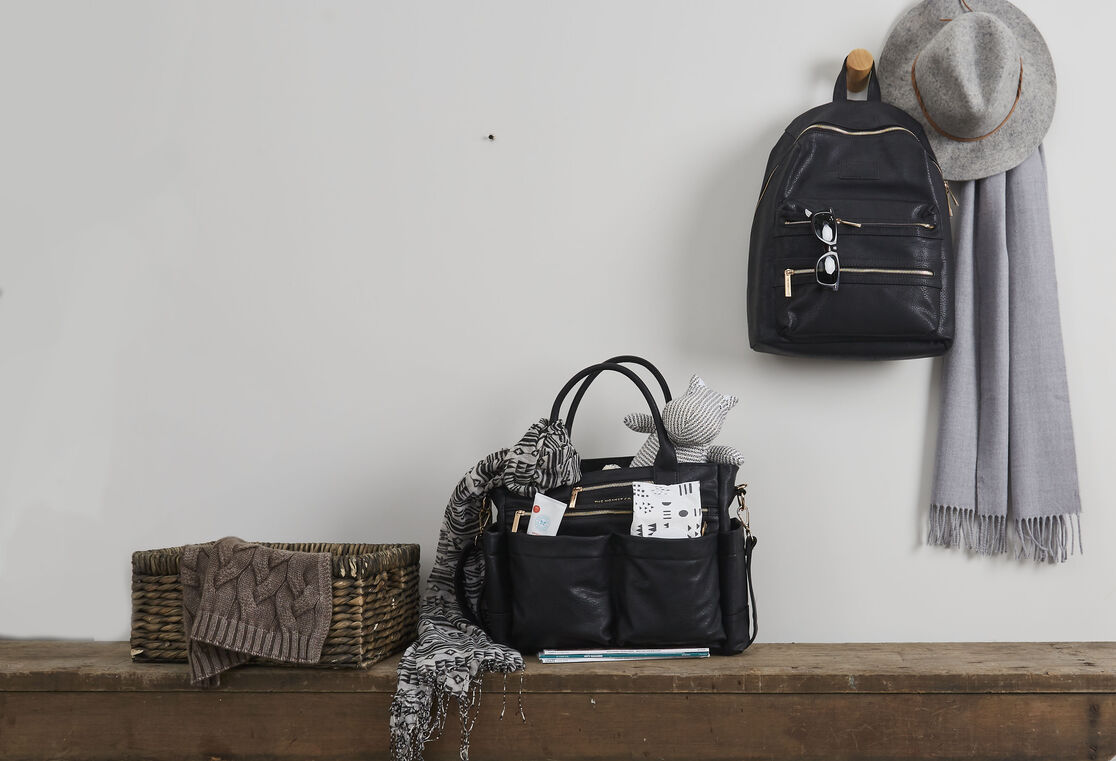 Why Choose a Backpack Diaper Bag?
For those dads who aren't used to carrying around a shoulder bag, a backpack will feel much more natural. That makes it easier for mom and dad to switch carrying the bag throughout the day.
Plus, you won't have to unpack and repack your diaper bag when one of you takes the baby out alone.
When traveling with a baby or toddler, you'll always be short of hands. So, it's really helpful to have your diaper bag secure on your back, rather than having to deal with it slipping off your shoulder every time you bend over. Also, make sure your diaper bag is packed with overnight diapers made for extra leak protection.
If your family likes to go on hikes or ride bikes, a sporty backpack diaper bag is a no-brainer for you.
Best for Parents of Newborns
When your little one relies on you for pretty much everything, you're going to need all the arms you can get. It's much easier to hold a newborn when the diaper bag is on your back.
Baby needs a lot of stuff to get out of the house. (Check out our Diaper Bag Essentials for the full list). With all that baby gear inside, your bag is going to be super heavy. A backpack will help distribute that weight more evenly, so you'll feel more balanced.
The Best Diaper Bag Backpack
We love a backpack diaper bag with adjustable straps, an easily wipeable lining, and that's made with quality materials that can keep up with daily wear and tear.
Why Choose a Tote Diaper Bag?
It's a Classic Diaper Bag
Shoulder bags tend to be the more traditionally stylish diaper bags, that's why you'll probably find more designer diaper bags in this silhouette.
Tip: Your diaper bag will often double as your regular bag, even when you don't have your baby with you. So, choose one that you'll actually like carrying around.
Better for Parents of Toddlers
We definitely recommend a backpack diaper bag for parents of newborns, but once your child can move around and even walk on their own, your hands will be a little more free. This will make a diaper bag tote easier to manage.
Best for More Dressy Scenarios
Backpacks can be overly casual, so a shoulder bag diaper bag is better for occasions where you'll need to be a bit more dressed up like work or weddings.
You can find shoulder-style diaper bags in many shapes and sizes like messenger diaper bags and satchel diaper bags.
We love a tote diaper bag that zips at the top, has the option for a crossbody strap and shoulder straps. Roomy compartments on the inside to help keep all your baby gear in place are also a must have.
The Overall Best Diaper Bag
At the end of the day, the best diaper bag is the one that works for you. But, you'll definitely want it to have both easy-to-reach pockets on the outside and plenty of pockets on the inside for organization. Another key is insulated pockets, which help keep baby bottles colder for longer.