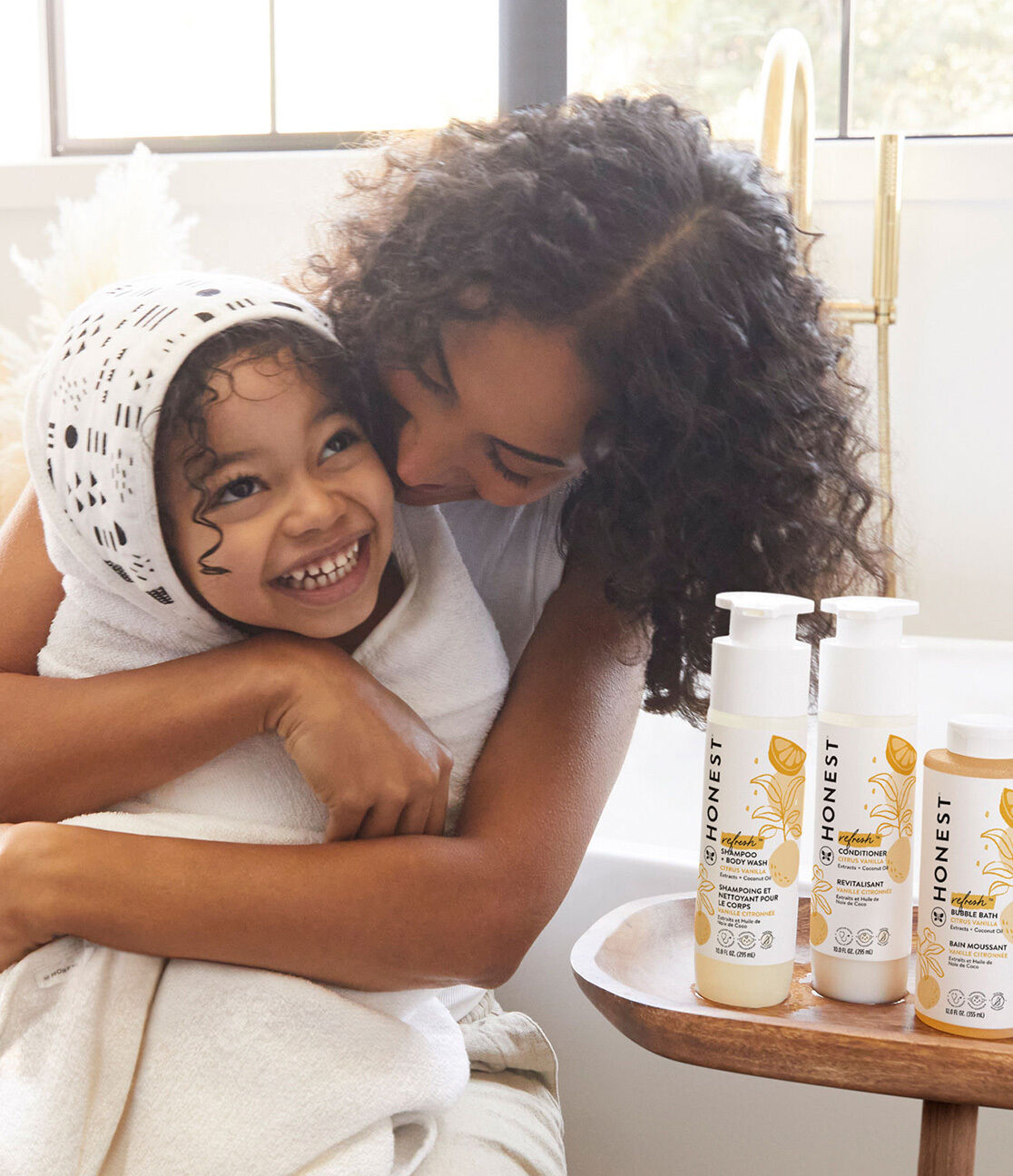 Don't worry, this isn't another blog telling you how you need to change, what you need to do better, or what you shouldn't be doing as a parent. We get it. Being a mom, dad, parent, caregiver, is by no means easy – rewarding, at times, yes. Easy, absolutely not. We are real moms who support real moms + parents who are honestly just trying to make it through another hectic day.
We are here to empower you with the tools you need to make small sustainably-minded swaps, utilize more clean ingredients and help your family easily embody clean conscious living without breaking the bank.
Sustainable swaps
What are sustainable swaps exactly? Sustainable swaps are everyday items that you can swap out for more environmentally friendly ones. This could be something as simple as using reusable straws instead of plastic ones or using reusable glass containers for food. Using more eco-friendly items can be a healthier option for you, your family and the environment.
Responsibly sourced + made with plant-based materials*, our limited-edition spring print diapers are focused on earth day/month + nature and are a great responsibly sourced swap!
Our Clean Conscious ™ spring diapers come in four different fun + stylish prints perfect for the season. Designed with a wetness indicator (so you know when it's time for a fresh one), enhanced blowout protection, and advanced absorption for dry, healthy-looking booties.
What you get:
Unique features for every stage like blowout pockets on Size 1-2
Super absorbent and soft
Hypoallergenic
Stretchy and comfy with a snug fit
Made with eco conscious, plant-derived materials from responsibly sourced tree fluff
Utilizing clean ingredients
Just like sustainable swaps, you can also make swaps when it comes to product ingredients. Swapping based on ingredients means ditching the products filled with ingredients of concern and replacing them with products made with clean + effective + tox audited ingredients for you and your family while keeping the planet in mind.
A perfect ointment for babe and an alternative swap from petro-based ointments, is our Healing head-to-toe ointment. This allantoin-powered skin protectant, multi-purpose healing ointment is made with 98 % USDA certified biobased content, clinically tested to reveal smooth, healthy-looking skin for babe!
What you get:
Formulated with allantoin skin protectant
Formulated without petrolatum and lanolin
Big bet innovation
Our Refresh Collection is perfect for a spring reset. Featuring a shampoo body wash, conditioner, bubble bath, and face + body wash, skin is left feeling supremely soft and fresh with our Refresh (Citrus Vanilla) bath time baby essentials.
These refreshing essentials can be used for the whole fam and are gentle enough for babe.
What you get:
The Refresh line features the perfect citrus-y spring scent to bring some sunshine into the early days of spring!
Formulated with naturally derived ingredients
Clean + toxicologist audited
Physician tested
Hypoallergenic
Biobased + naturally derived ingredients
Gentle for baby
Now that you + babe(s) are clean, we've got the perfect conscious cleaning supplies to keep your living space clean without the harsh chemicals!
Protect yourself + the fam with safe + clean products you can count on.
Designed with refillable bottles that can last a lifetime.**
Powerful clean made with naturally derived ingredients
Pomelo scent combines citrus, mint and sweet notes to make your home smell refreshingly clean.
**When used as directed, based on our expected sprayer lifetime and use from 2019 IRI Average Purchase Cycle data of Multi Surface, Glass and Bathroom Cleaners.
Ok, you, the babe(s), and the whole house is clean, what's next? It's time to start pouring back into you mama! After a long day it's so important to nurture yourself. So often as mamas we take care of everyone else throughout the day and when "me" time finally arrives we are so tired from doing everything for everybody we muster up the little bit of energy we have left to throw ourselves into the bed (that often is filled with babies, toys, and unidentifiable crumbs). While rest is always needed, so is taking the time to care for you`! It's time to make time for you mama.
Our Honest Mama Bump Care Kit is the perfect way to show your #MomBod the extra love it deserves, right up through your babe's debut. Help nourish + hydrate your growing belly while maximizing your glow. This kit includes our Glow On Body Oil, Sweet Curves Body Lotion, Chill Mama Soothing Jelly, and our Rock the Bump Body Butter.
What you get:
Shea Butter, Avocado Oil, Vitamin E and naturally-derived ingredients
Clean + toxicologist Audited
Physician tested
Hypoallergenic
Biobased + naturally derived ingredients
Featuring pre and postnatal products to address all your needs
These easy swaps + soothing solutions are sure to get you and the fam on target to living a clean, conscious lifestyle. Remember mamas, no matter how hard you try, you can't pour from an empty cup. Take it one day at a time and always pour back into you.
Love always,
Honest
We aim to provide you with the most honest and credible information possible. This article was reviewed for accuracy by The Honest Team and was written based on trusted sources that are linked at the bottom of the article.
blog_review_statement