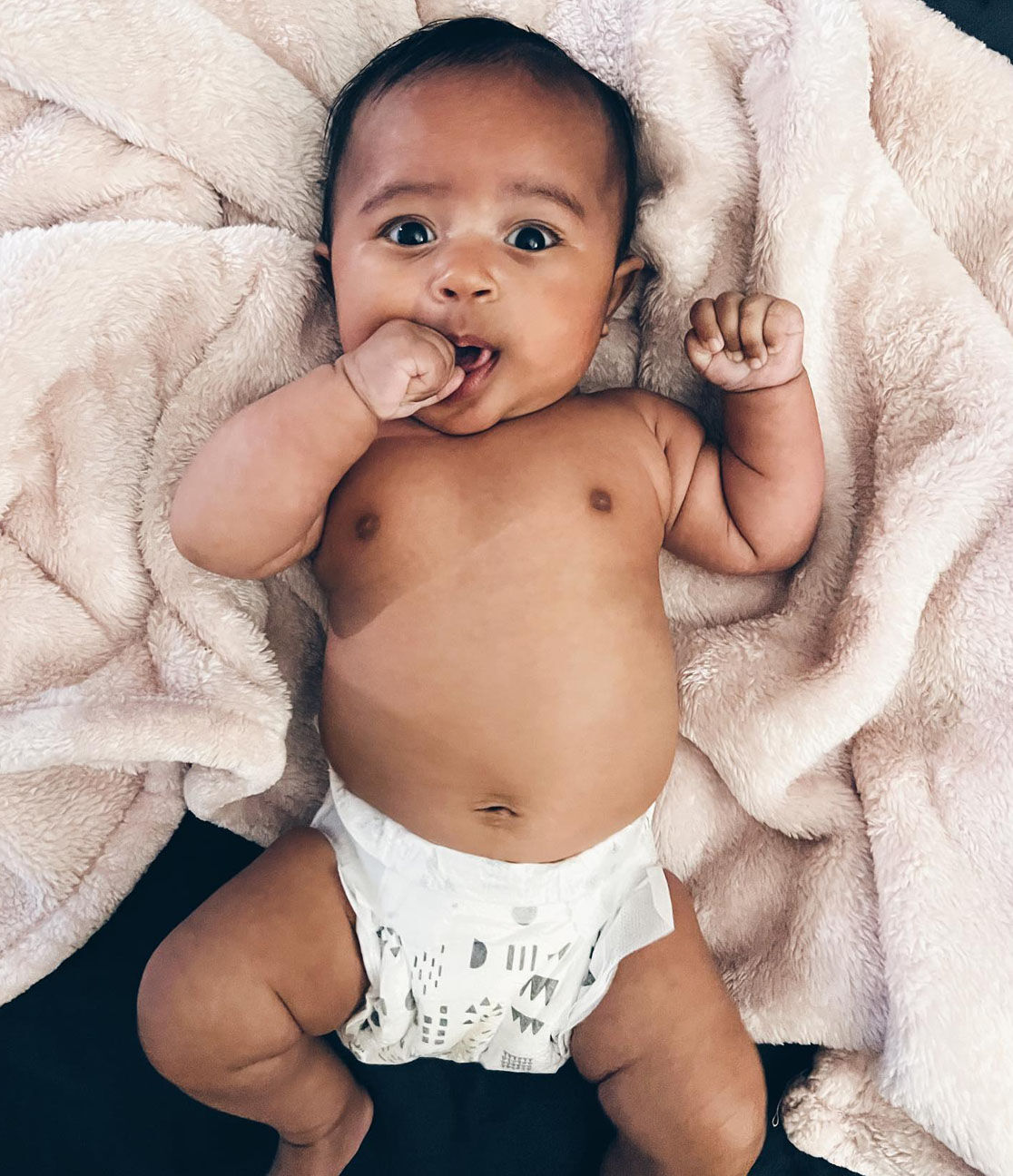 Image by @watermeloneggrolls
We all want our babies to be healthy, happy, and comfortable, so when diaper rash comes along, it's natural to feel some distress. But given that diaper rash is a very common condition among babies—occurring in about half of all infants—there are plenty of tried-and-true methods to help you keep your baby smiling from cheek to cheek.
If you're ready to find out how to soothe diaper rash and explore possible causes, read on—this guide will get to the bottom of everything you need to know about diaper rash remedies and keeping your baby comfortable and happy.
Step 1: Change Diapers Frequently
Whether you're trying to figure out how to prevent diaper rash or you're already battling against it, one of the first and easiest steps is to make sure you're changing your baby's diapers frequently.
Prolonged contact with a wet or dirty diaper can create friction between the diaper and your baby's bottom, which can lead to painful chafing.
So, how often is often enough? Ideally, try to change your baby's soiled diaper right away. Doing so can help provide comfort to a baby with diaper rash and help prevent future reoccurrences.
Step 2: Choose the Right Diaper Size
When you're trying to get to the bottom of how to help diaper rash, pay attention to sizing: Choosing the right diaper size for your baby can be a big factor when it comes to their comfort, especially when diaper rash is an issue. A diaper that is either too small or too big can cause chafing on already irritated skin.
Here's a quick guide to ensure you're getting the right fit for your baby's bottom:
Check the size chart

–

While diaper sizing isn't universal, most diaper manufacturers provide some kind of chart on the package to help you determine the right size before purchasing. Most charts use the baby's weight as the main factor of diaper size.

Look for signs of tightness

– If the diaper is too small, you may see red marks or lines around the waistband and leg bands, as well as increased leakage. Any tightness can cause rubbing and discomfort, so if you notice these signs, it's definitely time to size up.

Make sure it's not too loose

– On the flip side, a diaper that's too big can rub against their skin and slide around, causing more chafing than a well-fitting one. If you find you're having to overextend the side tabs to secure the diaper, or it keeps sliding down, you might need a more snug fit.
Step 3: Switch to Disposables
Some parents favor reusable cloth diapers for their low-cost and earth-conscious features. However, if you're struggling with diaper rash while using cloth diapers, you might want to consider switching to disposable diapers instead—at least until the rash has cleared up.
The reason? Disposable baby diapers are typically designed to absorb much more moisture than cloth options, meaning that your baby's bottom is likely to stay drier longer, even when the diaper is dirtied. In today's world, well-designed disposable diapers also come with features like wetness indicators to help you know when it's time for a change.
If you're bummed about using disposables, you'll be happy to know that these days, there are plenty of options for sustainably produced diapers to give you peace of mind.
Step 4: Avoid Irritating Ingredients
When choosing products to soothe your baby's skin, it's important to take a look at the ingredients so you can steer clear of those which may exacerbate your baby's diaper rash or even cause skin irritation in the first place.
Above all, try to look for products that:
Contain gentle ingredients
Are hypoallergenic

Are fragrance-free
And of course, if you notice a diaper rash suddenly appears or gets worse after using a certain product, stop using it right away.
Step 5: Apply a Moisture Barrier
Applying a diaper rash cream provides a moisture barrier that prevents further skin irritation and adds an extra layer of protection. A moisture barrier works as a protective layer to shield your baby's bottom from wetness, and should be applied after each diaper change for ultimate comfort.
Most of these creams should contain zinc oxide, an active ingredient that helps treat and prevent diaper rash, protects chafed skin due to diaper rash, and helps seal out wetness.
However, you should only apply diaper rash cream after your baby's bottom is fully cleaned and dry. If the rash is very red and sore, dermatologists from the American Academy of Dermatology Association advise to be generous and "layer it on like you are frosting a cake."
If your baby's skin is extra sensitive, you can also try a sprayable diaper rash cream for a touch-free, ultra-gentle diaper rash treatment.
Step 6: Reduce Friction
If you're trying to soothe diaper rash, the last thing you want to do is use anything that will cause more friction. Frequent diaper changes, the right diaper size, and a good diaper rash cream all help with this, but you should also pay attention to the texture of your wet wipes.
Aim for diaper wipes that are made primarily with water, which will be gentler on sensitive skin. Also, be sure to avoid any wipes with rough textures. If you feel any bumps or roughness when testing out a wipe on the back of your hand, your baby's bottom is sure to feel it, too. Instead, look for smooth wipes or a soothing bottom wash for a comfortable experience.
Step 7: Take Care At Bathtime
Bathtime might be intimidating for parents of babies with diaper rash, but once you know how often to bathe a baby experiencing rash discomfort, you'll learn that baths can be helpful in keeping your baby clean and preventing further irritation. During a bubble bath with baby, use gentle products that won't irritate sensitive skin, and stay away from any rough washcloths.
Use warm, clean water, and make sure to fully rinse off any soaps or shampoos, as these can cause further discomfort if left to dry on the skin. And of course, just as after a diaper change, you'll want to make sure your baby is fully clean and dry before putting on a fresh diaper and clothes.
Cushion your baby's bathtime routine with our clean and nourishing Bathtime with Baby Essentials. In between baths, you can also use our Soothing Baby Bottom Wash to help baby stay clean and fresh. Some washes come in a squirt or spray bottle for gentle, easy cleanup for those times when a wipe just isn't going to do the trick.
Step 8: Use Medications if Needed
Sometimes a diaper rash can develop into more. In this case, you may have to use over-the-counter treatments to remedy the irritation. If your baby's bum is pink or red-colored with dots or pimples, they may be experiencing a fungal or bacterial infection:
Yeast or fungal infection

– Indicated by a rash that doesn't respond to diaper creams. Your baby's skin may appear pink and chapped, and the

rash can spread to other parts of the body, like the mouth or the legs. Use an antifungal cream like gentian violet.

Bacterial infection

– Often caused by warm conditions within the diaper, a bacterial infection can form on your baby's skin, and large red bumps may appear. In this case, your baby will need prescription antibiotics like penicillin to soothe the diaper area.
It is important to consult with your physician prior to beginning any treatment or practice. This general information is not intended to diagnose any medical condition or to replace your healthcare professional.
Step 9: Air It Out
If you're fighting diaper rash irritation, one way to provide some relief is to give your baby's bum some time to air out and dry completely. When you do put a new diaper on, their air-dried bottom will be all the more comfortable.
Try giving your baby some diaper-free time when it's time for a nap or some floor play. If your little one isn't crawling or walking yet, you can easily avoid messes by placing a cloth mat or cloth diaper beneath them.
Of course, if your baby is already on the move, this can be a little more challenging. You may want to wait until shortly after changing a dirty diaper and keep an eye out for any accidents.
Remember: A Dry Bottom Means A Happy Baby
Although diaper rash can often feel like an endless fight against wet and dirty diapers, the constant changing of diapers is going to lead to more comfort and relief in the end. (You've got this.)
Quick tip: If you take your little one for a swim, make sure to change them out of wet swim diapers, swimwear, or clothing as soon as you're done, and make sure they're clean and dry before putting on a fresh diaper and change of clothes.
Keep Your Baby's Bottom Happy with Honest®
When you're dealing with diaper rash, you want to know that every product you choose is going to comfort and soothe your baby. And with the thousands of creams, wipes, diapers, and washes out there, it can be hard to know where to turn or what to try next.
But we all know that when a baby is happy, everyone's happy. At Honest®, we design thoughtful, dependable products that are sure to keep you and your baby happy from day one.
Subscribe to our Diaper + Wipes Subscription Bundle to get our lineup of training diapers, diapers, and overnight diapers to keep your baby feeling their best. Or, gift the mom-to-be in your life with a Baby Arrival Gift Set to make sure they have all of the essentials.
When you're searching for all you need to help diaper rash discomfort, search no further—just choose Honest.
Sources:
Benitez Ojeda AB, Mendez MD. (2021, July 22). Diaper Dermatitis. StatPearls. https://www.ncbi.nlm.nih.gov/books/NBK559067/
Polcari, I. MD. (2020, January 15). Common Diaper Rashes & Treatments. American Academy of Pediatrics. https://www.healthychildren.org/English/ages-stages/baby/diapers-clothing/Pages/Diaper-Rash.aspx
Xhauflaire-Uhoda E, Henry F, Piérard-Franchimont C, Piérard GE. (2009, October 31). Electrometric assessment of the effect of a zinc oxide paste in diaper dermatitis. PubMed. https://pubmed.ncbi.nlm.nih.gov/19467034/
How to Treat Diaper Rash. American Academy of Dermatology Association.https://www.aad.org/public/parents-kids/childhood-conditions/treat-diaper-rash
We aim to provide you with the most honest and credible information possible. This article was reviewed for accuracy by The Honest Team and was written based on trusted sources that are linked at the bottom of the article.
blog_review_statement