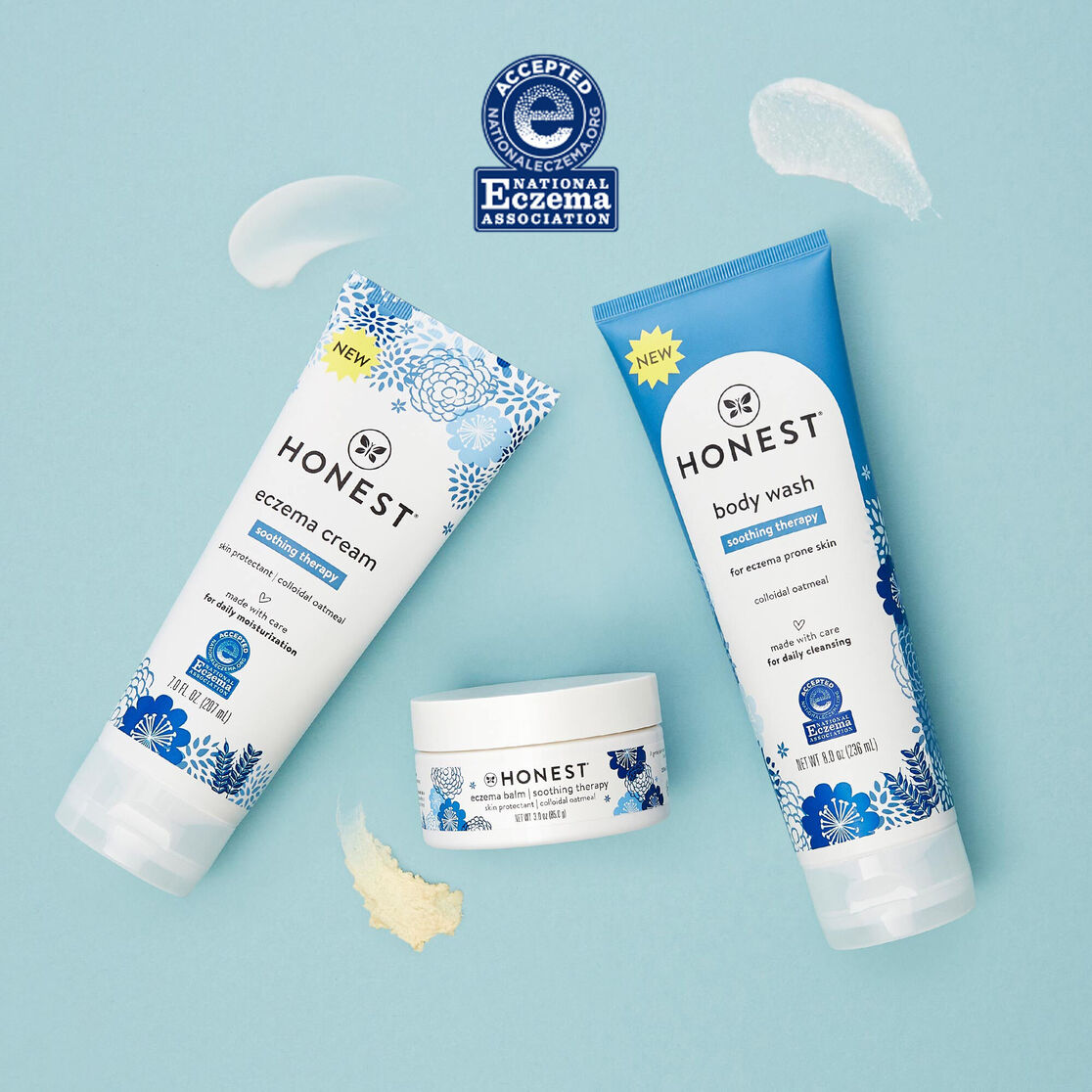 WHAT IS ECZEMA?
Eczema (also called atopic dermatitis) is a skin condition that causes your skin to become dry, red, itchy and bumpy that you can get on your body and face. It's one of many types of dermatitis. Eczema damages the skin barrier function (the "glue" of your skin). This loss of barrier function makes your skin more sensitive and more prone to infection and dryness. The uppermost layer of your skin, your skin barrier (aka your stratum corneum) is your first line of defense against bacteria and environmental stressors like harmful UV rays, pollution, and toxins. When weakened, it's easier for irritants to infiltrate and causes your skin to be more prone to sensitivity.
Eczema doesn't impact everyone in the same way. Signs of Eczema include:
Inflamed, red skin.

Dry, sensitive skin.

Darker colored patches of skin.

A leathery, rough texture.
Topical prebiotics for eczema is to build a healthier microbiome by introducing more of the good bacteria to the skin. Regular care with plant-based topicals that contain super-moisturizing, natural ingredients like colloidal oatmeal and coconut oils works great for keeping those itchy spots under control. Unfortunately, there's no cure for eczema, but there are some amazing options out there ranging from prescription medications to natural options and products like:
SOOTHING BALM MOISTURIZER

which you can use on your face and body. This balm is made with colloidal oatmeal which helps protect and calm itchy irritated skin and can help maintain PH in skin. It also contains prebiotics which help strengthen barrier function by introducing good bacteria to the skin.
Let's talk about shower time when you have eczema. If you are going to take a shower, make sure to use lukewarm water because hot water can dry out your skin. Don't use soap. There are options at Honest like:
SOOTHING THERAPY BODY WASH

. It is a dermatologist approved, steroid free formula that combines prebiotics and natural ingredients like colloidal oatmeal and coconut oil to soothe eczema prone skin. The natural oils moisturize the skin while gently cleansing it at the same time.

FRAGRANCE-FREE SHAMPOO + BODY WASH

or

FRAGRANCE-FREE BUBBLE BATH

. Our hypoallergenic body wash + shampoo duo is made without harsh chemicals to prevent irritation to your baby's sensitive skin. It's also made preservative-free without the use of sulfates and parabens. At Honest, our products are synthetic fragrance-free as we stick to natural ingredients such as sweet almond oil, Jojoba, aloe vera, and coconut oil to moisturize and soothe you and your baby's skin.
And for after the shower, place a good emollient on the skin like:
SOOTHING THERAPY ECZEMA CREAM

. which provides long-lasting moisturization to itchy, irritated and eczema prone skin. Made with the gentle power of prebiotics, soothing colloidal oatmeal and lots of love for your babe's delicate skin.

FRAGRANCE FREE FACE + BODY LOTION

. Our lotion gently hydrates from head to toe. Whether you're massaging into your baby's skin or on your own, our versatile lotion for babies (and all ages) soothes and moisturizes with a nourishing blend of jojoba, shea, and safflower oils.
Also, don't forget your detergent!!! When you see the word fragrance or perfume on the so-called natural detergent, try our HYPOALLERGENIC BABY LAUNDRY DETERGENT. It is specially made for sensitive skin and has no fragrance and is good to use for the whole family.
Best of all: these products are recognized by the National Eczema Association and were given the NEA Seal of Approval. The NEA is all about helping people with sensitive and eczema-prone skin find products that are safe and gentle enough for them. They look at everything from ingredients to testing data to determine which products make the cut. We have a list of over 2,500 questionable ingredients we choose not to use, including parabens, PEGs, phthalates, and synthetic fragrances that may cause irritation. So when you see the NEA seal, you can trust the product to be safe for sensitive and eczema-prone skin.