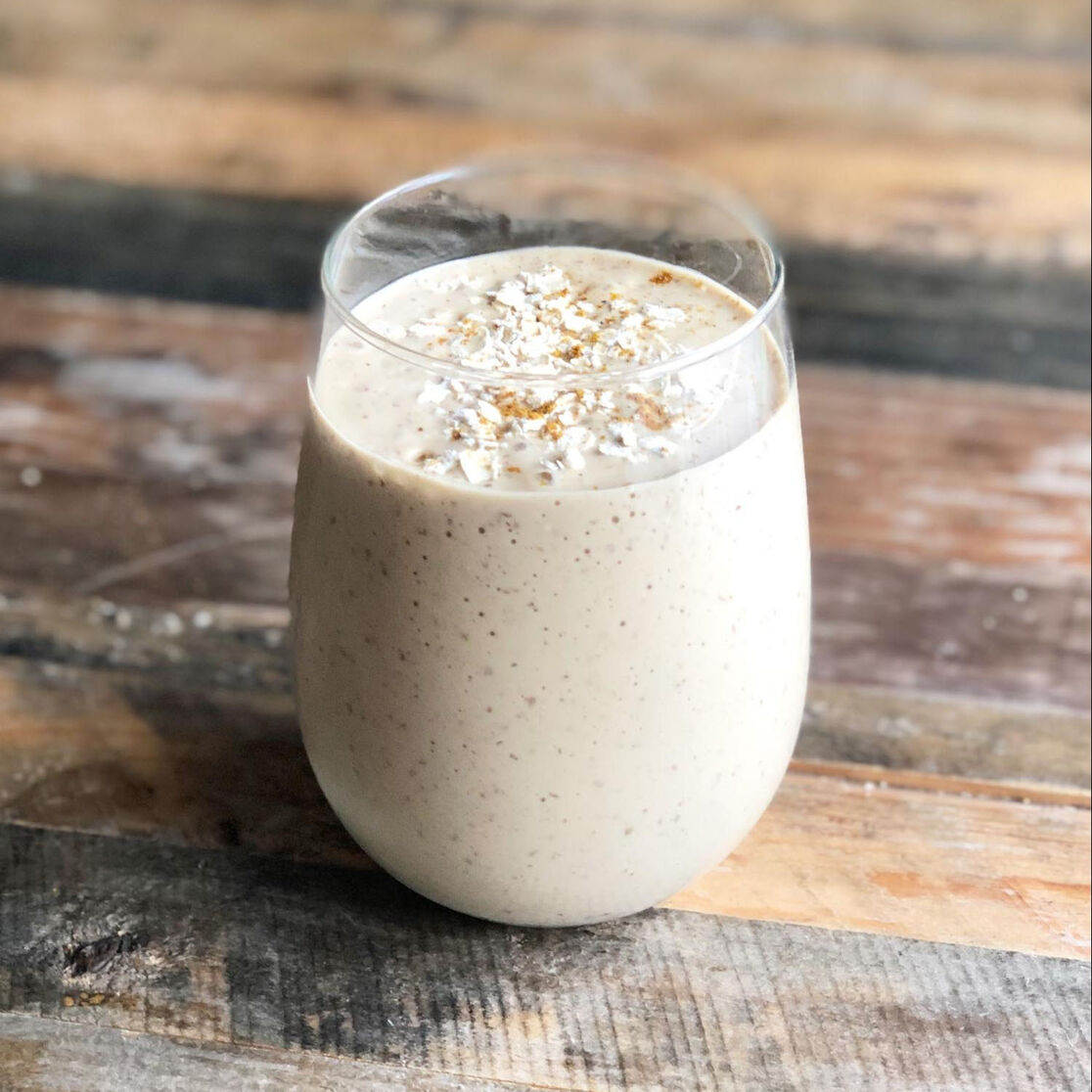 Important Nutrients While Nursing
When you're a nursing mom, it's extra important to keep yourself nourished and hydrated in order to feel your best and support a healthy milk supply for your baby. In addition to a healthy diet, many doctors even recommend continuing to take prenatal vitamins after birth to promote healthy lactation. But, this is sometimes easier said than done when you have a newborn.
One tip I always give to my new-mom clients is to try to incorporate my signature Fab 4 smoothies into their lives since they're such an easy and simple way to make sure you are checking all of the boxes (nutritionally speaking). Plus, what's better than a portable meal that only takes around 3 minutes to make?
All of my Fab 4 smoothies incorporate protein (like collagen protein), fat (like avocado or almond butter), fiber (chia seed or flax), and greens (spinach or kale) to ensure that your blood sugar is staying balanced and that your hunger hormones are calm. If you're looking to support milk supply, you can add a few key ingredients (like the ones I've included in the smoothie recipes below.)
Why You Should Avoid Lactation Cookies
For new moms it can be really tempting to buy all of the lactation cookies and bars out there, but I would encourage you to focus on strategically incorporating certain foods into your diet instead of opting for those processed, packaged cookies. The truth is, most of these products are just processed desserts wrapped in a cleverly marketed package. So, when you eat these, they may help with milk supply (because your blood sugar spikes), but they will also send you on a blood sugar roller coaster ride, which is the last thing you want when you want (and need) to feel your best. There are definitely better ways to support this without wreaking havoc on your blood sugar and hunger hormones.
Key Foods Known to Support Milk Supply
Two ingredients I love for helping with milk supply are flax meal and fenugreek. These are much better for your blood sugar, energy levels and hormones. I use 3-4 tablespoons of flax meal every morning in my smoothie. If you're currently using oats to help with supply, I would say aim for swapping out bowls and bowls of oats with just a few tablespoons of oats (real, gluten-free oats not quick oats) to your smoothie. Then, try and switch out your oats for flax meal eventually since it's much easier on your blood sugar and insulin levels.
Fenugreek is the ingredient found in lactation teas that can be helpful to increase breast milk supply. The research suggests that drinking fenugreek based teas can significantly increase breast milk production compared to placebo. An iced lactation tea can be easily used as the liquid base for your smoothie.   
Two Smoothies Recipes to Help Aid Milk Production
Lactation Cookie Smoothie
1 Serving Vanilla Protein (20g)
2 Tbsp Almond butter
2 Tbsp Flax meal
2 Tbsp Chia
2 Tbsp Gluten free oats
1 tsp Countertop Chai Seasoning (or a tsp of cinnamon)
1.5 cups Unsweetened Almond Milk
1.5 cups Unsweetened Almond Milk
Feenugreek Coco Greens Smoothie
1 serving of Vanilla Protein
½ small Avocado
3 Tbsp Flax
½ Lemon, Juiced
Handful of Spinach
2 Tbsp shredded Coconut
1 cup Unsweetend Coconut Milk
1 cup of Milk Makers Coconut Lactation Tea
We aim to provide you with the most honest and credible information possible. This article was reviewed for accuracy by The Honest Team and was written based on trusted sources that are linked at the bottom of the article.
blog_review_statement