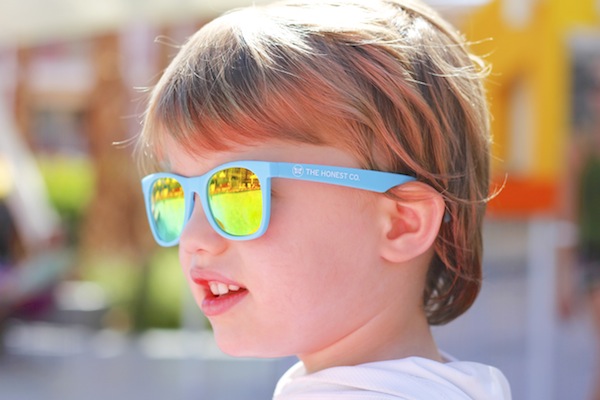 1. Seek Shade: The sun's harmful Ultraviolet (UV) rays are strongest between 10 am and 4 pm. Some studies have shown that the small amount of sun exposure that kids get at recess is enough to predispose them to skin cancer later in life. Don't live indoors, though—activity is essential for the mental and physical well-being of the whole family! Instead, during summer play seek out parks or playgrounds with shaded areas for maximum protection.
Green Tip: Help the environment and your skin by planting trees with your family; for city dwellers, get involved in community planting projects!
2. Wear Shades: It is never too early to pick up a pair of stylin' shades for your tot.  In the long run, UV light can damage the eyes causing vision problems or even cataracts—a perfect excuse to seek out fashion-forward baby swag!
3. Sun Savvy Style: A standard white, cotton t-shirt worn during everyday play does not provide adequate protection from the sun. Stealth UV rays creep right through the material and hit the skin. Make sure to choose bright, darker shirt colors when putting summer outfits together. Or wear protective clothing designed for outdoor living like our Sun & Fun Set that includes exclusive UPF 50 swimwear.
 4. Eat Right: Getting a daily dose of foods rich in antioxidants not only helps to arm against sun damage and aging, it also helps to protect against skin cancer later in life. Fruits and veggies that fit the bill? Kiwi, mulberries, blueberries, 
 blackberries, prunes, pomegranate, pink grapefruit, red grapes, kale, spinach, brussel sprouts, alfalfa sprouts, broccoli, beets, and red bell pepper.
 5. Don't Slide During the Ride: Ultraviolet light easily shines through car windows. Make sure to place UV blocking shields on the  back seat glass. This will help protect your little ones from intense sun exposure that can lead to skin cancer later in life. And don't forget to apply natural sunscreen on exposed areas like your hands and face. (A sunscreen stick is easy to toss in your purse so you can swipe it on no matter where you are at!)
6. Find Your Inner Zen Zone: Research shows that tanning booths can be addicting, making this a hard habit to break.  To de-stress, be fit, and look great, focus energies on other endorphin releasing exercises such as yoga, pilates, Zumba, or spinning. In the long run, you will preserve the integrity of your skin, slow the aging process, and get the same natural high.
7. Channel Your Inner Activist: Contact local politicians and sign petitions to restrict tanning bed use. As of January 2012, minors under the age of 18 have been banned from indoor tanning in California, and New York State is requiring in-person signed parental consent for would-be tanners between the ages of 14 and 18. Raise public awareness and save lives.
8. Protect Yourself With Knowledge: The most important way to remain healthy is to know the facts. There are many misconceptions about sun protection—here are just a few:
Misconception. Sunscreens last longer than they actually do. Truth. Actually, they need to be applied every two hours to work. One application in the morning is not enough.
Misconception. Tans are good, burns are bad. Truth. This is half true. Both are bad. Tans are your skin's response to damage caused by toxic UV rays.
Misconception. Sun protection is not necessary on a cloudy day. Truth. This is not true, sun protection is necessary regardless of weather conditions or skin color, 365 days per year. Carcinogenic UV light penetrates the clouds and hits the skin even if the sun is not shining.
Knowledge is power!
~ Dr. Mona Gohara
Mona Gohara, MD, is a board‐certified dermatologist and the co-founder of k&j sunprotective clothing. After finishing her internship at the New York University Medical Center, she went on to complete her Residency in Dermatology at Yale University, where she served as Chief Resident. Dr. Gohara is currently a partner in a practice in Danbury, Connecticut and holds a faculty appointment at Yale where she continues to see patients and teaches residents/medical students. Dr. Gohara spends time educating the public on skin cancer, skin cancer in people of color, and sun protection.
***
This post is solely for informational purposes. It is not intended nor implied to be a substitute for medical advice. Before undertaking any course of treatment or dietary changes, you should seek the advice of your physician or other health care provider.