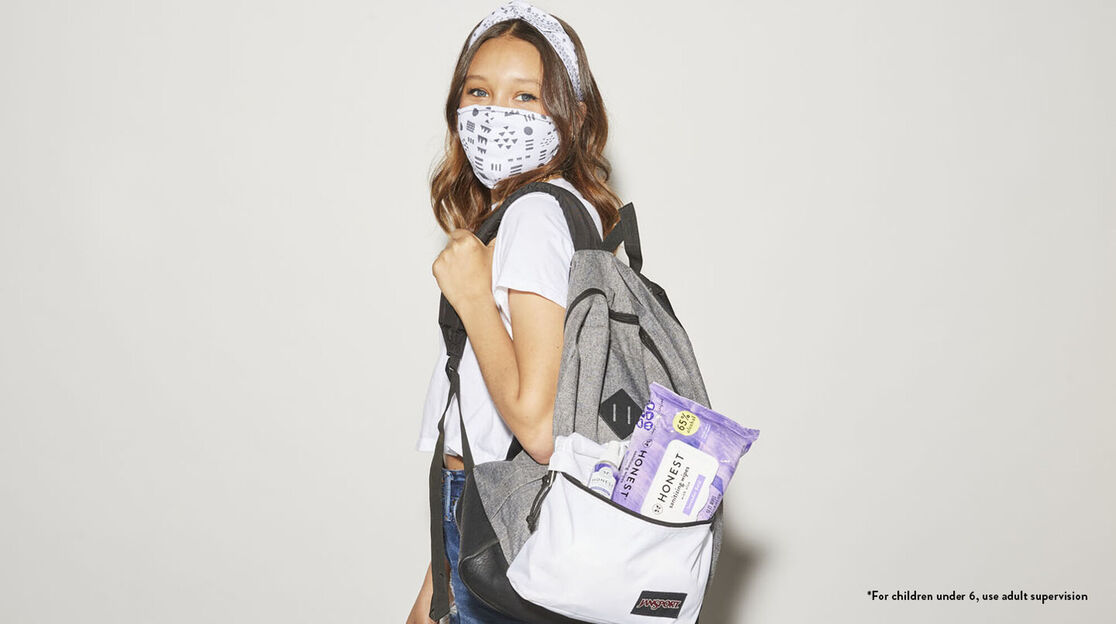 Planning a trip can be both exciting and mildly stressful. There always seems to be a thought lingering in the back of your mind that you're forgetting something. In fact, there's a good chance you are!
What that something is could be anyone's guess, but you can't shake the feeling. To combat this phenomenon and ensure you don't forget anything important before jetting off on your next adventure, we highly recommend creating a travel necessities list. That way, you can make sure you are equipped with all you could possibly need. Not sure what to include in your backpack when packing? Never fear, friends. Keep reading for all the travel essentials to keep you healthy when in flight!
1) Face Mask
No, not the kind to pamper your skin. We mean the kind of protective face mask to help guard you from germs, especially in the wake of Covid-19. Face coverings are required for all air travel, so it's essential to carry a mask and keep a spare one with you just in case.
2) Hand Sanitizer
Granted, this travel tip isn't strictly due to Covid-19, but you should always have a hand sanitizer in reach. Having a hand sanitizing kit is hands down one of the most important travel bag necessities. Although most airplanes are clean, it doesn't hurt to be safe and take precautions.
3) Reusable Bag
A reusable bag can be a big help while you're traveling. You never know what you might need it for. Keep it in your carry-on so you can use it anytime, anywhere.
4) Travel Pillow
If you're going on a long flight––more than 2 hours at least––you definitely need a travel pillow! Because of Covid-19, airlines are no longer handing out pillows during the flight, so it's essential to pack your own for maximum comfort.
Generally, travel pillows come in a U-shaped design, to fit around your neck.
However, you can also get travel pillows in different styles, like travel pillows that resemble a scarf but are also sturdy enough to support your neck and head for sleeping. There are also fleece scarves designed to provide support to your neck, along with offering a relaxing, cozy sensation if you're traveling in colder weather.
5) Eye Mask
Eye masks are an essential necessity for maintaining your sanity during a long flight and throughout your travels. Time zones can really mess up your internal clock and make it hard to sleep if the sun is still out, unless you're used to it.
Plus, eye masks can be very conducive to relaxation while flying. Nothing like shutting out the world while hurtling through the air in a metal box! Go all out with a frilly, luxurious silk eye mask, or opt for a simpler one; the choice is yours.
6) Ear Plugs
Airplanes often have as many varying levels of sounds as there are passengers. From a crying baby, to a group of friends talking loudly, there's no end to the noise. If you don't have earphones to drown everything out, earplugs in your travel must-have kit can be a small blessing.
Plus, though noise-canceling headphones help, they're not the most comfortable to wear while you're sleeping. Earplugs are smaller and lightweight, making them better to sleep in while providing the same kind of relief.
7) Compression Socks
Long flights can result in tired and swollen legs due to the lack of proper blood circulation. If you're going to be sitting on a plane for more than 3 to 4 hours, you should wear compression tights or compression socks.
Compression socks are designed to aid blood circulation in your legs, helping to make sure your legs don't fall asleep for too long and cause serious health problems like blood clots.
8) Change of Clothes
For long flights and regular flights, it's best to carry a change of clothes in your carry-on. This can be very helpful in the unfortunate situation of your luggage getting misplaced or stolen, or some kind of accident messing up your current attire. Plus, after being on a long flight, the first thing you may want to do is change into new clothes, especially considering Covid-19.
Your change of clothes should be comfortable wear and suitable for most situations. Don't forget to pack a pair of socks for the flight too, as airplanes can sometimes get very cold.
9) Toiletries
Although it should go without saying, always bring your toothpaste, toothbrush, floss, shampoo and conditioner, soap and face wash, shaving kit, hairbrush, deodorant, and any other thing you use in your daily life!
All travel-sized toiletries should be with you in your traveling bag. Make sure each of your products are in TSA-friendly tubes and containers. It's also smart to keep a clean towel with you.
10) Skincare Products
Airplane atmospheres can be drying to the skin. To counter this, make sure to bring your favorite face cream products with you and layer them properly during your flight. You can even carry a hand cream with you in your bag. Look no further than our Ultimate Travel Hand Care Kit to keep your hands not only sanitized, but moisturized.
We aim to provide you with the most honest and credible information possible. This article was reviewed for accuracy by The Honest Team and was written based on trusted sources that are linked at the bottom of the article.
blog_review_statement