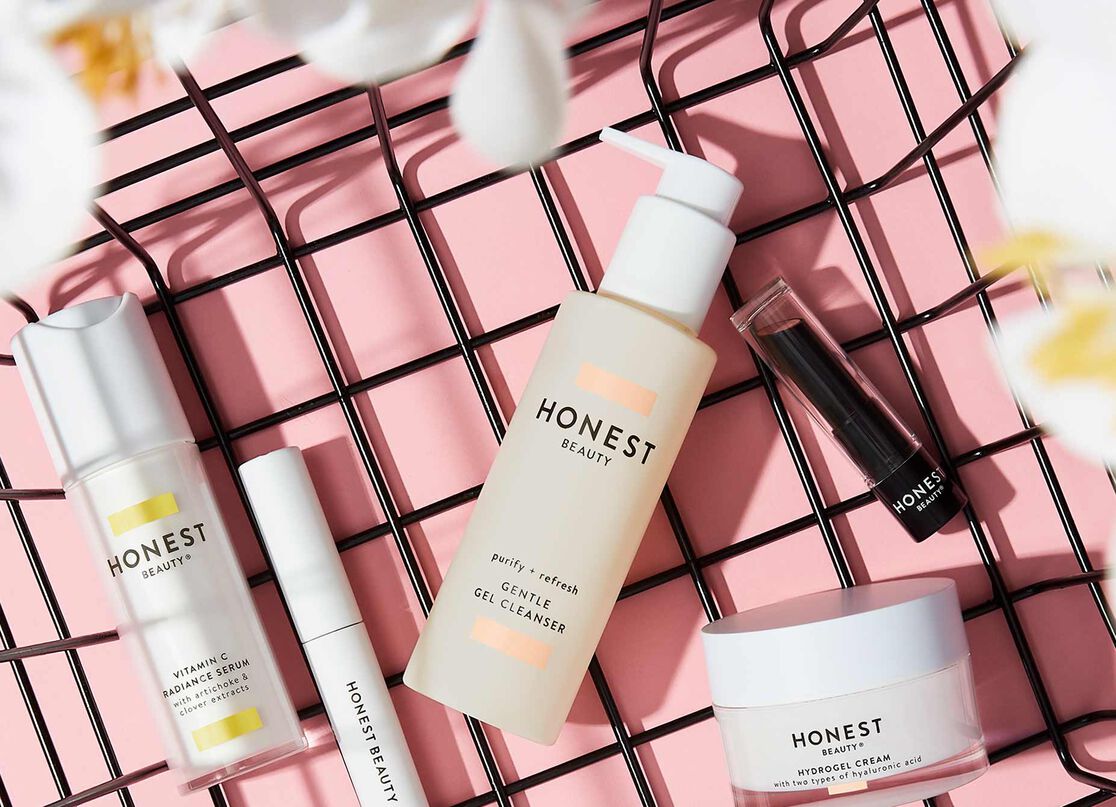 At Honest, we believe in Clean Beauty That Works™. What exactly does that mean?
For us, clean beauty begins with the ingredients not found in our products. Our Honest Beauty NO List is the foundation of the guiding principles we call our Honest Standard.
Clean Beauty refers to our high-performance products that are thoughtfully designed from start to finish. We err on the side of caution when it comes to ingredient selection – doing our best to avoid ingredients that are known to cause potential health and environmental harm. Not only are our paraben-free makeup and skincare products free of harmful chemicals and ingredients but they are also great for all skin types. Plus, all of our cosmetics are pregnancy safe makeup, so you'll never have to swap out your products for the safety of your child.
Natural and Naturally Derived Ingredients
From our serums and moisturizers to our lash-lengthening mascara and liquid lipsticks, we always strive to use natural or naturally-derived ingredients first such as beneficial botanicals in our paraben-free skincare. Sometimes we use synthetic materials — only when they meet our safety standards and provide a benefit that's not as effectively delivered by natural alternatives. These synthetic materials are obtained through raw material partners who are very carefully vetted. Our overall emphasis is always on toxicologist-reviewed formulas.
Why Does Clean Beauty Matter?
Why? Because we have exceptionally high standards. We have a comprehensive list of ingredients that we firmly steer clear of, far beyond commonly avoided ones like parabens, sulfates, phthalates and synthetic fragrances. We set ourselves apart with strict testing requirements, and we use internal chemists, toxicologists and clinical scientists as well as third-party scientists to fully evaluate safety, performance and potential human health risks.
Our Cruelty-Free Promise
Honest Beauty is a cruelty-free brand. Whether you are looking for pregnancy skin care or just want to use natural cosmetics on a daily basis, we make sure that all of our products are safe for both you and your family. We do not test on animals during product development or production — or allow any third parties to do so with our products. We also offer vegan products that do not contain any animal or animal-derived ingredients, like honey, beeswax, lanolin, collagen, albumen, carmine, cholesterol, and gelatin.
Our Clean Beauty Products
Ever seen a list of ingredients on a skincare product and wondered, "What does paraben-free mean?" At Honest Beauty, we strive to simplify the process of picking out products for your skincare routine. So many cosmetics on the shelves these days contain harsh chemicals and synthetic fragrances. We've created formulas free of harmful ingredients in every skincare product we offer, that way you can have confidence knowing you are using natural products each and every day. We've thoroughly tested everything that goes into our products, so you don't have to. Our Honest Beauty NO List explains the controversial ingredients our products are made without and why. Of course, manufacturing products are complicated, and we cannot always eliminate background contamination or cross-contamination.
We always think in the present and future tense, and the list of ingredients we use and choose not to use will continue to evolve as we evaluate new science and research.
THE HONEST BEAUTY NO LIST
BHA (Butylated Hydroxyanisole)
A preservative that may be linked to cancer, skin irritation and hormone disruption.
BHT (Butylated Hydroxytoluene)
A toluene-based preservative that may be linked to skin irritation.
Butylene/Propylene Glycols
Synthetic chemicals are used to attract moisture to the skin, but may irritate sensitive skin and have been linked to other health concerns.
Chemical Sunscreens
The FDA recently issued a proposed rule that further data is required for chemical sunscreens to evaluate safety and efficacy, Chemical Sunscreens include benzophenone, diphenylmethanone, diphenyl ketone, 119-61-9, benzoylbenzene phenyl ketone, oxybenzone, 2-hydroxy-4 methoxybenzophenone, 131-57-7, benzophenone-3, 2-hydroxy-4-methoxyphenyl and octinoxate.
Cyclic Silicones
There is a potential for reproductive toxicity and endocrine disruption with this class of silicones. Studies suggest they are also persistent in the environment, and may build up in the food chain. Cyclic silicones include cyclotetrasiloxane (D4), cyclopentasiloxane (D5), cyclohexasiloxane (D6), and cyclomethicone.
EDTA
Chelating agents, which bind to metal ions to inactivate them. They are not necessarily linked to health issues, but could be problematic for aquatic life since they don't break down in the environment and have been found in waterways. These include calcium disodium EDTA, tetrasodium EDTA and trisodium EDTA.
Ethanolamines
These compounds (including DEA/TEA/MEA/ETA) may be contaminated with chemicals like nitrosamines, which some studies suggest are linked to cancer concerns.
Formaldehyde Donors
Although typically not listed as an ingredient, formaldehyde "releasers" or "donors" are often listed on ingredient labels and include:
DMDM hydantoin
Diazolidinyl urea
Imidazolidinyl urea
Tosylamide/formaldehyde resin
Quaternium-15
Sodium hydroxymethylglycinate
2-bromo-2-nitropropane-1,3-diol
Polyoxymethylene urea
5-bromo-5-nitro-1,3 dioxane
Glyoxal
Methenamine
Benzylhemiformal
Hydroquinone
Typically used for skin lightening, this ingredient inhibits melanin synthesis, causes skin irritation and possibly causing discoloration of the skin. Hydroquinone is a metabolite of the carcinogen benzene.
Methylchloroisothiazolinone and Methylisothiazolinone (MCIT and MIT)
These preservatives can cause skin allergies and irritation and may be toxic to the nervous system. They are banned from use in leave-on cosmetic products in the EU.
Mineral Oil, Petrolatum and Paraffin
Petrolatum is a semi-solid mixture derived from processed crude petroleum. Mineral oil, paraffin wax and liquid paraffin are also petroleum distillation by-products. The concerns with these specific ingredients are unsustainable sourcing given the amounts typically used in products. There is also a potential health concern in some less refined sources of Mineral Oil, Petrolatum and Paraffin, due to possible PAH (Polyaromatic Hydrocarbons) contamination. Some studies have linked PAHs to cancer. These ingredients are ubiquitous in the cosmetic industry and are primarily used because they are inexpensive bases and fillers for formulas. We are able to source naturally derived alternatives that we deem to be more sustainable, and when possible, we prefer eliminating these synthetics. For more information on other Petroleum derived ingredients please look at the section: Petroleum-Derived and/or Synthetic Ingredients below.
Parabens
We prohibit formulating with any parabens, including ethylparaben, butylparaben, isobutylparaben, isopropylparaben, methylparaben and propylparaben, as they have been linked to potential hormone disruption.
Japanese Honeysuckle
This natural preservative compound looks like a paraben, and in chemistry — structure determines function. While there is not enough data indicating that it is a potential endocrine disruptor (the concern with parabens), we avoid it out of precaution.
Phthalates
Certain phthalates, like dibutyl phthalate (aka DBP), DEHP and DEP, appear on product labels, but most are not listed, hiding under the term "fragrance" or "parfum". We list all our fragrance ingredients and avoid using phthalates altogether as they have been linked to hormone disruption. All of our clean makeup and beauty products are free of these toxic ingredients for the safety and health of our customers.
Resorcinol
Usually used in hair dyes, this has been linked to several health issues including allergies, irritation and hormone disruption.
Sodium Lauryl Sulfate and Sodium Laureth Sulfate (SLS and SLES)
SLS and SLES are surfactants and foaming agent commonly used in cosmetic washes that can strip the natural oils off of your skin and may cause skin irritation.
Talc
Usually used in color cosmetics and body (talcum) powders. In our opinion, there are two potential concerns that outweigh any benefits: the risk of asbestos contamination, and the risk of small particles entering the body through inhalation or perineal (genital) use.
Toluene
A solvent that may be toxic to the immune system and may cause birth defects.
Triclosan and Triclocarban
These preservative ingredients are used in personal care and home cleaning products and have already been banned in the US as antibacterial agents in hand soaps and hand sanitizers. They're persistent in the environment and may be associated with hormone disruption. These toxic ingredients are never included in our clean makeup products or skincare line.
Understanding Misunderstood Ingredients
During the risk assessment phase of our Honest Standard, we meticulously review current research and data compiled to determine which ingredients make the cut for our formulations. We carefully determine ingredients and their concentrations based on exposure scenarios, material source and safety data to provide you with a product that meets our Honest safety standards.
Our goal is to use the safest ingredients possible and we will continue to evaluate the latest science and research, to ensure a continuous evolution of our ingredient choices.
The following list of commonly misunderstood ingredients meet our safety standards:
Beeswax (and other Bee Products)
Honest allows beeswax, honey, pollen and propolis (all from bees), which are safe, effective ingredients. In our vegan formulas, we use a nature-like synthetic beeswax as an alternative.
Carmine
This red pigment (also called cochineal, cochineal extract, crimson lake, carmine lake or natural red 4 C.I. 75470) may be used in non-vegan color cosmetics, and is clearly indicated on ingredient labels. It comes from scale insects, such as the cochineal scale, and is a safe, natural alternative for other synthetic dyes of concern.
Colorants
There are three types of colorants: natural, naturally-derived and synthetic. We allow all versions in our color cosmetics, but avoid them in baby, skincare or body care products because they don't add any inherent product benefit. Natural and naturally-derived colorants are from plants, minerals or insects. We source these responsibly to avoid human and environmental harm (like labor exploitation or unsustainable mining). We also make a conscious choice to use synthetic colorants where necessary to help us create colors with amazing payoff that consumers love. But in this sensitive ingredient space, we do a lot of work evaluating the science and getting third party expert opinions on the synthetic dyes we use and exclude those of concern (like red 28 and carbon black 2).
Fragrance
Fragrance is a combination of ingredients added to a product to produce a scent or to mask an odor, often listed by brands under the blanket "fragrance" term to hide what is in the formula. Our use of the term refers to the scent ingredients added to skincare and cosmetics. Honest only uses natural fragrances, and for complete transparency, we list all the fragrance subcomponents on our product labels.
Palm Oil and Palm-Derived Ingredients
This is a natural, effective, highly useful, safe ingredient and a potentially sustainable crop. However, most palm oil is currently grown and harvested in an unsustainable and destructive manner. Rather than prohibiting palm oil, Honest chooses to bolster the demand for sustainably produced palm oil. We work closely with our suppliers to vet all sources.
Petroleum-Derived and/or Synthetic Ingredients
Wherever possible, we strive to use natural or naturally-derived ingredients instead of petroleum-derived ingredients, but we do not prohibit all petroleum-derived or synthetic ingredients. Why? Clean beauty is about evaluating ingredient sources, whether natural or synthetic, for their potential impacts. To that end, we avoid the worst of synthetic ingredients (which are on our "NO" List), and obtain certificates of analysis and manufacturing practices to address potential contamination issues.
Phenoxyethanol
Despite being controversial, phenoxyethanol has a similar safety profile to other commonly used preservatives. Preservatives are necessary to kill and prevent the growth of microbes in any product that contains water, so they are a necessary ingredient. The EU Scientific Committee on Consumer Safety considers phenoxyethanol safe for use as a preservative with a maximum concentration of 1.0%, which is the maximum level that our formulators use.
Silicones
While we never use cyclic silicones, other classes of silicones demonstrate more favorable human and environmental health profiles. For Honest Beauty products, we may carefully select from this list of silicones to formulate clean beauty that works. These silicone classes include:
Silicone Fluids: Silicone fluids provide smooth product application and high spreadability with a non greasy, powdery afterfeel. The favorable spreading properties can improve color uniformity in color cosmetics and even boost SPF in sun care products! These silicone fluids form a non-occlusive barrier meaning they allow air and water to pass freely in and out of the skin and some have skin protecting properties. Common example is "Dimethicone" which is also an FDA approved active ingredient for skin protection!
Silicone Gums: These higher molecular weight silicone fluids drastically improve product application at very low levels and can improve long wear for cosmetics. They offer many of the same benefits as silicone fluids but with a richer, heavier texture, long lasting slip and more shine so you may commonly see these in hair care where they help detangle and protect against heat. Common example is "Dimethiconol".
Silicone Gels: These lightly crosslinked silicones provide the superior sensory properties of silicone fluids and gums but also help create unique textures and improve product stability. Additionally, silicone gels can help blur the appearance of fine lines and uneven texture which is why these are a go-to ingredient in many primers. "Dimethicone Crosspolymer" is a common INCI name for this class of silicones.
Silicone Resins: These larger, more intricate silicones are solid at room temperature and provide a variety of benefits depending on the type. Specialty silicone powders like "Polymethylsilsesquioxane" improve product payout while creating a soft focus effect. Silicone film formers also fall under this category and offer the superior benefit of being both water and oil resistant for ultimate long wear. This explains why "Trimethylsiloxysilicate" is one of the most widely used film formers for long wear color cosmetics.
All silicone types used at Honest are chemically inert meaning they do not support bacterial growth, nor do they interact with or penetrate the skin. This leads to their favorable safety profile and low irritation potential which is why they are so commonly used in medical devices such as catheters. While silicones are widely used across skin care, color cosmetics and hair care, the chemists at Honest still approach them with the same skepticism of any other ingredient we choose to use. Prior to using any new silicone, it must be fully vetted by our in house toxicologist and must provide a clear benefit to the skin or product performance. We may also choose to use silicones when the alternative is a petroleum derived ingredient, as we believe silicones to be a more environmentally friendly option. We may also choose to use silicones in place of natural emollients which possess high irritation or allergy potential, such as soybean or peanut oil.
As leaders in clean beauty, we try to approach every formula using the most sustainably sourced or naturally derived ingredients and try to highlight the unique sensory that natural ingredients can provide without relying on silicones as sensory modifiers. Bottom line, silicones are treated just like the rest of the ingredients we choose to incorporate in our formulas – if they are consciously added to a product, its because they are safe, necessary to product performance, and providing a clear benefit to the end consumer.
Clean For All. All For Clean.
We aim to provide you with the most honest and credible information possible. This article was reviewed for accuracy by The Honest Team and was written based on trusted sources that are linked at the bottom of the article.
blog_review_statement