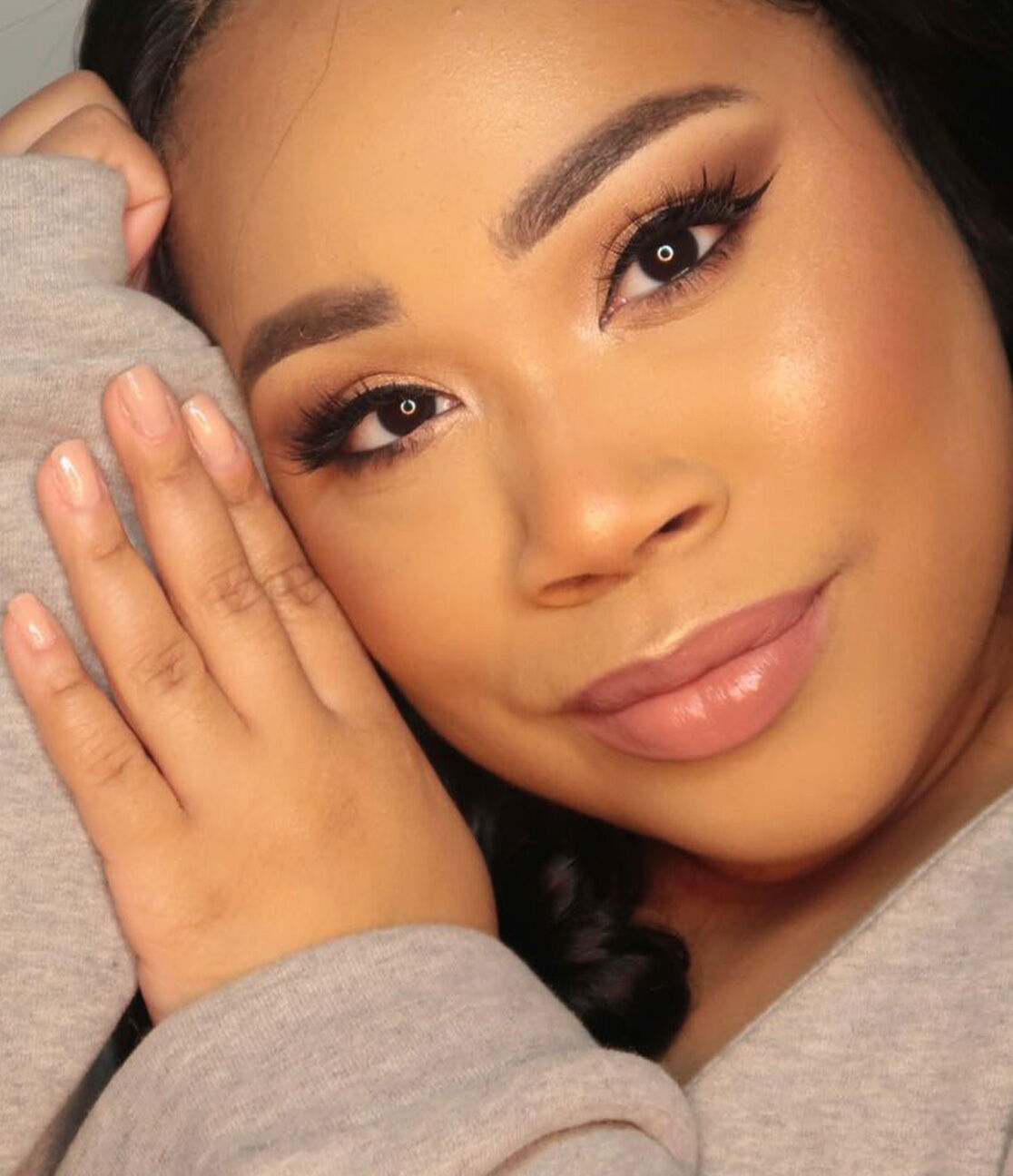 Image by @simplysynthia_
Whenever you hear the words 'smokey eye makeup', the first image to come to mind is always a heavy-handed and dark eye makeup look.
However, makeup is an ever-evolving phenomenon. It's not surprising that smokey eye makeup has changed too.
Natural smokey eyes are all about bringing some warmth and sultriness to your face and calling attention to your eyes, sans the harsh black eyeliners.
Whether you are looking to amp up your fall makeup look or are prepping for a night out on the town, keep reading to discover how you can craft a perfectly natural, smokey eye makeup look.
Step 1: Primer
Curious about how to make makeup last all day? Well, the first step in achieving a perfectly natural smokey eye look is to apply an eyeshadow primer on your lids. For this, you can use an eyelid primer, as well as a cream concealer to create a base for your eye makeup. Using an eyeshadow primer will minimize creasing and make sure the classic smokey eye makeup lasts longer.
Step 2: Tightline
The next step is to apply liner to your eyes, in between your lashes. This process is called tightlining––instead of applying liner over your lids, close to your lash line, you apply it in the upper and lower lashline. If any of the liner gets on your lid, blend it outward using a smudge brush.
Step 3: Liner
Now you apply eyeliner. For a more natural-looking smokey eye, opt for a brown liner instead of a jet black eyeliner. However, this depends on your skin tone and personal preferences.
Keep in mind the formulation of the liner, since the goal is to blend it instead of leaving a well-defined line. Pencil liners blend easily but may not last very long, whereas gel liners are longer-lasting but need to be blended right away before they set.
Step 4: Nude Eyeshadow
The first shade of eyeshadow should be a lighter shade of neutral nude, only a shade or two darker than your skin tone. This will create a base for the rest of your eye makeup.
Apply a generous sweep of the nude shade over your eyelid, focusing more toward the crease and outer V of the eye. Also, apply the shadow to your lower lash line.
Step 5: Brown Eyeshadow
Once you've applied your base shade, it's time to create the brown smokey eye effect. For a natural-looking smokey eye, it's best to stick with browns and pinks, depending on your skin tone.
Whatever color you choose from your eyeshadow palette should be at least a few shades darker than the nude base shade applied previously. Take a dense brush and apply this darker shade close to the lash line, using it to blend the liner above and outward.
The focus of a brown smokey eye is always toward the crease and outer V, so make sure you blend accordingly. Also, apply this darker shade along your lower lash line, starting from the middle of your eye and moving out. You can also join the upper and lower V for a more defined smokey eye look.
Step 6: Shimmer Eyeshadow
For a natural finish, opt for a light champagne or muted gold or pink shimmer. The best way of applying shimmer is to use your finger. Dab it onto the eyelid, going only halfway across the lid. You can also dab some shimmer in the inner corner of your eye. This will make your eyes appear larger and give you a wide-awake look.
Step 7: Mascara
Apply a generous coating of mascara to your eyelashes. You can apply either black, brown mascara or false lashes per your preferences.
Using the mascara, you can enhance and elongate your outer lashes for a more defined smokey eye, or apply an equal coating on your whole lash line for a more subtle effect.
Step 8: Eyeliner (Optional)
This step is optional as it depends on just how natural you want your smokey eye to look. Different formulas can achieve different beauty looks. Using a brown or black liquid eyeliner can pencil to add an additional layer givings a finishing touch and addings definition to your eye. ;
Without it, you are left with a more natural-looking smoke effect. Alternatively, you can use a lighter shade of liner, such as brown, to add definition to your eye without making it look too harsh.
Smokey Eye Makeup Look Tips
For a natural smokey eye, it's best to stick to neutral shades of browns and pinks.
The key to a good smokey eye is blending, blending, blending! Use the right crease brush for blending the different layers of eyeshadow.
Use cream eyeshadows––both matte and shimmer––for the perfect natural smokey eye. Creams blend so much better than powders.
As an alternative, you can skip the finishing eyeliner step and replace it with tightlining your upper and lower lash line. This works especially well if you have created a smokey eye using shades of brown. Black tightlining will add definition to your eye without going overboard.
There are many ways to create smokey eyeshadow looks especially with the help of our All About The Eyes Kit. Use the steps mentioned above or create your own process. Add and modify it according to your tastes.
For instance, you can skip the shimmer if you prefer a matte finish or even add some glitter in a deeper shade for a more enhanced effect. Above all, make this natural smokey eye makeup look your own, and get out there and rock it!
Sources:
Perfect smokey eyes | ARTDECO makeup tips. (2020). Artdeco. https://www.artdeco.com/en/makeup-tips/makeup-looks/smokey-eyes
Turner, E. (2021, May 28). How To Do A Smokey Eye: Easy Step-By-Step Tutorial. Glamour UK. https://www.glamourmagazine.co.uk/gallery/how-to-do-a-smokey-eye
8 Subtle Smoky Eyes for People Who Believe Less Is More. (2020, September 11). Byrdie. https://www.byrdie.com/natural-smoky-eye
We aim to provide you with the most honest and credible information possible. This article was reviewed for accuracy by The Honest Team and was written based on trusted sources that are linked at the bottom of the article.
blog_review_statement