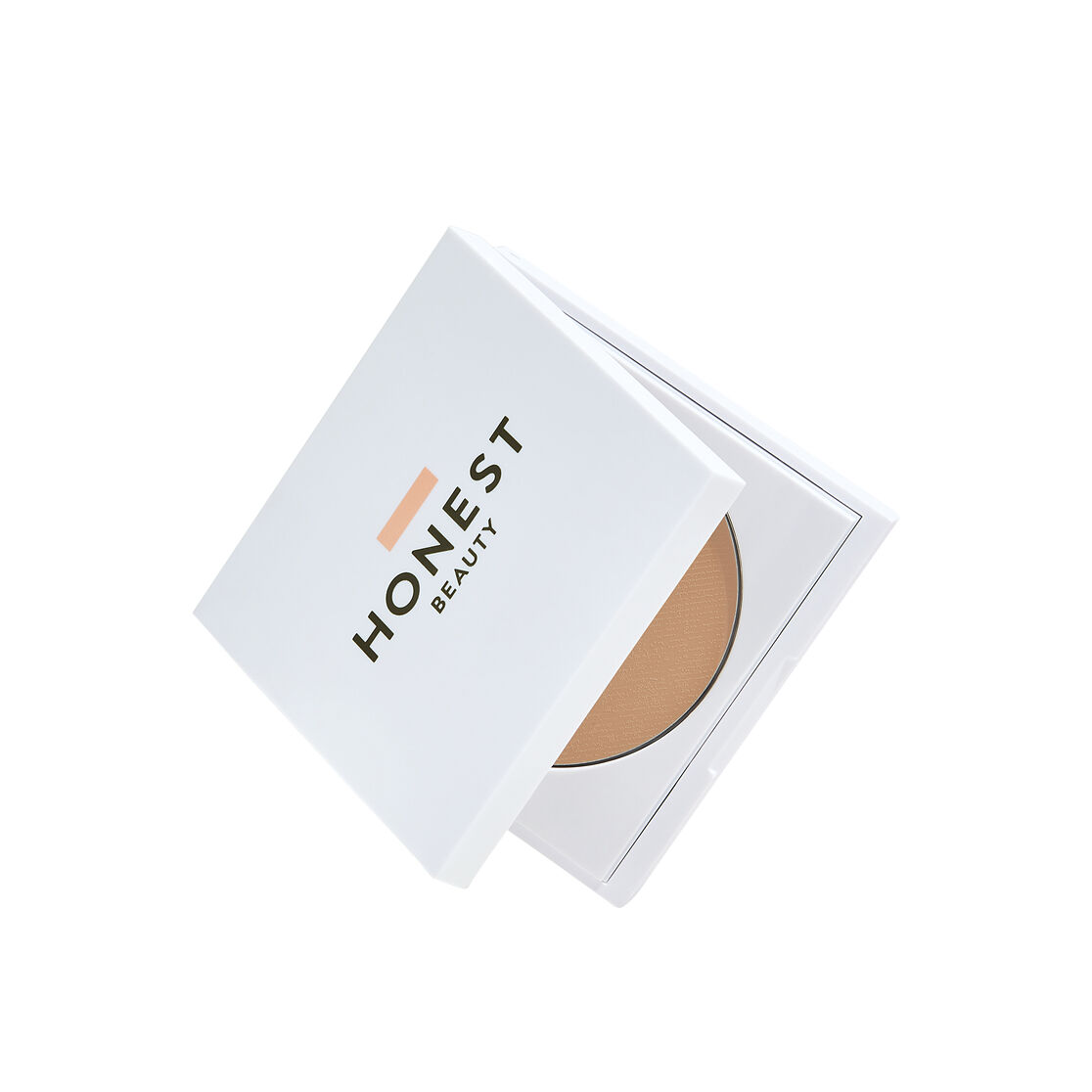 Whenever you see someone whose skin appears perfectly polished and luminous, they're likely wearing highlighter. Highlighter is the magic face makeup trick that instantly brightens the complexion and helps to contour one's face shape by sculpting the cheekbones and drawing attention to other flattering features of the face. It's a product makeup artists have been using for years, but it's not-so-secret anymore as highlighter continues to increase in popularity among beauty lovers everywhere.
Some prefer a powder formula, while others opt for a liquid illuminator to achieve the look of a natural glow. And then there are some who are fans of both types. Regardless of what form you choose, your new highlighter may become your go-to product as it will not only compliment your facial features but also make your skin look dewy. If you're not sure which product is right for you, we'll educate you on how to use highlighter, where to apply it, and a few tricks to make your overall makeup appear flawless.
How to Use Highlighter
Highlighter is one of the last products you use when applying makeup. It's important to start with a clean base, being moisturized skin. Then, use a primer to set a smooth surface and build up coverage with concealer and/or foundation depending on the type of look you want. For the appearance of natural dewy makeup, skip the full foundation and dab on a tinted moisturizer and a pinch of cream blush instead or simply stick with a primer and concealer base for light coverage. Once you have your makeup set with translucent powder, it's time to add the final flourish with highlighter.
Using a fan brush to apply powder highlighter is a great way to achieve an even, shimmery glow. When applying powder highlighter, swirl the tip of your makeup brush in the formula and lightly swipe the areas you want to highlight on your face. Typically, this includes your cheekbones, brow bones, down the middle of your nose, and cupids bow- right above your lip. For a sun-kissed face glow, use a slightly darker highlighter and apply along your hairline as well. Think about where the sun naturally hits your face and use that as a guiding point for where to apply highlighter for natural luminosity.
In cream form, rather than using a brush, use clean fingertips or a blending sponge to pat into the same areas as you would with powder and blend it out. A creamy, liquid formula can also be used to follow the contour of your facial features. To shape your face using a cream highlighter, use a sponge to apply the product to your jawline, temples, bridge of your nose, and within the hollows of your cheeks in a shade or two darker. Then, blend out to erase any lines for a subtle, yet beautiful glow.
When using highlighter for the first time, ease into it by adding a dab to the cheekbones for a fresh look. Once you get more comfortable with the different shades and applications, frame your face with highlighter and see the difference it makes. The only area to avoid is the t-zone since it usually already produces excess shine. Otherwise, highlighter is a versatile product and can be worn daily or reserved for special occasions, depending on how you want to use it.
Achieve an All-Over Glow
Once you've got the hang of using highlighter, don't stop at your face. Using either a highlighter palette or liquid illuminator, brush or sponge the product along your collarbone, on your shoulders, and down your arms. It isn't necessary to dump illuminating products all over your body, but if you are going to accentuate one part, choose to highlight your collarbones. Highlighter helps to warm up the skin and create a natural glow. Wherever you apply it, make sure to blend it in, especially when using cream. It should leave behind a flawless, bright finish without any harsh lines to show where the makeup begins and ends.
Both powder and cream highlighters are beneficial, with powder being favored for those with oilier skin and cream the pick for those who have a more dry skin tone. The one thing to remember when using this product is that a little goes a long way. Start with a small amount first before going contour crazy or leaving your skin ultra shimmery like a disco ball. You can always add more when needed, but it's more difficult to remove it once you have it in place.
Elevate Your Look with Highlighter
Using highlighter doesn't have to be difficult if you start with a good foundation of clean skin. For a minimal look, go through your skincare routine and lightly apply highlighter to the inner corner of your eyes, cheekbones, and brow bones and that's it. For a more amped up effect, start with your normal skincare routine, then apply concealer, foundation, and translucent powder before adding the highlight.
The best thing to do is play around with the product and see how you like to use it best. Try it on one side of your face and see if you notice a difference before building upon it for the ultimate glowing finish. It leaves behind a pretty sheen that subtly elevates makeup, depending on how much you use, where on your face you apply it and the colors you choose.
Whether you decide to choose a powder or cream highlighter will depend mostly on your skin type. However, there's no reason you can't use both to further accentuate the face and have fun with your makeup. Think of highlighter as the "cherry on top" of the look you want. You don't always need it, but it feels special when it's there.