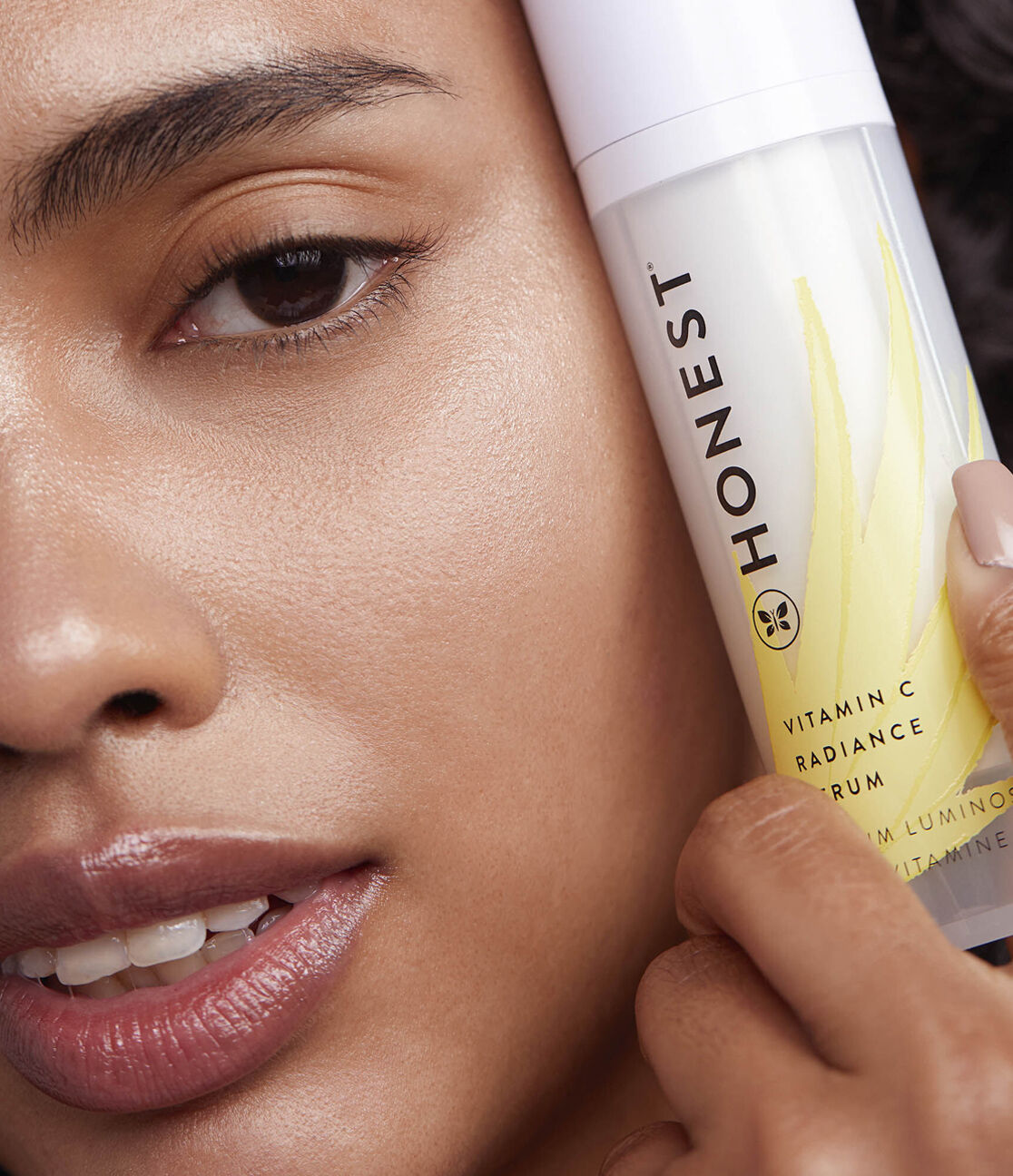 If you've got a twelve-step skincare routine and you're still not seeing results, you might be wondering what you're missing. But a skincare routine doesn't have to be as long or as detailed as the latest recap of your favorite reality TV show—just tailored to the needs of your skin.
Stop laboring in the bathroom only to be underwhelmed by the results. Simplify the process, instead, with a face serum that will target many of your skincare needs in one easy step.
What does face serum do, and why should you use it over the other products fighting for a spot in your bathroom cabinet? To learn about the five face serum benefits your skin can't afford to miss, as well as how to apply face serum, read on.
#1 They Are Formulated & Designed To Work Below The Surface
When it comes to life—and skin care—the best moments are the ones that go below the surface. That's precisely what a high-quality facial serum should do.
Instead of drawing the line at surface-level skin care, facial serums are designed to dive down deep into your pores where they can do their best work:
The essential components of face serums are what make them more adept than other products at reaching down deep.
These molecules can pack a big punch, too. They are designed to deliver concentrated doses of specific active ingredients to the skin. Additionally, they tend to be more lightweight and water-based which allows for quicker absorption thereby helping to deliver the active ingredients into your skin for optimized results.
If you're looking for a skincare product or treatment to improve the overall feel of your skin, your current topical treatments might leave you wanting more. Even the skin under eyes can benefit from the nutrients packed in facial serums. Instead of throwing in the towel on skincare altogether, try the Calm & POREfect Serum.
Paired with a gentle exfoliation, this serum is designed to refine texture, leaving your skin softer and smoother to the touch. Gently rub the skincare product onto your freshly cleansed face before applying your favorite moisturizer, and get ready to feel the difference.
#2 You May Notice Fewer Wrinkles
Let's face it—wrinkles are a part of life. And they're usually a sign that we've had a few good laughs along the way. But many of us wish we could keep at least a few of those fine lines at bay for a little longer.
The magic elixir? Spoiler alert: There isn't one. However, regular use of sunscreen and moisturizers is a solid place to start. If that's not quite cutting it, consider throwing in a serum that targets fine lines and wrinkles into the mix too.
One of the best serum benefits is that you can pick and choose what effects you want to see, so if the look of wrinkles or fine lines is a concern for you, look for serums that contain retinoids.
The most common retinoid you'll find in an anti-aging serum is retinol. Studies have shown that it provides many benefits, such as:
Smoother skin tone
Faster cell turnover to keep looking youthful
Softened appearance of wrinkles
Great for acne-prone skin
While some retinol products can offer these benefits, if you're looking for a serum to help reduce signs of aging while providing a radiance boost, check out the Pure Retinyl Serum. It contains a retinol ester that's known to be gentle for your skin. This way, you can enjoy all the benefits while minimizing dryness and peeling.
#3 They're Generally Less Greasy than Moisturizers
If you have oily or combination skin, finding the right moisturizer for your face might be more of a challenge than finding the right outfit. Some might leave your skin feeling greasy, while others don't do quite enough. If you're in moisturizer limbo, there are other ways to ensure your skin stays fresh, such as a hydrating water-based serum.
While serums and moisturizers aren't interchangeable, you can use a serum to help your skin's hydration woes. A moisturizer works to lock in hydration on the surface of your skin, but water-based lightweight serum can deliver it deep below the surface with ingredients such as:
Hyaluronic acid – This secret skincare weapon is the acid that helps your skin retain water, keeping it dewy and glowing. It also helps improve the appearance of fine lines thanks to plumping hydration!
Vitamin B5 – While you might take vitamins or supplements to balance your diet, you may also notice benefits from applying the right ones topically. B5 is super hydrating for your skin and has the bonus effect of smoothing your complexion as well.
If you're ready for effortless radiance, look into a hydrating serum like the Stay Hydrated Hyaluronic Acid + NMF Serum. In it, you'll find ingredients like kiwi seed oil and rambutan—an ultra-hydrating duo that'll leave your skin quenched and fit for a queen.
#4 Help Strengthen Skin Barrier
Whether you're a skincare guru or just breaking into the basics, don't skimp on SPF for the face. It's the essential first step to defend the skin barrier. But sometimes even the most diligent application of sunscreen isn't enough to drive away outside threats entirely.
If you're serious about defending your skin against environmental aggressors, that means you need to guard your face against free radicals, too. They're a type of free-floating, unstable molecule that can cause oxidative stress to the skin barrier when they try to bond to other atoms and molecules.
Since free radicals can cause oxidative stress, it makes sense that antioxidants can help protect your skin from them. Serums with any of the following antioxidant ingredients are excellent ways to help shield your skin:
Vitamin C – This fantastic antioxidant is best at healing damage from UV free radical stress. Plus, Vitamin C has the bonus of protecting your skin from any general pollution.4
Vitamin E – This easily-absorbed antioxidant can shield your skin from UV rays and stop the harmful effects of inflammation in their tracks.5
Resveratrol – Often found in grape skin, this antioxidant can help with UV-induced oxidative stress that can be associated with skin aging.6
Turmeric – A distinctive yellow spice often known for its anti-inflammatory properties, turmeric is an antioxidant that will protect your skin and boost its shine.7
Get a step ahead with our Vitamin C Radiance Serum, a clean-beauty staple formulated with day-brightening ingredients to help boost skin radiance for a brilliant-looking complexion and newfound glow.
#5 Your Skin May Feel Softer and Smoother
Serums can help fortify your skin and hydrate it like a moisturizer, but they can target texture too.
Another key feature of some face serums that your skincare routine can't afford to miss is the exfoliating benefit, leaving your face soft and supple.
Exfoliating serums typically have glycolic acid to help them work their magic. This acid lets your serum:
Work its way down deep (because glycolic is the smallest of AHAs!)
Exfoliate dead skin cells
Encourage the shedding of these dead skin cells
This gentle exfoliating process will help leave your skin fresh, soft, and ultra smooth. Our Beauty Sleep Resurfacing Serum takes the overnight shift, letting you enjoy a night of restful sleep and wake up to results you can see.
When Should You Use a Face Serum?
What do serums, among many other face care products, do for your face? Well, the better question might be—what don't they do? That said, they can only do their best work when applied properly.
To get the most out of your face serum, try the following application tips:
Wash your skin first – If you want your skin serums to have their best effect, it's a smart idea to clean your skin before applying. That way, the serum can work its way into your skin without having to break through thick walls of dirt and grime. Dampened skin can also help with absorption.
Don't use too much – Since serums are highly concentrated, there's no need to overdo it. Try to use about a quarter-sized amount maximum. Otherwise, your skin might end up damp and oversaturated.
Follow it up with moisturizer – Serums can be plenty moisturizing, but finishing your routine with traditional moisturizer will create a barrier that locks your serum on the inside and keeps any irritants or grime on the outside.
While these tips can be helpful guidelines, be sure to follow the product-specific instructions on the packaging of your preferred serum.
Reach New Levels of Radiance with Honest
If you have a lengthy skincare routine, it can make caring for your skin feel like a full-time job. But with a face serum, you can cut down on your routine and skip straight to benefits instead.
To see the best results, make sure you're using products you can count on. That's where Honest comes in. Our high-quality face serums are here to support you on your journey to more radiant, dewier skin. Plus, our clean ingredients mean you don't need to stress about what's in them—your skin is already thanking you for it.
From hydrating hyaluronic acid to day-brightening vitamin C, find a serum that suits your skin at Honest today.
Sources:
Zasada, M., Budzisz, E., & Erkiert-Polguj, A. (2020). A Clinical Anti-Ageing Comparative Study of 0.3 and 0.5% Retinol Serums: A Clinically Controlled Trial. Skin pharmacology and physiology, 33(2), 102–116. https://doi.org/10.1159/000508168
What Are the Benefits of Using a Face Serum? Healthline. https://www.healthline.com/health/benefits-of-face-serum
What are free radicals and how do they affect your skin? Today. https://www.today.com/style/what-are-free-radicals-how-do-they-affect-your-skin-t150296
Telang P. S. (2013). Vitamin C in dermatology. Indian dermatology online journal, 4(2), 143–146. https://doi.org/10.4103/2229-5178.110593
Keen, M. A., & Hassan, I. (2016). Vitamin E in dermatology. Indian dermatology online journal, 7(4), 311–315. https://doi.org/10.4103/2229-5178.185494
Ndiaye, M., Philippe, C., Mukhtar, H., & Ahmad, N. (2011). The grape antioxidant resveratrol for skin disorders: promise, prospects, and challenges. Archives of biochemistry and biophysics, 508(2), 164–170. https://doi.org/10.1016/j.abb.2010.12.030
Vaughn, A. R., Branum, A., & Sivamani, R. K. (2016). Effects of Turmeric (Curcuma longa) on Skin Health: A Systematic Review of the Clinical Evidence. Phytotherapy research : PTR, 30(8), 1243–1264. https://doi.org/10.1002/ptr.5640
We aim to provide you with the most honest and credible information possible. This article was reviewed for accuracy by The Honest Team and was written based on trusted sources that are linked at the bottom of the article.
blog_review_statement