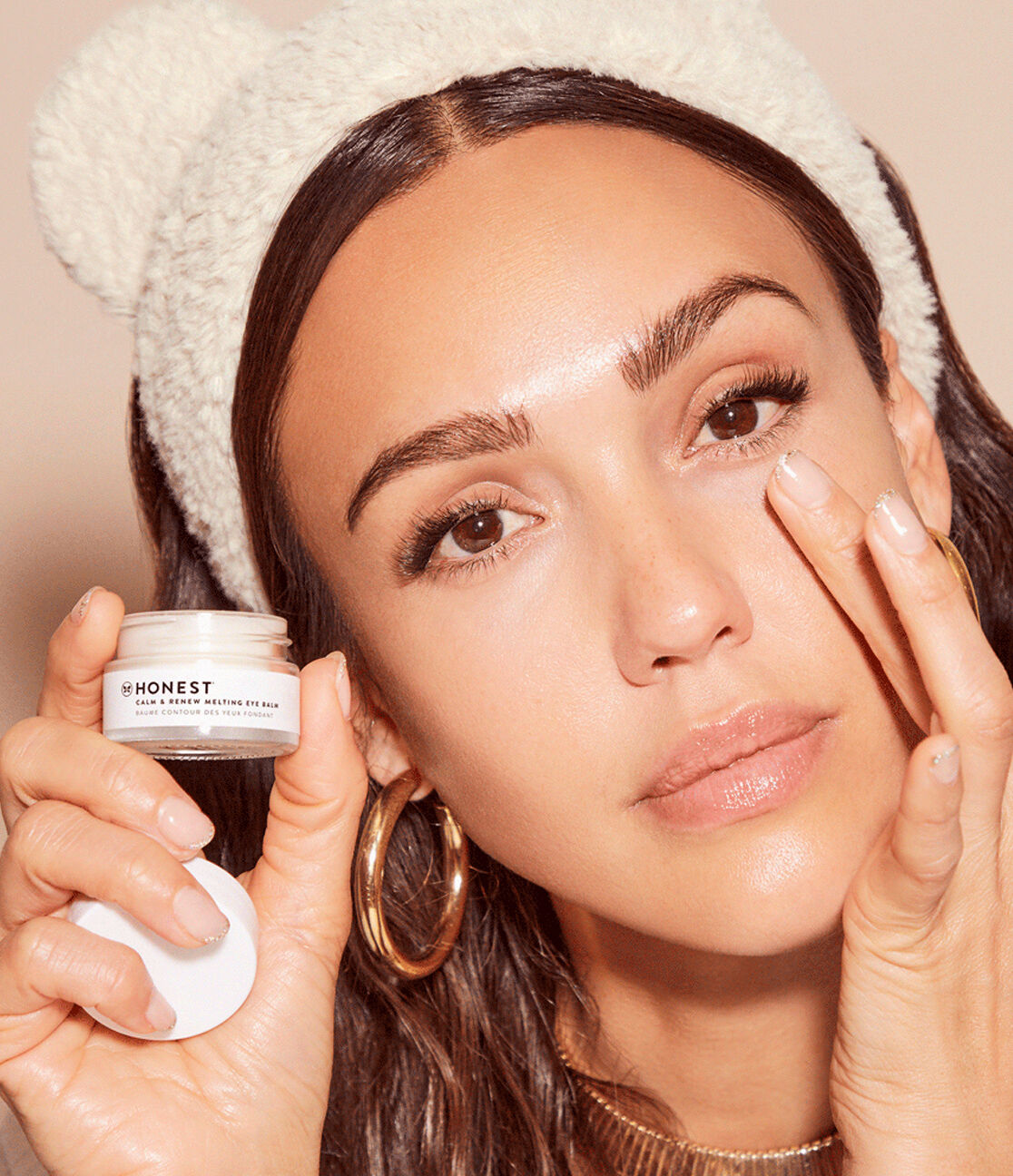 They say the eyes are the windows to the soul. But the skin under your eyes? That's a window of opportunity for your skincare routine to work some magic.
Delicate and light, the thin skin around the eyes is the first place to show signs of aging (or a long night out). Without proper care, those wrinkles and eye bags can start to make a permanent appearance. Strive for a youthful glow with our complete guide to the do's and don'ts of under eye skin care.
DO: Moisturize, Moisturize, Moisturize
A rule that anyone can follow for skin under eyes? When in doubt, moisturize it out.
Without proper hydration, skin can start to lose its youthful shine and volume, leaving you with a few fine lines you'd rather forget. Your under eye skin especially needs extra moisture to help with the appearance of wrinkles since it lacks oil glands that naturally moisturize skin.
However, not all lotions are created equal. When picking an under eye cream, look for products that have:
Under eye labels – Yes, you could apply your facial moisturizer to your under eye area. But for most people, the delicate skin under eyes is too sensitive for facial creams. Avoid irritation and adverse reactions by using moisturizers made specifically for under eye skin.
Rich formulas – With zero oil glands, your under eye skin needs maximum moisture. Go for a rich under eye moisturizer that packs a serious punch.
Humectants – Think of a humectant like a sponge. When applied to the skin, it soaks up nearby water molecules to hydrate the area. Seek humectants like hyaluronic acid or glycerin on your under eye cream's label (hint hint: our Deep Hydration Eye Cream includes them, along with soothing chamomile and calendula).
DON'T: Skip the SPF (or Protectants)
According to research, UV rays may cause up to 80% of visible skin aging like wrinkles, dullness, and spotting. While you may not notice sunburns under your eyes, that doesn't mean that area is damage-free. To block those rays, you need a moisturizer with SPF that has protective features like:
Broad-spectrum (UVA & UVB protection)
Mineral-based formula
30 SPF minimum
Under eye-friendly
No sunscreen around? Grab a hat or some UV-blocking sunglasses. Any protection is better than no protection against potential sun damage.
DO: Opt for Retinoids
They're not just for smile lines or acne. For the under eye area, harness the anti-aging power of retinoids.
As vitamin A topicals, retinoids work their magic by increasing skin cell turnover. This means retinoids encourage dead skin cells to shed and new skin cells to replace them. The result? Healthier, youthful-looking skin. Retinoids can help improve signs of under eye skin aging like:
Fine lines
Milia (tiny keratin bumps)
Dullness
Elasticity loss
Volume loss
The drawback? Depending on the formula, retinoids often bring harsh side effects at first. Typically, dermatologists will recommend a low concentration of retinol (a mild retinoid) mixed with a moisturizer to treat under eye skin safely.
DON'T: Forget About Lifestyle
If healthy skin came down to products, we'd all have beaming complexions. However, your lifestyle choices play just as big a role in your skin's appearance—including the under eyes.
Leave behind the habit of skipping sleep and eating chips for dinner. Instead, try to implement these healthy practices to reduce pesky skin perils:
Adequate sleep – 7 to 9 hours per night
Nutritious food – Low in salt and sugars; high in nutrients and omega-3s
Plentiful hydration – 8 cups of water per day or more
Reduced stress – Calming activities, meditation, exercise, social connection
DO: Check the Ingredient List
The back of the box usually holds all the skincare secrets. For under eye care, ingredients matter. Depending on your skin concerns, check product labels for these nourishing and science-backed ingredients to soothe the under eye area:
Vitamin C – Still seeing dark circles after your beauty sleep? For skin tone irregularities, the look of dark spots, and uneven skin tone, vitamin C is nature's best tool. This antioxidant encourages gentle exfoliation and soothes puffiness, leaving you with lighter and smoother skin.
Peptides – From keratin to collagen, your skin is full of proteins that give it youthful volume and elasticity. Peptides are one of the building blocks for these proteins—and they can reinvigorate the delicate skin around the under eye area. To treat hollows or lost volume, seek these protein builders in your eye cream.
Caffeine – That's right, caffeine is more than your morning pick-me-up. Topical caffeine products can help tighten under eye skin and improve the appearance of elasticity and dark circles for a refreshed under eye area.
Honest®—Bringing a Smile to Your Eyes
Caring for your skin is more than a vanity project—it's part of your health. Whether it's learning how to choose the perfect product for your under eyes or discovering how to apply face serum, a little extra care goes a long way in supporting healthy skin. That's why it's important to choose clean, high quality products like the ones found in our Honest® beauty collection.
Need an overnight reset? Rejuvenate your eyes with our Calm + Renew Eye Balm. For daytime, apply a layer of our Depuff + C Eye Cream followed by a swipe of Tinted Eye Cream for a subtle tint to help diffuse those dark circles. No matter your skin issues, Honest® has the soothing and safe products (toxicologist-audited for your piece of mind) to nourish your under eyes made without fragrances, parabens, + 2500 more ingredients from our NO LIST.
High standards, high satisfaction—explore our beauty and cosmetics collections at Honest® today, and feel the difference tomorrow.
Sources:
Under Eye Skin Care: Your Complete Guide. Bustle. https://www.bustle.com/style/under-eye-skin-care
A Specific Guide to Caring for the Skin Around Your Eyes. Everyday Health. https://www.everydayhealth.com/skin-beauty/specific-guide-to-caring-for-the-skin-around-your-eyes/
15 Dermatologist-Approved Skincare Tips for the Best Skin of Your Life. Good Housekeeping. https://www.goodhousekeeping.com/beauty/anti-aging/a34301/best-skin-care-tips/
Tips for Caring for the Skin Around Your Eyes. Healthline. https://www.healthline.com/health/beauty-skin-care/eye-care
Pullar, J. M., Carr, A. C., & Vissers, M. (2017). The Roles of Vitamin C in Skin Health. Nutrients, 9(8), 866. https://doi.org/10.3390/nu9080866
Ultraviolet Radiation, Aging and the Skin: Prevention of Damage by Topical cAMP Manipulation. NCBI. https://www.ncbi.nlm.nih.gov/pmc/articles/PMC4344124/
Ahmadraji, F., & Shatalebi, M. A. (2015). Evaluation of the clinical efficacy and safety of an eye counter pad containing caffeine and vitamin K in emulsified Emu oil base. Advanced biomedical research, 4, 10. https://doi.org/10.4103/2277-9175.148292
We aim to provide you with the most honest and credible information possible. This article was reviewed for accuracy by The Honest Team and was written based on trusted sources that are linked at the bottom of the article.
blog_review_statement