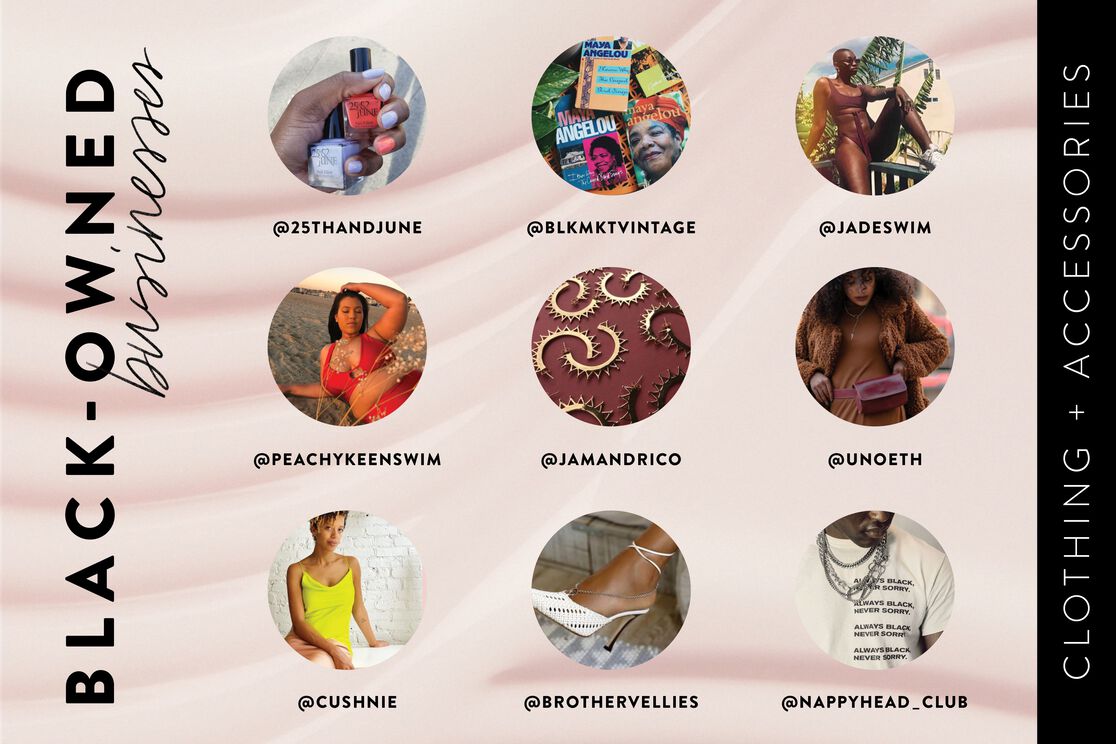 Day by day, protest by protest, activists, advocates + allies are coming together to make sure the fight against racism is more than just a moment. In addition to signing every petition that crosses your path and donating where you can, it is so important to simultaneously amplify Black voices and support Black businesses. It is especially important to keep supporting Black businesses long after this revolutionary dust settles. We're fighting for change, and we're slowly seeing change. We have to keep going.
This blog series will highlight a few of our favorite Black-owned brands, published by category, beginning here with clothing + jewelry. Check them out yourself, and keep supporting Black lives + voices + dreams every way you can.
JADE SWIM
WHY WE LOVE THEM: Founded by fashion editor and stylist Brittany Kozerski, Jade Swim elegantly captures a minimalist aesthetic with innovative silhouettes and unique design details. Simplicity is celebrated, "classic" is re-invented with an edge, and each piece is thoughtfully crafted from gorgeous fabric meant to enhance every gorgeous silhouette. Each swim design holds up in multiple settings-- from beach to bar, day to night, and every adventure in between.
BLK MKT VINTAGE
WHY WE LOVE THEM: BLK MKT Vintage curates an ongoing, culturally historical love story, bringing back antiquated beauty to the forefront of our everyday lives. With regularly changing vintage inventory, there's always something new to learn + admire. Following them on IG is the easiest way to stay up to date on inventory and daily happenings. BLK MKT Vintage is motivated to build a collection that mirrors multifarious, black cultural expression and is rooted in a strong love for black people, black culture and their own lived experiences.
NAPPY HEAD CLUB
WHY WE LOVE THEM: Sisters Rikki-Richelle + Rachel Topping co-founded The Nappy Head Club because they were sick of being left out of the conversation. The Club has grown far bigger than a clothing + accessory line; it is a safe space full of resources, information, tools and a sense of belonging for anybody who has ever felt othered. The line itself is phenomenal; you'll want to browse it all, but take special note of NHC's newest collection, which celebrates the essence of the Black Panther movement in order to showcase its modern relevance as we continue the fight against police brutality and racism in America.
BROTHER VELLIES
WHY WE LOVE THEM: Founded in 2013 by eclectic creative Aurora James, Brother Vellies started out, and has carried out a very specific goal: to celebrate traditional African design practices and techniques while also creating and sustaining artisanal jobs. These luxury accessories celebrate cultural histories, timeless trends, and are handmade across the globe. The artists and creators are honored + celebrated, and the brand is committed to environmental consciousness. Aurora's background in almost every facet of creativity to exist ensures truly one-of-a-kind pieces that will prove to be wardrobe staples forever.
PEACHY KEEN SWIM
WHY WE LOVE THEM: Established by founders Delaney, Summer + Leah, Peachy Keen's mission is to reshape the fashion industry by way of body positivity, new beauty standards and environmentally friendly practices. In support of a "slow-fashion" agenda, all products are shipped in 100% compostable mailers, and their next collection uses high-quality fabrics made from recycled water bottles + fishing nets. Eco-friendly, sweatshop-free + body positive are three pillars we should all get behind.
ONA
WHY WE LOVE THEM: Tracy Foster founded NYC-based ONA (pronounced ō'na) with photographers & creative professionals in mind. In Swahili, ona means "to feel," "to believe," and "to experience with the eyes." Each product is handcrafted using the highest quality, thoughtfully-sourced materials meant to protect your essentials without compromising your style. A global community of photographers + storytellers provides input + feedback, which is then applied meticulously during the design stages. Cheers to real voices, valued opinions, and thoughtful design.
UNOETH
WHY WE LOVE THEM: Father-daughter partners Dagne + Xiomara started this leather bag + accessory business after finding inspiration from their international travels and countless road trips together. Following a family visit in Ethiopia, Dagne realized he couldn't bring back enough leather goods to share as gifts--he'd always need more. Thus, Onoeth was born; quality, timeless leather goods handmade by artisans + small businesses in Addis Ababa, Ethiopia. Unoeth supports the Ethiopian economy, and features one-of-a-kind pieces that surpass any trend or fad.
25th AND JUNE
WHY WE LOVE THEM: 25th And June is a cruelty-free, vegan-friendly, made-in-the-USA nail polish company, which is already a rarity. Nexus Cook created this brand of original nail elixirs in pursuit of creating something bigger than herself--she's perpetually fueled by her big ideas and obsession with all things bright and pretty. It's no secret that a good mani/pedi can spark some serious confidence and inspiration; Nexus has given us the gift of a high-quality polish that is now officially 10-free (free of 10 commonly found, harmful chemicals).
CUSHNIE
WHY WE LOVE THEM: Carly Cushnie designed her luxury women's ready-to-wear bridal brand with a strong desire to speak to the modern woman. Clean, sculptural lines characterize each design, and the label holds a strong emphasis on balance of proportion, structure and fluidity. Cushnie relates to her customer, having grown + evolved alongside her for the last decade. She values the timeless silhouettes that amplify the feelings of sexiness, sophistication and power.
JAM + RICO
WHY WE LOVE THEM: Jam + Rico (Jamaica + Puerto Rico) owner Lisette Scott prominently features island influence in all of her designs. Growing up, she was immersed in music, food and traditions formed in both homelands, and was later able to travel and form stronger bonds with her heritage. Bold, unique + colorful, Jam + Rico accessory designs celebrate the carnivals, art, beaches and language of both islands and are on a mission to bring joy, confidence and beauty to each customer.
We aim to provide you with the most honest and credible information possible. This article was reviewed for accuracy by The Honest Team and was written based on trusted sources that are linked at the bottom of the article.
blog_review_statement