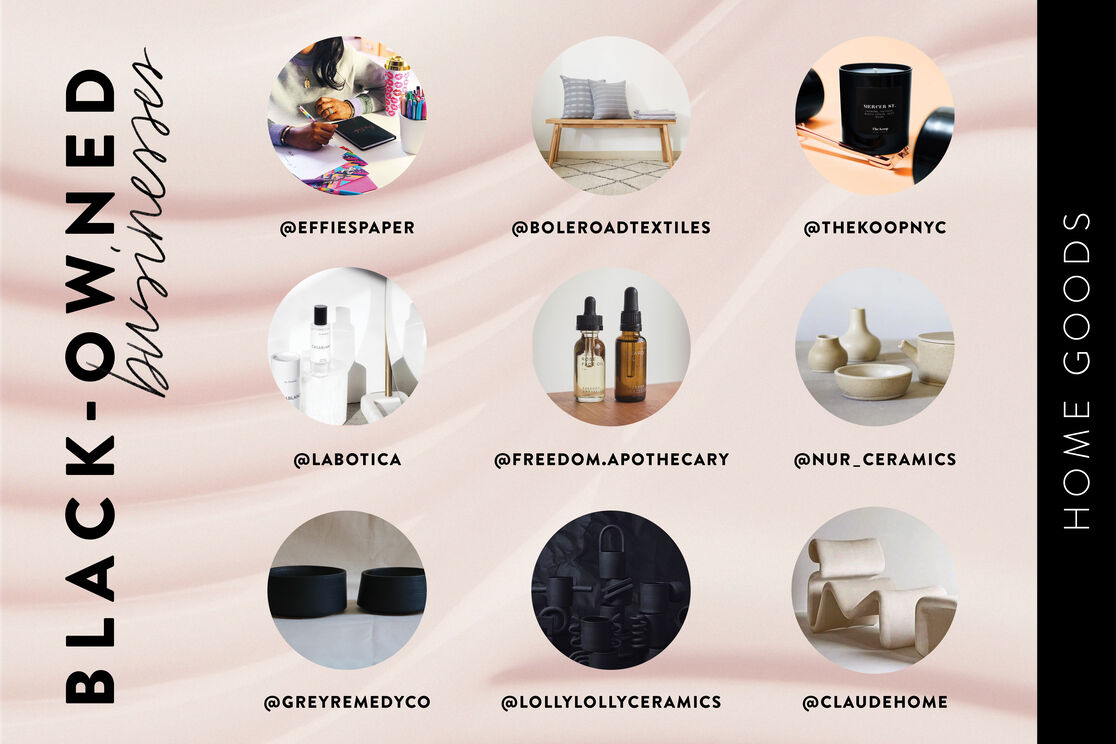 As activists, advocates + allies stand strong in the anti-racist movement, we can all take smaller actions to continue to fight against racism. Alongside signing petitions and donating when you can, it is important to simultaneously amplify Black voices + support Black businesses.
Part two in the series, this blog will highlight a few of our favorite Black-owned home goods brands. Check them out, add your own favorites in the comment section below, and keep supporting Black lives + voices + dreams every way you can.
EFFIE'S PAPER
WHY WE LOVE THEM: Kalyn Johnson Chandler named her "stationary & whatnot" company after her maternal grandmother, who wore the perfect shade of red lipstick and wrote the best thank you notes. Once a lawyer turned stylist, Kalyn now designs her own stationery from her home in NYC. Effie's Paper provides everything you need from door to desk, ensuring that you're surrounded by beauty at all times and finished off with a sprinkle of Black Girl Magic.
BOLE ROAD TEXTILES
WHY WE LOVE THEM: The Bolé Road mission is to transform and inspire by way of textiles. Designed in Brooklyn, ethically sourced and thoughtfully handwoven by artisans in Ethiopia, these textiles marry traditional weaving techniques with a modern aesthetic. Born in the fast-paced city of Addis Ababa, Ethiopia, and raised in the quaint neighborhood of Bolé, Hana Getachew grew up surrounded by vibrant colors and amazing graphic patterns. She spent over a decade at a major architecture firm in NYC before setting off on her own to share her roots with the world.
THE KOOP NYC
WHY WE LOVE THEM: Kristin Rose left behind a career of hospitality marketing management to found this scented candle company in Brooklyn. A tiny team of four mixes and pours each of these eco-friendly candles by hand; Koop New York is big on delivering "subtle luxury" to its customers. Kristin recognizes that scent is intimate, delicate and powerful. The right scent can take you back to an incredibly specific memory of your past, clear your head and make you feel present, and even bring excitement for your future. Koop will take you on those journeys.
LA BOTICA
WHY WE LOVE THEM: Located in NYC, La Botica is a concept brand, luxury candle studio + relaxation-wear brand brought together with modern ritual + culture. It provides everything you need to get your head right, reclaim your space and chill out. Owner + Designer Dawn Marie modeled La Botica off of her dream sanctuary; a self-care haven promoting safe space and total acceptance, fortified with sustainably-sourced, vegan-friendly products. She focused her art on scent + experience, calling on her Black + Afro-Dominican roots to provide this escape for anybody who needs it.
FREEDOM APOTHECARY
WHY WE LOVE THEM: Morrisa + Bon combined forces to build out the visions of their dreams--a physical safe space for women, namely Black women and women of color, to find belonging, support and authenticity. Freedom Apothecary is exactly that; a place of radical self-care meant to cultivate radiance + glow. All products going in and coming out of the Freedom Apothecary are non-toxic and trustworthy, just like the women behind them.
NUR CERAMICS
WHY WE LOVE THEM: Dina Nur Satti was raised by her Somali + Sudanese parents; she grew up surrounded by traditions of her heritage. Ceramics was one of them. Recognizing the Nubians of Northern Sudan + Southern Egypt as some of the most esteemed potters in history, Dina uses her artform to reconnect with the indigenous cultures of her homeland. Designer + producer of every piece that comes out of Nur Ceramics, Dina aims to shine a light on the artistic brilliance + sophistication of cultures often overlooked.
GREY REMEDY CERAMICS
WHY WE LOVE THEM: Chicago-based artist Melissa J. Chin works with clay as a form of meditation. Working with the medium quickly became a lesson in the power of discipline, persistence + patience--a mindfulness Melissa had never so deeply tapped into. Using art as a daily practice in grounding + balance, Grey Remedy was born; elegant, minimal pieces crafted by hand through processes that take several weeks from start to finish. Each work of art is designed to complement + soothe, bringing peace + beauty to your spaces.
LOLLY LOLLY CERAMICS
WHY WE LOVE THEM: Based in Columbus, OH, Lalese "Lolly" Stamps makes all of her one-of-a-kind ceramics in her studio. Lolly Lolly mugs are made in batches, and you'd be best off signing up for her newsletter (via her website, listed below) to get your hands on her delightfully whimsical creations. The web doesn't have much more insight than that-- perhaps it's the air of mystery that has us (and will surely have you) hooked.
CLAUDE HOME
WHY WE LOVE THEM: Chandler McLellan finds inspiration in mourning the loss of a childlike sense of imagination; he aims to fill spaces with sculptures + artful objects that spark creativity, thoughtfulness + nostalgia. An international artist, Chandler's mediums include artwork, furniture, lighting, vessels, objects + personal merchandise.
Amplify Black voices. Support Black businesses. This is more than a moment.
We aim to provide you with the most honest and credible information possible. This article was reviewed for accuracy by The Honest Team and was written based on trusted sources that are linked at the bottom of the article.
blog_review_statement