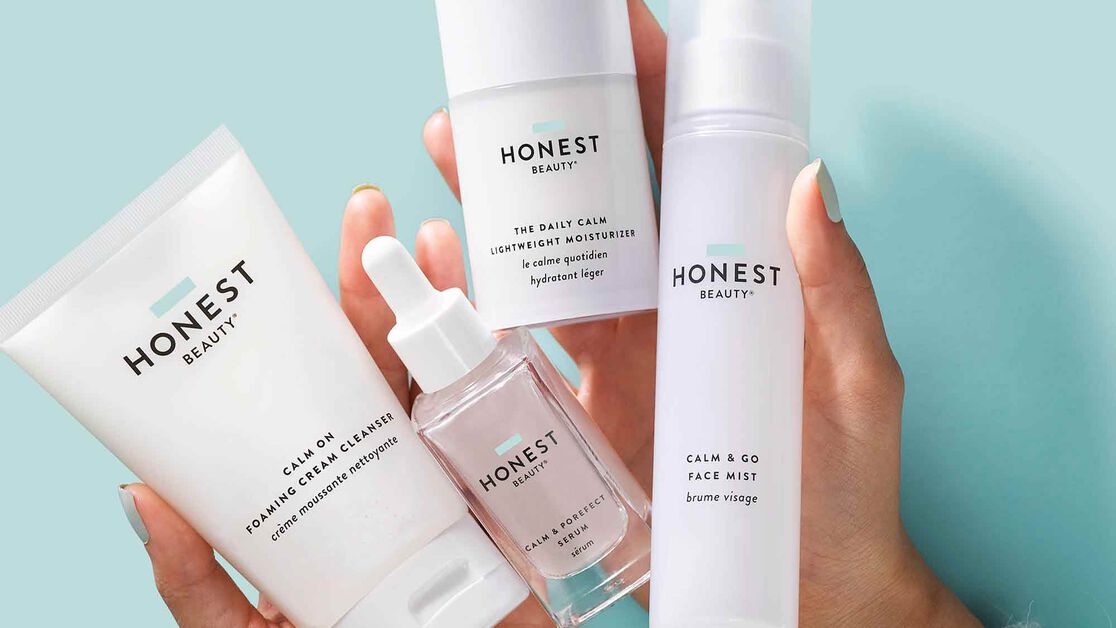 Caring for sensitive skin can be frustrating. Redness, dryness + irritation caused by environmental triggers, plus irritants such as alcohol + fragrance, make it difficult to find a skincare routine that works. Laundry detergent residue, makeup, and even other skincare products build up on our skin causing sensitivity.
Jessica's struggle with skin sensitivity inspired her to launch the Honest Company. She wanted products that worked without the ingredients that upset her reactive skin. Inspired by Jessica's experience, we developed our sensitive skin line to be gentle enough for sensitive skin while effective for all.
What is sensitive skin?
Sensitive skin is a common dermatological issue. The clinical condition is defined by the presence of tightness, stinging, burning, tingling, and pain. Sensitivity occurs because of the skin's barrier disturbance, but even individuals with normal skin can experience skin irritation. Those who struggle with skin sensitivity often experience worsening symptoms caused by environmental triggers like cold, sun, wind, and pollution. While skin sensitivity is commonly found on the face, it also shows up on the hands, scalp + body. Sensitive skin requires more attention to ingredients and the right formulas that won't exacerbate the condition and its symptoms [1].
The Honest Approach
An impaired skin barrier can cause sensitive skin among all skin types. It allows external aggressors + pollutants, such as dust and smog, to penetrate the skin causing inflammation and further sensitivity [2]. Our Sensitive Skin Line works to strengthen + support the skin barrier to help improve moisture retention and reduce sensitivity.
We wanted to identify products that could support the barrier, thereby reducing the sensitivity caused by environmental triggers that can lead to dryness and irritation. Our chemists worked to create a formula made with phytosterols + phospholipids + micro hyaluronic acid (aka our Calming Phyto-Blend™). Phytosterols + phospholipids help restore, renew, and strengthen the skin's natural barrier. The micro HA is so small that it can easily penetrate into the deep layers of the dermis to help hydrate the skin.
Stay calm and cool irritated skin with our NEA (National Eczema Association) Certified soothing lineup: a foaming cream cleanser, pore refining serum, lightweight daily moisturizer, and calming face mist - all targeted to help keep sensitivity under wraps. For extra moisture, try our soothing eczema cream to help soothe eczema flare ups.
Calm On Foaming Cream Cleanser
If you struggle with sensitive skin, it's tough to find a cleanser that doesn't overdry the skin. Our face wash is a foaming, thick, and creamy formula that gently removes impurities, makeup, and supports your skin's natural barrier without leaving a residue. Our formula is vegan, fragrance-free and dermatologist approved. This cleanser is specially formulated with our Calming Phyto-Blend™ which contains micro hyaluronic acid that draws in moisture and amino acid surfactants to gently remove impurities without stripping the skin.
There is a gentler way to glow with our pore refining serum. The gently exfoliating, pore-refining serum improves skin texture + appearance of pores without overdrying your skin. Formulated with Niacinamide, a marine-derived amino acid, and our Calming Phyto-Blend™, this fragrance-free, dermatologist approved serum helps visibly improve skin texture without the all too common reactions like overdrying.
The Daily Calm Lightweight Moisturizer
Stay hydrated + collected with our calming lightweight moisturizer. Get 24-hour lasting moisture, visibly reduce redness, and calm irritated skin with our sensitive skin face moisturizer. This soothing formula deeply hydrates and helps strengthen the skin barrier. The liquid crystal technology acts as a second skin to create a layer designed to help keep the good stuff in - moisture retention goes up, dryness goes down.
This ultra moisturizing balm melts into a luxurious, creamy texture your dry skin will love. Enriched with Allantoin, Mondo Grass, and our lipid-reinforcing Calming Phyto-Blend™, our Melting Balm helps moisturize + heal dry skin, while supporting your skin barrier. Add this to your nighttime routine to enjoy that fresh + dewy glow on makeup-free skin.
A few spritzes of our facial mist for sensitive skin will keep skin feeling nourished and renewed. Take our Calm & Go Face Mist anywhere and everywhere with you to help quickly calm and cool irritation. Pro-vitamin B + our Calming Phyto-Blend™, which includes micro hyaluronic acid, to help soothe + support your natural skin barrier while shea butter helps soothe + nourish skin so you can relax.
Finding the right skincare routine can be challenging, particularly when it comes to sensitive skin. It's important to find products that address the wide spectrum of issues from redness, irritation, tightness, and support the overall health of your skin. If you take extra precautions when it comes to skincare, you'll appreciate Honest Beauty's new sensitive skin collection, a line that prioritizes ingredients that won't irritate.
1. Milow, Clifford, et al. "Sensitive Skin Claims Create Opportunities." HAPPI, BASF Care Creations, North America, 2020, www.happi.com/contents/view_online-exclusives/2020-09-10/sensitive-skin-claims-create-opportunities-for-brands/
2. Stanborough, Rebecca Joy. "What to Know About Your Skin Barrier and How to Protect It." Healthline, 2020, www.healthline.com/health/skin-barrier#bottom-line.
We aim to provide you with the most honest and credible information possible. This article was reviewed for accuracy by The Honest Team and was written based on trusted sources that are linked at the bottom of the article.
blog_review_statement