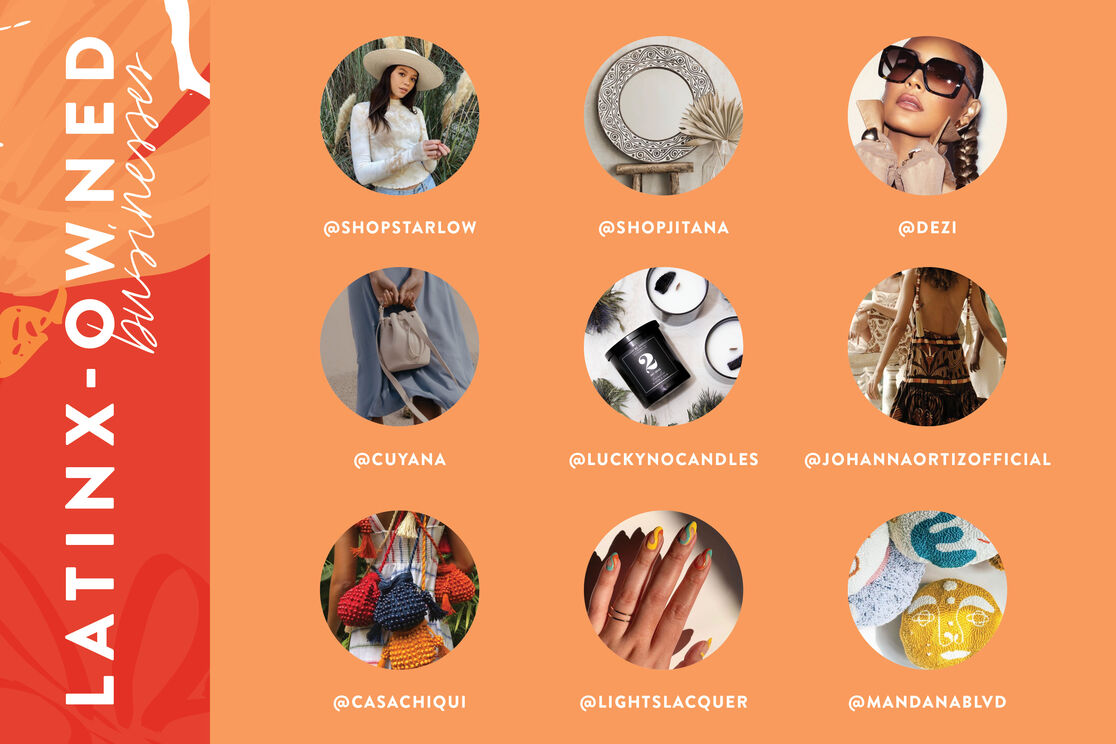 In 2018, there were an estimated 4.4 million Latinx-owned businesses in the United States. These businesses innovate through many industries, generate income in the Latinx community, create employment opportunities, and meet diverse customer needs. Despite the economic contributions, many of these businesses remain small. By spending intentionally, we can promote industry diversity, support Latinx business owners, and uplift all communities.
This blog will highlight a few of our favorite Hispanic + Latinx businesses. Check them out, find a new fave business, and keep supporting and celebrating Latinx + Hispanic cultures in every way you can.
SHOP STARLOW:
WHY WE LOVE THEM: Starlow is a fashion clothing store owned by founder and CEO Valerie Estrella. A makeup artist turned designer, Valerie curates + designs each clothing launch. As a social media influencer, she also models all of the pieces. Starlow has everything from tops + dresses to accessories and other exclusives.
SHOP JITANA
WHY WE LOVE THEM: The shop is curated by Denise who named it Jitana, which means gypsy in Spanish, because of her free-spirited lifestyle. If you love Boho home decor, then you'll love the stunning macrame, plant hangers, baskets, unique chandeliers, and more.
SHOP DEZI
WHY WE LOVE THEM: Launched by the founder, CEO + Artistic Director Desi Perkins, the company values creativity and confidence. It pairs luxury quality with affordable price points + reflects the founder's personal experiences. An adventurer traveler + seasonal gardener, Desi knows that the best products come from instincts and life training.
SHOP CUYANA
WHY WE LOVE THEM: Trends go away quickly, so Karla Gallardo + Shilpa Shag founded a design house that inspires intentional buying. Their philosophy encourages customers to purchase fewer but better-quality pieces that they will treasure for years to come. Cuyana philosophy is less = more. Karla + Shilpa want their customers to love what they buy, love how it's made, and love how they feel when they wear it.
SHOP LUCKY NO. CANDLES
WHY WE LOVE THEM: Lucky No. Candles believe in the power of intention. They offer premium natural soy coconut wax crystal candles at an affordable price. Each candle has a crystal and scent that corresponds to its numerological assets. The crystals will charge and reinforce your intention as the candle burns. If you email the company with your full birthdate, they'll find your life path number + the right candle for you!
JOHANNA ORTIZ
WHY WE LOVE THEM: Johanna Ortiz creates feminine + elegant collections, inviting women to have fun. All of her pieces are made in her home country, Colombia, where she oversees a staff of 250 in her headquarters, two retail stores, and an atelier. Johanna is influenced by her interior designer mother and the textile influences apparent in her label today.
CASA CHIQUI
WHY WE LOVE THEM: After years of traveling + collecting unique treasures, Chiqui de Echavarria opened her store in the historic center of Cartagena, Colombia. Casa Chiqui showcases accessories and home furniture from all around the world. Each piece is carefully hand-crafted and unifies the global experiences of Chiqui with the local art and soul of Colombia.
LIGHTS LACQUER
WHY WE LOVE THEM: Every shade of Lights Lacquer is curated by its founder Kathleen Lights. She draws inspiration from her vast knowledge of makeup, the world around her, and the Pantone colors of the season. She tests every shade for opacity + finish to make sure it's something her amazing community will love. Lights Lacquer is "7-free", meaning it's free from toxic chemicals that harm you + your nails.
MANDANA BLVD
WHY WE LOVE THEM: Founders Cristina Ramos and Nu Goteh believe that every great home is shaped by the dweller's idea of what is essential, what is beautiful, and what brings joy. They are inspired by the challenges of furnishing a new place on a tight budget. Mandana Blvd offers a thoughtful collection of vintage, bohemian, and mid-century pieces that pay homage to the past + embrace modern living.
Shop at minority-owned companies. Support Hispanic + Latin entrepreneurs this Hispanic Heritage month – and beyond.
We aim to provide you with the most honest and credible information possible. This article was reviewed for accuracy by The Honest Team and was written based on trusted sources that are linked at the bottom of the article.
blog_review_statement