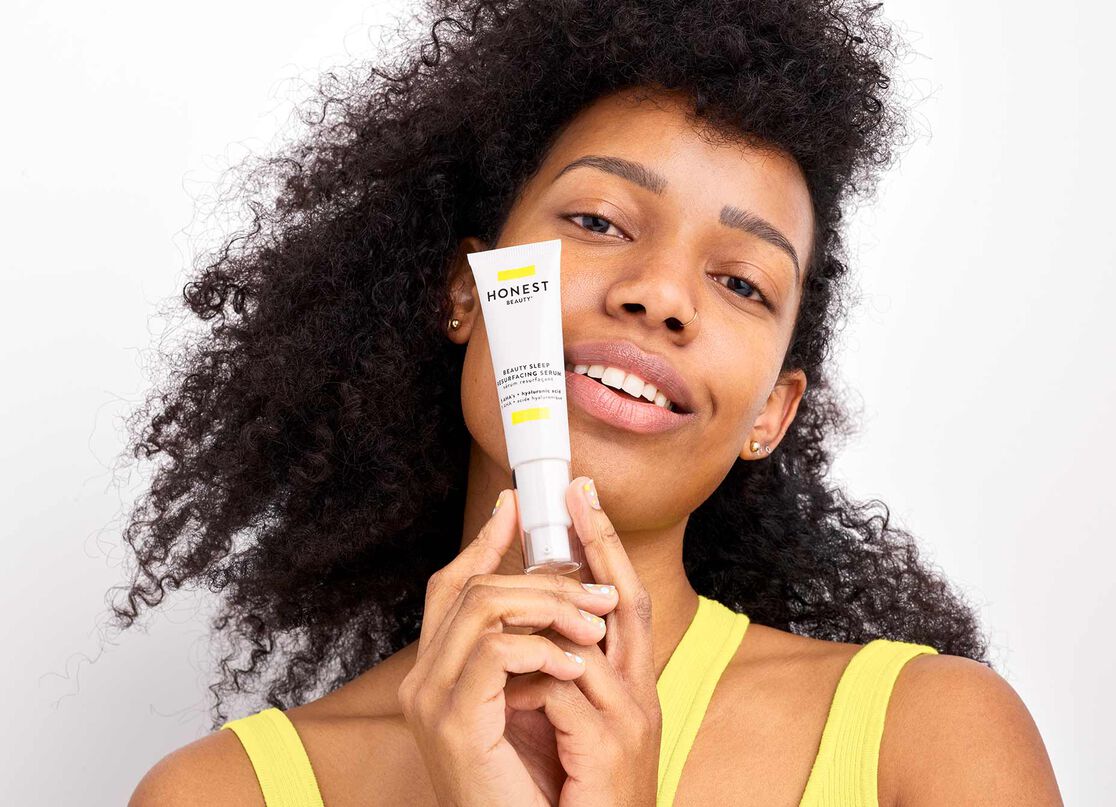 Fact: The reason your skin looks so d*** good in the morning is because it's been working extra hard all night to repair and regenerate from the day before. Also fact: Skin absorbs product better while you're asleep.
So it follows, in our honest humble opinion, that your beauty sleep is also better with the right night skincare routine to set it up for success. When it comes to getting the most out of your nightly skincare routine, order matters. Here are our clean beauty go-tos in the best order to sleep smarter and beauty harder.
Our Go-To Nighttime Skincare Routine
1. Double Down on Double Cleansing
First, melt away makeup with a dime-size amount of Magic Gel-to-Milk Cleanser. After you massage it onto dry skin, rinse with warm water and watch as the gel magically transforms into a soothing milk, leaving skin noticeably softer and, most importantly, makeup-free. To complete the double cleanse, follow-up with Gentle Gel Cleanser using the Gentle Konjac Sponge for gently exfoliating cleanse.
Why double cleanse? Because oil is better at removing oil-based impurities — like makeup and sunscreen — while water is better at cleaning out pores and removing environmental pollutants. An oil-based cleanser plus a water-based cleanser is the power couple of clean skin and gives you the freshest face for step number two...
2. Beauty Sleep Resurfacing Serum
Give your skin an extra cell-renewing assist with five alpha-hydroxy acids suspended for a slower release while you sleep. Because each AHA sinks in slowly your skin gets all the glowy, texture-refining benefits of resurfacing without the harsh feels of traditional all-at-once exfoliation.
A quick primer on how to use face serum for best results: First, make sure your skin is dry before applying. Then, using just a few drops, pat and press the serum all over the face and neck without over-rubbing. We like to start around the chin and work the fingers upward around the cheeks, between the eyes and to the forehead, finishing by brushing what's left up the neck.
3. Moisturize, Moisturize, Moisturize!
We can't say it enough. Never go to bed thirsty — skin or otherwise. A generous layer of our ultra-hydrating, time-release Hydrogel Creamslathered on top will not only pull more moisture into your skin thanks to hyaluronic acid in the cloud-like formula but help seal in all the goodness of the serum while it works its magic overnight. Hello, #wokeuplikethis skin bliss!
Why Beauty Sleep is About More Than Beauty
Raise your hand if your New Year's resolution is to get more sleep? Same, babe. Same. If there's one thing we could use a little more of this decade, it's quality sleep and all the benefits that come with it — glowy skin, yes, but also increased productivity, sharper focus, more energy and happier moods to name a few. That's because your skin isn't the only part of your body that works on a day-night schedule, going into repair mode the minute you go into snooze-mode. Beauty sleep isn't a vanity play, it's an essential form of self-love. There are a lot of easy habits you can adopt to help improve your sleep quality after your night skincare routine for your best beauty sleep yet.