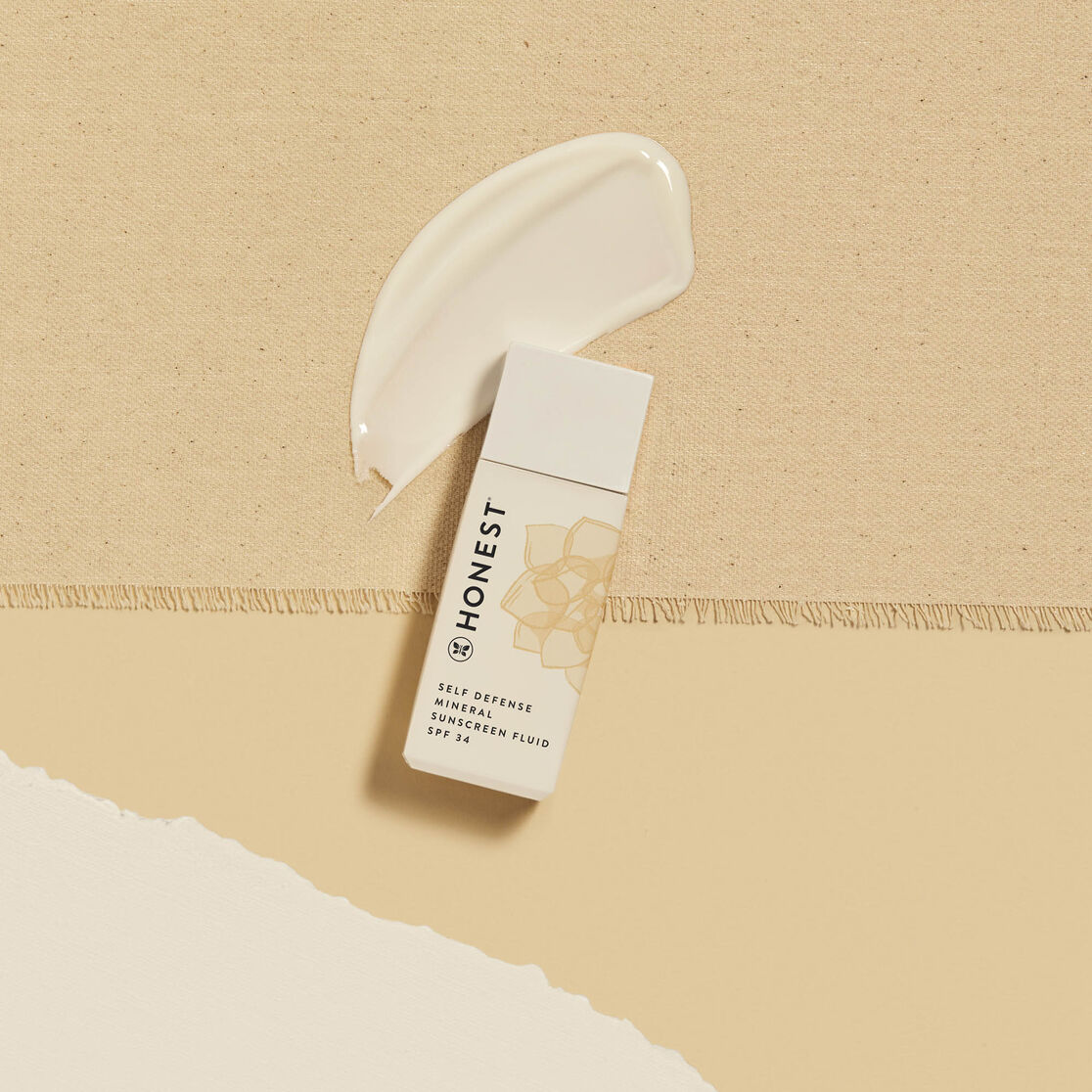 If any skincare product deserves the title of MVP, it's SPF. But not all SPF is created equal. Here at Honest, every formula is made with people and the planet in mind, especially our SPF.
Our new Self Defense Mineral Sunscreen Fluid SPF 34 provides broad spectrum protection from UVA and UVB rays, and even blue light. When making this sunscreen superstar, we made sure it met the Honest Standard for safety, efficacy, and sustainability.
Safety First
We've chosen to use non-nano mineral sunscreens zinc oxide and titanium dioxide rather than chemicals. Chemical sunscreens absorb UV light instead of reflecting them like mineral sunscreens do. Some sunscreens even use chemical boosters, like butyl octylsalicylate, that act as a sensitizing agent which not only don't protect you, but can actually cause damage. Always read the ingredient listings!
You Betta Work
We made 75 different versions of Self Defense Mineral Sunscreen Fluid SPF 34 to get it to the high-performing formula it is. And we kept it simple: no added fillers, fragrances, unnecessary extracts. Only SPF and active ingredients to help keep your skin happy and healthy.
Self Defense Mineral Sunscreen Fluid SPF 34 is the only sunscreen made with Honest Sea Water™ which provides essential minerals to the skin to harness the stimulating, energizing, and revitalizing properties of the sea. Amazing, right?!
SPF, But Make It Sustainable
Some sunscreens contain silicones, microplastics, and petroleum-derived emollients. No, thanks. Our sunscreens are made with clean ingredients, and designed to be reef-friendly keeping our planet in mind.
Beaming With Benefits
SPF is a skincare must-have for everyone. And this isn't just preventing signs of aging caused by the sun. It plays a big role in helping to decrease the risk of skin cancer too. It should be used as the last step in your skin care routine, after moisturizer but before makeup. It's best to reapply it throughout the day at least every two hours.
We aim to provide you with the most honest and credible information possible. This article was reviewed for accuracy by The Honest Team and was written based on trusted sources that are linked at the bottom of the article.
blog_review_statement