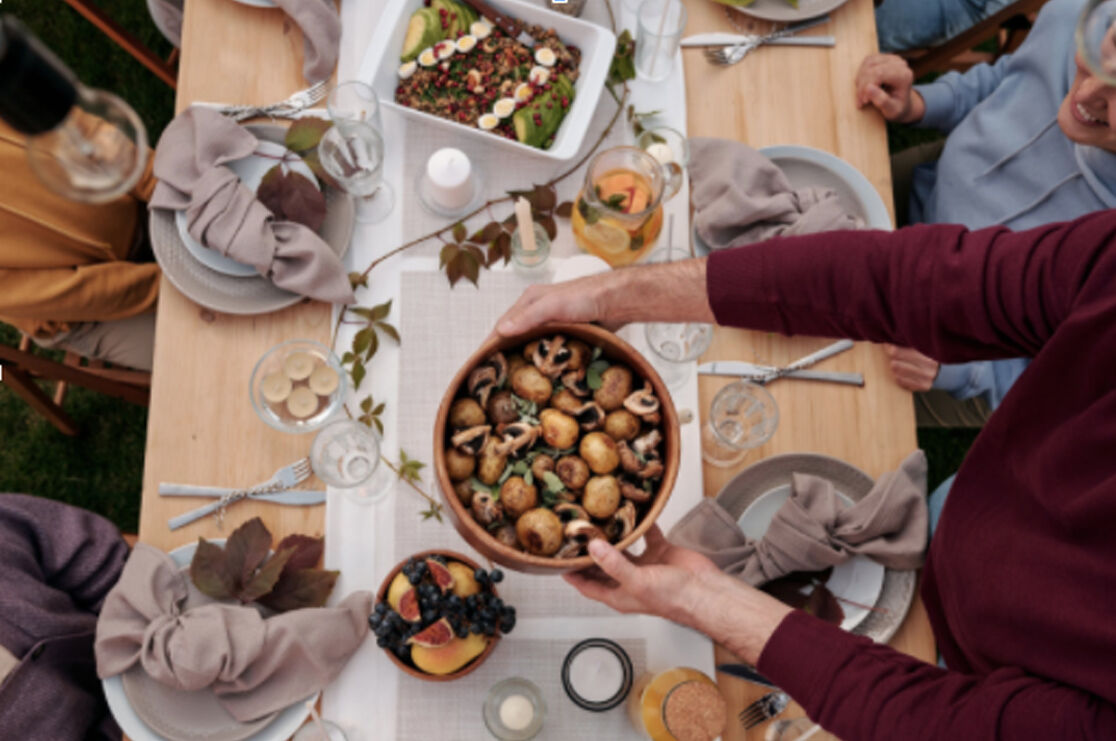 The holiday season has arrived, and Turkey Day is just around the corner. While this is a time that's often reserved for family gatherings, sometimes friends are 'framily' too, and they deserve a potluck celebration full of pumpkin pie, green bean casserole, and mashed potatoes of their own!
Thus the concept of a Friendsgiving celebration was born. Besides, who doesn't love yet one more reason to get together with friends and have a little fun with some Friendsgiving activities?
Planning Friendsgiving Dinner Ideas
Once you've decided to host a Friendsgiving party, the first step in planning is to decide what kind of Turkey Day theme you'll go with.
For Friendsgiving, there's no rules or set theme that you have to follow. That means it's the perfect opportunity for you to indulge yourself and have any kind of theme you want!
If you love Christmas in November, who says you can't decorate for Friendsgiving with a tree and your favorite Christmas lights? If you love Halloween and hate getting rid of your spooky Halloween skeletons and webs, guess what? You can have a Halloween-themed Friendsgiving, too! The possibilities are endless with Friendsgiving, because hey––you're with friends!
Craft Your Menu
Planning your Friendsgiving feast menu is obviously the most important element in planning a Friendsgiving celebration. Friendsgiving food ideas can be as eclectic as your friends are.
If you aren't planning a separate Thanksgiving feast, you can add all the classic Thanksgiving dishes like turkey, mashed potatoes, pumpkin pie and stuffing to your Friendsgiving menu.
Or, you can stray from tradition and create a Friendsgiving menu of all the favorite foods you and your friends love to eat, whether that's waffles and chaffless, sushi and pizza, or a fancy chocolate cake and finger foods.
Don't Forget to Decorate
Decorate according to your theme and create a central color palette to work with. You can recycle any old décor items you already have as well as do some DIY projects to add in a more personalized touch.
Consider Your Place Settings
If you have a big enough table to fit all of your guests, by all means, go crazy and set a place for everyone. For table settings, you'll need a tablecloth and table mats, as well as decorative elements like flower vases, candles, etc. All matching your theme, of course!
Set out plates, bowls, and silverware for every place setting. You will also have to put out glasses. One set for water and one for wine, if you're being fancy. Otherwise, a single set will do.
To add a sweet and personalized touch to your table settings, put a place card for everyone with their name on it.
If you prefer more of a low-key, buffet-style dinner, arrange all the food on the center of the table, along with labels to let everyone know what dish is what. Then you can arrange your plates, bowls, and glasses on either side for easy access.
If you opt for buffet-style, be sure you have plenty of coasters and placemats on side tables to ensure everyone has a place to put their drinks while they eat. It may not be the worst idea to also provide hand sanitizer to keep everyone gathering for the meal as safe as possible.
Choose Your Favorite Drinks
Speaking of drinks! Even though some people will bring drinks to the Friendsgiving party, you should still have some drinks of your own on offer.
Kick off the evening by serving your drinks first, and then let everyone continue from there. You should also make sure to have plenty of water, sparkling water, juice, tea and whatever else you know your friends like, for those who prefer non-alcoholic beverages.
Plan Games & Activities
To make your Friendsgiving Day even more fun, why not plan some fun activities and games? Depending on what things your friend group likes, you can go with board games, puzzles, movie marathons, art activities, or card games. If you plan to invite people who don't all know each other already, games can be a great ice breaker to get the party started. If you plan to invite families, be sure to look into thanksgiving activities for kids to keep everyone entertained!
Play Some Music
Once you've set your menu, planned your day, and decorated, the only thing left is to put some great music on and set the mood. You can go with a funky party playlist, or opt for oldies remixes from a music streaming service.
Heck, you could even throw in a disco ball and make it a proper party! No? Too corny? Hey, it's your party, you can even disco if you want to.
Tips for Maximizing Your Friendsgiving Fun
Make a To-Do List
The most important tip in having a well-planned Friendsgiving feast is to make a to-do list for the celebration. Write down everything you need to do and divide it into smaller tasks.
Create a timeline for all the work you need to do to make sure there are no last-minute emergencies. Whatever the to-do is, write it down. Also, make sub-lists for the menu, activities, shopping lists, etc. By making a Thanksgiving dinner list of items, you can make sure nothing is forgotten when you take your trip to the grocery store.
Delegate Tasks
One key to a fun Friendsgiving event is organizing. Once you have lists of your menu and other activities, it's time to delegate. You probably already know which of your friends are good at cooking, and who has a knack for décor.
Divide the workload accordingly and make sure everyone knows what they're supposed to do and bring. However, as a host, be aware that you'll have to handle any major items on the to-do list, such as making the turkey, planning the day, and doing the bulk of the cleaning and decorating.
You can create a sign-up sheet in something like Google Docs, with the date, time, and duties. Then make sure everyone has access to it and operate accordingly.
Enlist Help for Décor
Once you know what theme you're going with, you can plan how you are going to decorate and what you'll need to do it. Then get help from your pals with decoration skills by delegating the different things you need to buy, make, assemble, or hang.
Create DIY Labels
If you love the personalized touch, you can design and print out DIY labels for everything. Print name cards for table settings, menu cards, food labels, as well as DIY labels for wine and other drinks. You can even print cute labels for activities and desserts!
Meal Prep Beforehand
Once you have a master list with all of your tasks detailed, you can create a timeline and manage your hours effectively. For food, always do as much meal prepping as you can beforehand, such as marinating things, cutting up vegetables, making desserts, creating snack trays, etc. This will make your Friendsgiving Day a whole lot less stressful, because you're already half-way prepared.
Do a Quick Clean
No matter how chill of a person you are, everyone wants their home to look clean and fresh when they invite someone over. For Friendsgiving, when you already have a long list of things to do, house cleaning can feel like added stress.
That's why it's important to do a thorough round of cleaning using the best cleaning products well beforehand. That way, you only have to do a quick sweep to make the place ready for guests on the big day.
Fun Friendsgiving Ideas for Activities
All the activities for your Friendsgiving party should be planned and chosen to match the tastes of the host and guests. However, below are a few ideas to get the ball rolling that most people enjoy.
Make a Large Puzzle
Everyone loves a good puzzle. You can get a large puzzle set for Friendsgiving and invite everyone to join in on the fun to put it together.
Play Jenga
There's something about Jenga that brings out the competitive spirit in everyone. Test the physics skills of all of your friends and create a huge Jenga tower together.
Plan a Scavenger Hunt
For a more adventurous friend group, you can plan a scavenger hunt. However, keep in mind you may need some props and a lot of space to move around.
Make a Time Capsule
Time capsules are fun, no matter what age you are. Have everyone write down some heartfelt thoughts and messages for their future selves and ask them to bring along a small personal token to bury. You can collectively choose a future date to dig up the capsule together.
Host a Cookie-Decorating Competition
For your more artistically inclined friends, you can have a cookie decorating competition. Decree that the cookies must be decorated to match the Friendsgiving theme and then put them to a vote to choose the winner.
Host a Bake-Off
If some of your friends love baking, you can plan a bake-off and choose some small prizes for the winner, while the rest of you enjoy the fruits of their labors.
There are so many fun Friendsgiving ideas to choose from! Just make it a great time that's meaningful and enjoyable for all your favorite people, as you gather together to appreciate what friendship is all about.
Sources:
Sessums, Z. (2019, November 1). 10 Fun Friendsgiving Ideas & Hosting Tips. Architectural Digest. https://www.architecturaldigest.com/story/friendsgiving-ideas
P, R. (2021, August 7). FRIENDSGIVING Ideas for a unique and FUN gathering in 2021. Postablog. https://www.postable.com/blog/11-tips-to-throwing-the-best-friendsgiving/
Richter, L. (2021, November 7). 10 Festive Friendsgiving Ideas. Fit Foodie Finds. https://fitfoodiefinds.com/10-festive-friendsgiving-ideas/
Gomez, J., & Gomez, J. (2021, November 4). 25 Friendsgiving Activities That Will Up Your Party Game. Seventeen. https://www.seventeen.com/life/friends-family/a28510844/friendsgiving-activities/
We aim to provide you with the most honest and credible information possible. This article was reviewed for accuracy by The Honest Team and was written based on trusted sources that are linked at the bottom of the article.
blog_review_statement