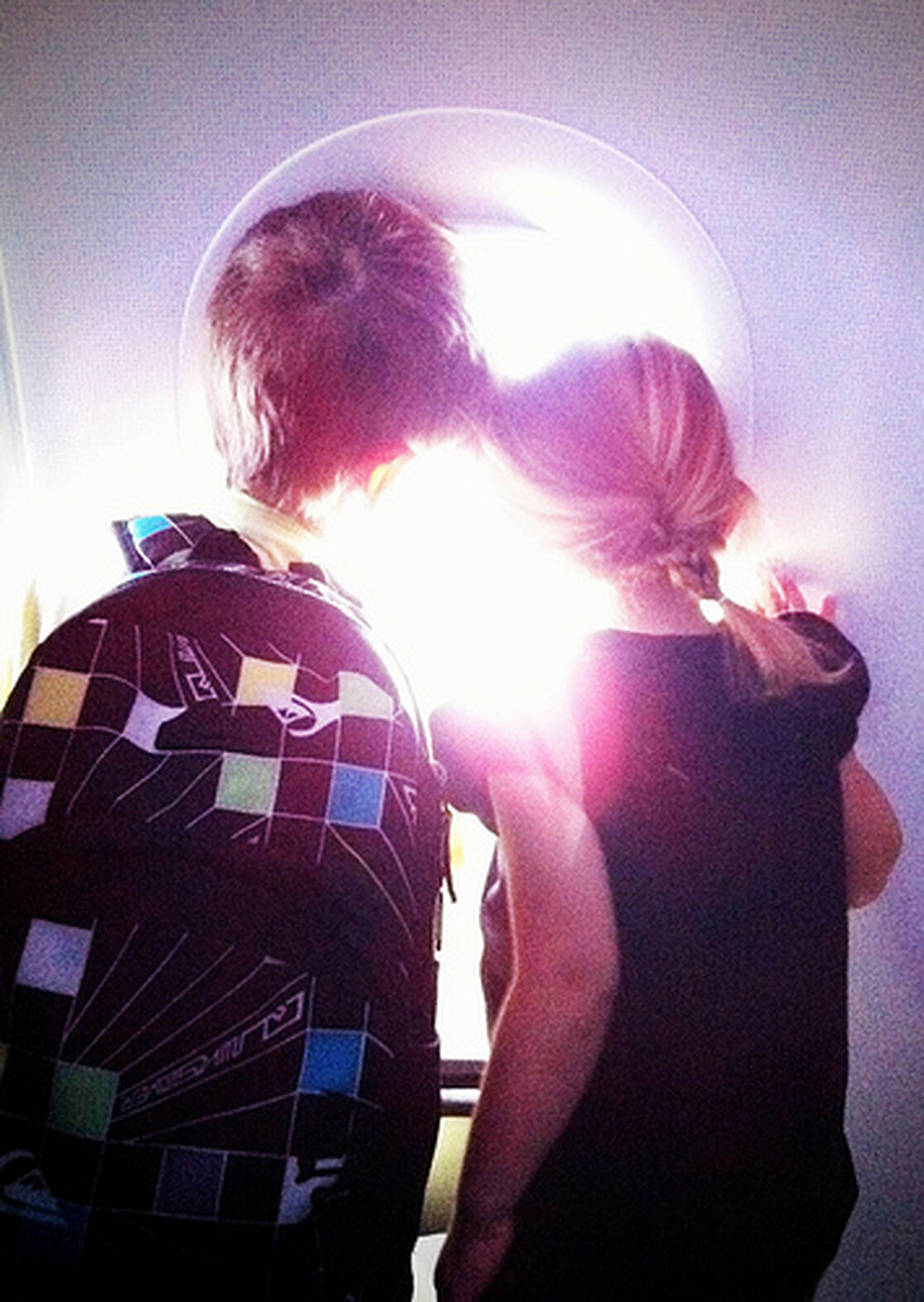 I started traveling alone with my children when we moved from California to New York City when they were 10 months and 2 years old, respectively.   In the realm of lessons learned on a larger scale with children, traveling solo with two babies will absolutely earn you a merit badge and a gold star in the parenting category.  It's just not easy, no matter how experienced you are.
My children are now 5, 4, and just 9 months (my third has already been on 5 different trips around the country).  Travel is something that I have loved since I began flying alone at the age of 7, and it has grown to be something of a passion of mine.  I truly believe that the act of removing yourself from what is routine and familiar and the introduction to new places and cultures is one of the best things you can do for yourself and your children.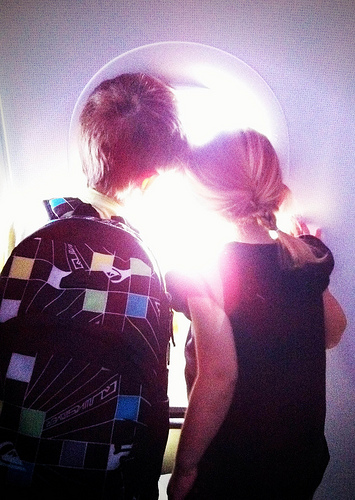 The logistics of traveling with children can be complicated, however, and sometimes even on the best day, the smoothest trips even have their complications. I think life with children simply cannot be choreographed perfectly anyway…. It's always an adventure.
Through my years and experience, I've been able to round up a list of tips, tricks, and products that almost never fail me.
1. Travel as light as possible and get organized. Find a diaper bag or backpack that is easy to open and has plenty of compartments.  Pack your purse in your checked baggage and just bring an easily accessible wallet (with room for travel size toiletries, lipstick and Healing Balm for dehydrated hands and little lips!).
2. Make sure your stroller system is easy to collapse, is easily maneuverable, and easily transitions from street to car. We use the Orbit Travel System stroller and absolutely love it. The car seat and frame can be gate checked unless you buy your baby a seat of their own, then it makes for a cozy spot.  The Orbit G2 is easily compactable and has a possibility of two Sidekick stroller boards that older children can ride on (they collapse easily with the frame as well)—perfect for tired legs in big airports.  The Orbit's storage system is a removable Cargo Pod that doubles as a diaper bag, which makes for easy transportation and carry-on.  One of my favorite parts of this stroller is its completely eco-friendly fabrics and toxin-free materials, plus UV protected sunshade and Paparazzi Shield.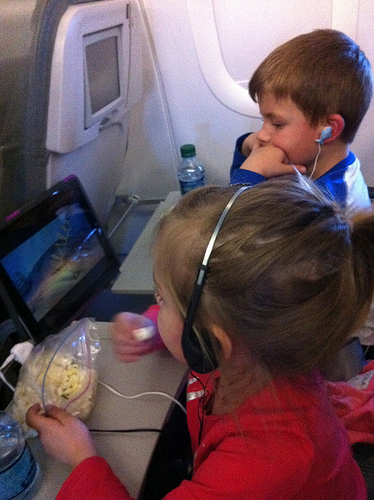 3. Pack plenty of supplies, but only carry-on what you will need for the duration of the flight. Remember little bottles of medicine (if needed), gripe water, teething gel, hand sanitizer, a couple sets of headphones or ear buds, an iTouch for music and/or apps for lag time.
4. Bring a baby carrier for in-flight naps, boarding and de-boarding. I always use the ErgoBaby carrier when I travel.  It's easy to get on and off, soft, and easy to stash when you're not wearing it.
5. Check a super light travel bed for baby. Because you simply don't always know where you're going to be sleeping, check a lightweight and easy-to-assemble travel bed with your other luggage at the airport.
6. Book the Red-Eye when possible and always pre-request bulkhead seats.
7. If you're traveling alone, request a gate pass so that another adult can assist you through security.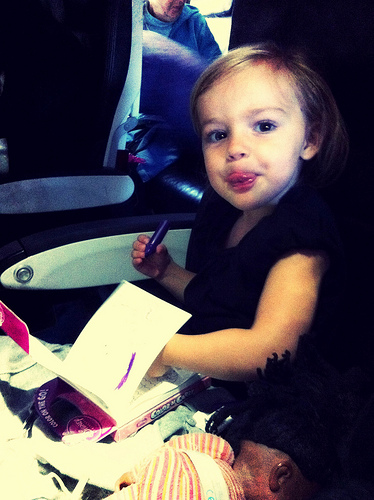 8. A few weeks before your trip, stash away some toys so that they feel new again to the little ones. For older children, workbooks with sticker sheets and non-toxic Clementine Art sets are ideal.
9. Lots of healthy snacks and plenty of water. We never leave the house without a stash of Plum Organics squeezers and other snacks for Beau, and my big kids would live on their Jammy Sammy's if they could. You can find the vitamin C lollipops in your local health food store for take-off, landing, and anytime you just need extra ammo.  I always tend to pack snacks that they haven't had in a long time. Novelty is priceless with children.
10. Stay calm. There is no situation you can't handle, so don't let the stress of travel or other passengers intimidate you into believing you can't. Your children will take cues from you.
11. Remember vitamins. Airplane travel increases your odds of getting sick by 25%, so load up on the Vitamin C and Zinc.
12. Hand sanitizer by the gallon (or 2oz bottles). Germs are rampant in airports and airplanes.
13. Pack plenty of wipes. There is no end to the amount of times wipes will come in handy.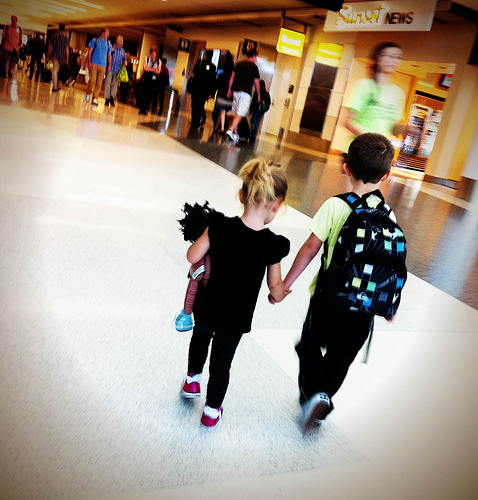 Some things, like getting through security in a packed airport with many children in tow just aren't going to be easy.  You might be surprised, though, at how smooth it can go if you go with the flow and know what to expect. Children don't need to remove their shoes, but they do need to take off sweaters before going through the screening. Have these things taken care of before getting in line, and if someone offers to help you, by all means take it (but don't expect it).
My children have gotten used to the excitement of adventure and the unknown, and I believe it has broadened their horizons for the better.  On a regular basis, they thrive on schedule and routine, so if you can give them some idea of what to expect, they will do much better with riding the unpredictable waves that come with most trips.
No matter what happens, you'll be learning lessons and be better for it in the end.  Remember to enjoy these adventures with or without your children! Life is all about these little spices to keep things interesting.
~ Jessica Shyba of Momma's Gone City
Jessica Shyba is the wife of a NYU Dental School student and full-time stay at home mother to Jack, 5, Zoe, 3 and Beau, 8 months.  Jessica shares her adventures around Manhattan with the children both through stories and photography on her blog, Momma's Gone City.  She has been recognized as a Top Mom Blogger at Babble for two years straight, and she was named as Cision's top influencers in 2012.  Follow her on Twitter @MommasGoneCity.
We aim to provide you with the most honest and credible information possible. This article was reviewed for accuracy by The Honest Team and was written based on trusted sources that are linked at the bottom of the article.
blog_review_statement