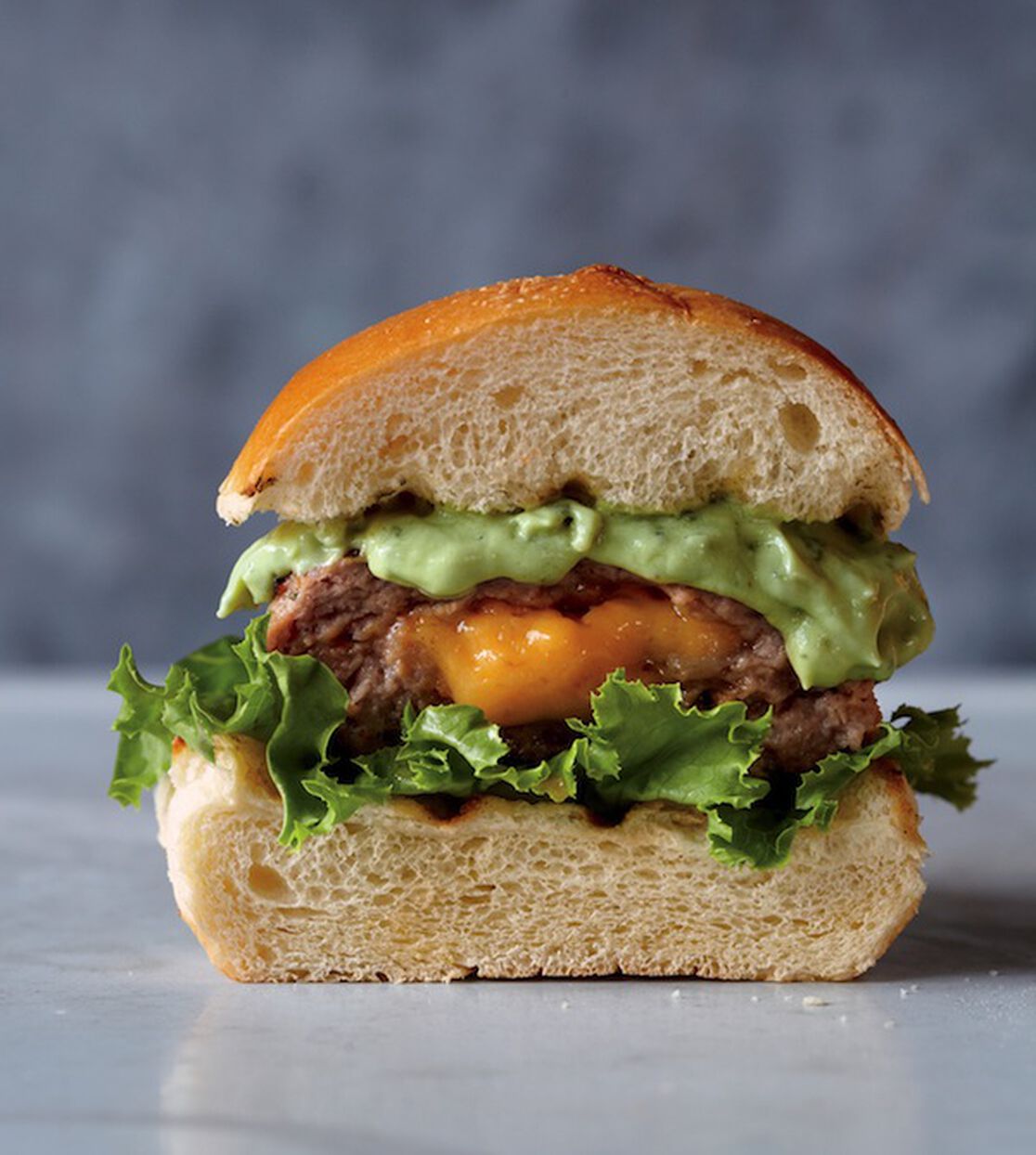 How many times a week do you ask, "What's for dinner?" Thanks to Kathy Brennan and Caroline Campion, we've found a recipe that's a keeper for an easy summer dinner — one that will please everyone in the family because it's hard to resist a good burger this time of year (or ever!).
The two friends, who met while working as editors at Saveur, conceived of this recipe and their cookbook Keepers to ease the 6 o'clock anxiety that we all face when it's time to get food on the table. Their goal — besides happily feeding family and friends — is to help others create quality dinners that don't require a big investment of time, money, energy, or expert skills!
We couldn't be more on board or excited to make this turkey burger. It incorporates surprise healthy ingredients like yogurt. Dietary substitutes are easily made. And we see ourselves using the time we'll save in the kitchen going for an evening walk!
Here's what Kathy and Caroline say about making their "Jucy Lucy" Turkey Burgers, which serve four:
This burger — two patties surrounding a molten cheese core — was inspired by the specialty at Matt's Bar in Minneapolis, Minnesota, a local institution Caroline's in-laws introduced her to. Seduced after the first surprising bite, she borrowed the idea and used it at home with turkey burgers, adding yogurt for flavor and moistness. (A combination of equal parts lamb and beef works well, too.)
Ingredients (Use Organic, Free Range, and Hormone-Free When Possible)
THE TURKEY BURGER
1 1/2 pounds ground turkey, dark meat or a combination of dark and white
1/4 cup whole-milk Greek yogurt (Editor's Note: If you prefer not to use dairy, Honest's Tanya Hersh suggests using chopped onion in the turkey mixture to keep the meat from drying out.)
2 teaspoons Dijon mustard
Leaves from 4 sprigs thyme
Four 1/4-inch-thick chunks sharp cheddar cheese, about 2 inches long and 1 inch wide (Editor's Note: Feel free to substitute a cheese of your choice.)
1 tablespoon vegetable oil
4 hamburger bun-style potato rolls, split (Editor's Note: Your local health food stores will offer gluten-free alternatives or eat over a bed of lettuce.)
TOPPINGS OF YOUR CHOICE
Avocado Spread (recipe follows) or sliced avocado
Directions
1. In a large bowl, combine the turkey, yogurt, lemon zest, mustard, and thyme, then season with salt and pepper. Gently mix together with a fork or your hands.
2. Divide the meat into 8 even-size balls. Gently press each one into a patty about 1/4 inch thick. Put 1 chunk of cheese in the center of each of 4 patties, then cover with the remaining 4 patties. Seal the cheese inside by gently pressing the patties together all the way around the edges. Season the patties with salt and pepper.
3. In a grill pan or large skillet, heat the oil over medium-high heat until it shimmers. Add the burgers and cook until browned on the first side, about 3 minutes. Flip them over and cook until browned and cooked through, about 3 minutes more. (If a bit of cheese oozes out, don't worry; the crusty bits left in the pan are the best part, so just peel them off and eat them.) Transfer the burgers to the buns and serve with toppings.
AVOCADO SPREAD  (makes about 1 cup)
This creamy, tangy condiment is terrific on all kinds of burgers, as a replacement for the mayo on a BLT, as a dip for vegetables, even dolloped on scrambled eggs. You can also thin it out with a bit more oil to make a salad dressing. Thanks to the lime juice and vinegar, it won't readily discolor.
Ingredients (Use Organic When Possible)
1 avocado, pitted and peeled
2 heaping tablespoons sour cream (Editor's Note: Feel free to omit if you prefer not to incorporate dairy.)
2 tablespoons white wine vinegar
1/4 cup grapeseed or vegetable oil
Small handful of cilantro, chopped
Directions
In a food processor, combine the avocado, sour cream, vinegar, lime juice, salt, and a large pinch of pepper. Pulse a few times to break up the avocado, then gradually add the oil with the motor running and process until smooth. (It should have the consistency of mayonnaise.) Transfer to a bowl, then stir in the cilantro and check the seasonings. The Avocado Spread will keep, covered in the refrigerator, for up to 3 days.
To get more great recipes from Kathy and Caroline, check out Keepers. Thanks to Rodale Books for providing the recipe and food photography!
What are your favorite summer burger recipes? Please share for this season's BBQs and parties!
We aim to provide you with the most honest and credible information possible. This article was reviewed for accuracy by The Honest Team and was written based on trusted sources that are linked at the bottom of the article.
blog_review_statement