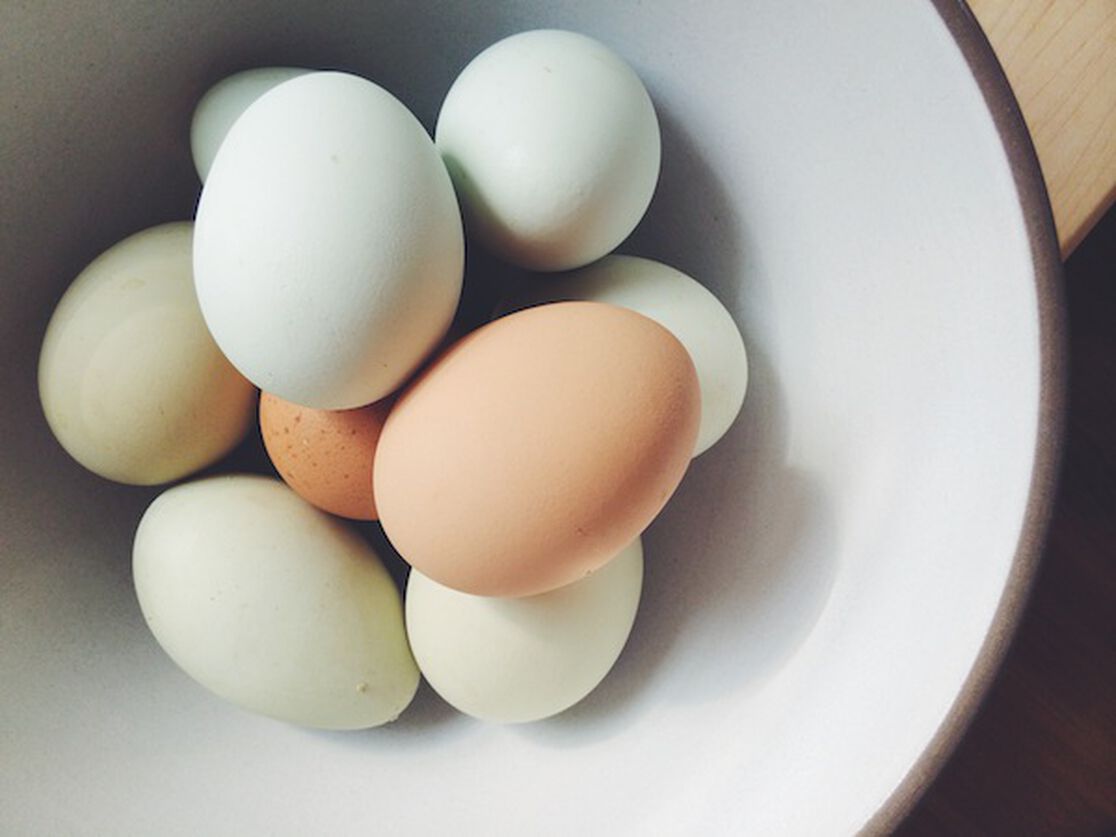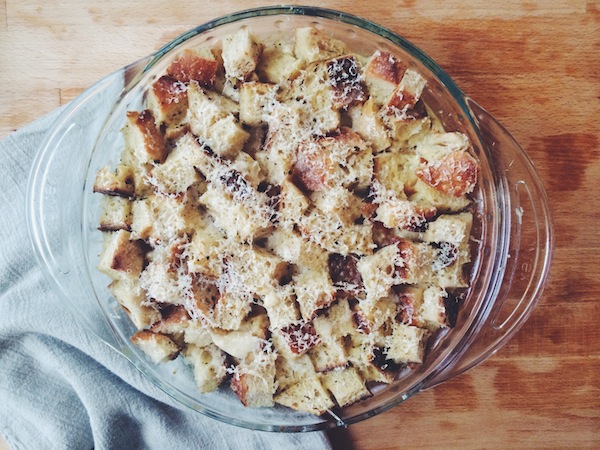 This recipe is the first in our "Savoring Summer with Kitchensurfing" series, where we will share our favorite dishes from local chefs to craft a perfectly fresh + simple menu capturing the season.
Bread pudding is the ultimate comfort food. One bite of the homemade goodness can feel like a hug. Often thought of as a sweet dessert, the basic recipe can be adapted in infinite ways — including a savory side or main course for dinner.
Because bread pudding makes the perfect weekend dish, we have a wonderful savory version from Kitchensurfing Chef Stephanie Matthias. Try her recipe at your Father's Day celebration or an al fresco family dinner. We think it would be delish served with a summer salad and grilled chicken (organic, of course!).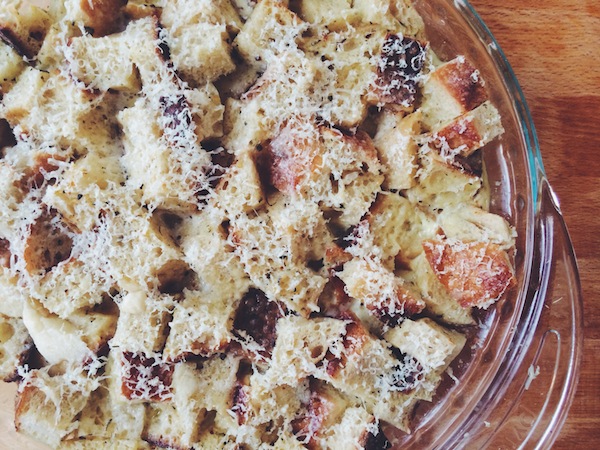 Here, Chef Stephanie shares how she conceived of a savory version of the pudding:
I've really been making an effort to cut back on waste and trash, so I'm always looking for yummy ways to use things that are less than fresh. One morning, I was in the mood for something warm and fresh-out-of-the-oven without the labor of baking something from scratch. I looked around, saw a baguette that had been sitting for a few days, and started experimenting.
The first savory bread pudding I made turned out perfectly and then, as most happy accidents go, it took three or four tries to get back to that first one. This dish has become my go-to when I have last minute guests or when I need to make use of stale bread. As an added bonus, you can assemble it the night before, leave it in the fridge, and pop it into the oven the next day for hassle-free homemade comfort food.
While bread pudding isn't something you'd make if you want a light meal, it's also not necessarily heavy or indulgent. Ingredients like butter, milk, and cheese, I use and eat in moderation. A great way to make sure that you're getting all the possible good stuff is to use organic eggs from pasture-raised chickens (I buy mine from the farmer's market and they come in the most amazing variety of colors), as well as organic milk, cream, and cheese from cows that are pasture raised. I also buy organic, GMO-free bread.
Chef Stephanie's savory recipe is also a great introduction to making bread pudding, which can easily be adapted with her tips for inspiring home cooked meals during the summer:
If you're feeling like you're in a bit of a food rut, try going out and purchasing a new cookbook (or bookmarking online recipes) that inspire you. Read through them to find some dishes that you'd like to make and, depending on how adventurous you are in the kitchen, either copy down the recipes or simply draw inspiration from them. Then, hit the farmers' market where inspiration is always in abundance.
I love planning meals and menus based on what's in season. One of my favorite weekend rituals is walking up and down the aisles of the market, tasting everything, and imagining the beautiful meals I can create with the fresh produce. Once I'm back home, I unpack my market goods and get started. Making an amazing, fresh summer meal is so easy to do when you start with wholesome, organic ingredients.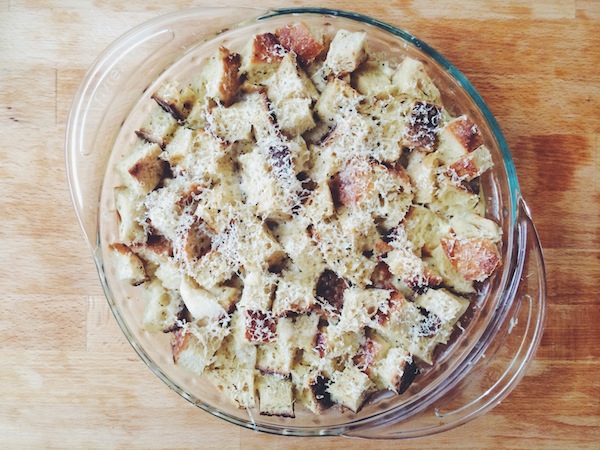 Savory Bread Pudding from Kitchensurfing Chef Stephanie Matthias
Ingredients
3/4 cup Baguette, roughly cubed (the little cubes of bread should fill a 2 cup glass measuring cup, twice) [Editor's Note: You can substitute with any bread of your choice, including gluten-free, sprouted, or what you have at home.]

3 organic eggs

1 cup organic whole milk [Editor's Note: You can substitute non-dairy milks and cheeses.]

3/4 cup organic heavy cream

1/2 tsp salt

1 tsp seasoning of your choice (I use a rub seasoning — it has garlic, salt, basil, paprika, oregano)

1/4 tsp pepper

2 tsp organic unsalted butter

1/4 cup organic shredded cheese
Directions
1. Preheat oven to 350 degrees.
2. Put the bread cubes into a 9" glass pie dish.
3. In a medium bowl, whisk the eggs, milk, cream, salt, seasoning and pepper. When the eggs are blended through, whisk about 30 more seconds. Pour mixture over the bread cubes, making sure to pour it evenly over the whole dish. The bread shouldn't be completely covered by the mixture, but each piece should soak up a little. If any of the pieces on top look dry, push them down a bit so they soak up some of the egg mixture.
4. Cut the butter into tiny cubes and scatter them on top of the bread. Sprinkle the top with the shredded cheese.
5. Bake for 25-30 minutes, until the filling doesn't wobble when you shake the dish. Allow to cool slightly before serving. It can be served warm or at room temperature.
6. Leftovers can be covered and refrigerated for about three days.
Our friends at Kitchensurfing make summer entertaining and living easy. Their private chef offerings are a surprisingly affordable and fun way to host a party of any size at your home — all which can be customized according to dietary needs, theme, and occasion. Kitchensurfing is thrilled to offer 10% off our blog community. Simply use the code kshonest for you first Kitchensurfing booking, available in New York, Boston, Los Angeles, Berlin, the Hamptons, and Chicago.
We aim to provide you with the most honest and credible information possible. This article was reviewed for accuracy by The Honest Team and was written based on trusted sources that are linked at the bottom of the article.
blog_review_statement