Looking for a healthy way to get in the spirit this St. Patrick's Day? These two-step spinach banana pancakes might just be the perfect way to play! Our friend Amy Palanjian is here to share her sweet and simple recipe.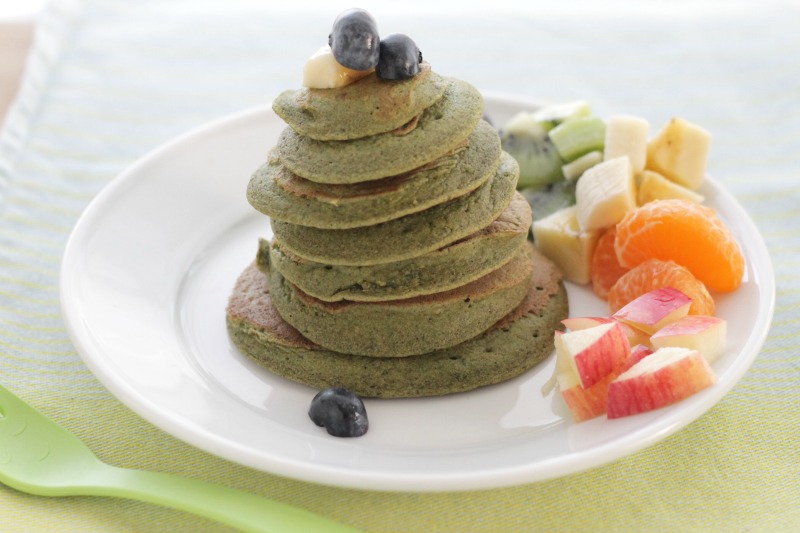 With St. Paddy's day approaching, I've been brainstorming ways to offer a colorful and fun breakfast to my girls. And since they both love pancakes, I thought that adding a dose of baby spinach to a classic banana pancake would work well — though in all honesty, I expected my 4 year old to balk at the color.
Turns out, no matter what color her pancakes, she'll happily dig in as long as they're topped with a drizzle of maple syrup! She helped me to blend up this simple batter and loved watching the bubbles form on the surface as they cooked. My 9 month old was similarly enamored with them and she and I enjoyed the leftovers as snacks throughout the week, sometimes topped with a thin smear of nut butter.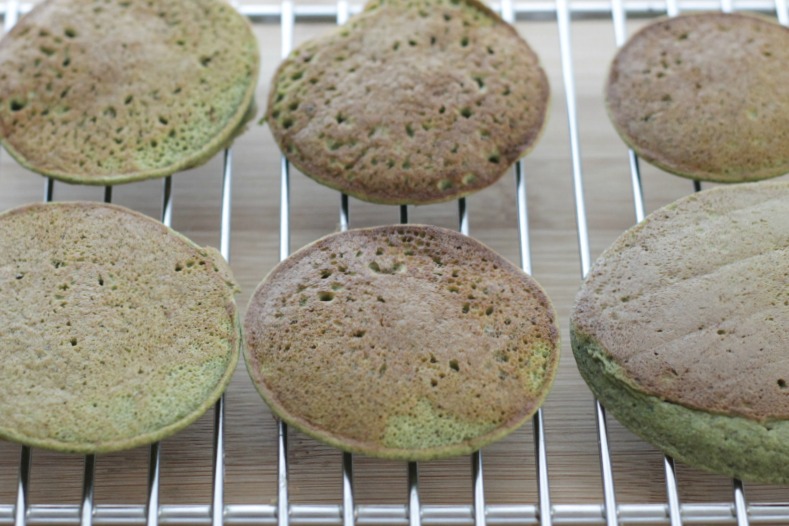 The best part of these pancakes, in addition to being both festive and packed with both a fruit and a veggie, is that they come together in a blender. This means less dirty dishes for you and a silky smooth batter that completely incorporates the spinach. And if you use very ripe bananas (with brown spots), these pancakes are naturally sweet enough on their own — though they are of course delicious topped with syrup.
I like to store a bag of baby spinach in the freezer to use in smoothies since I find that the "green" flavor is reduced this way. And the method works just as well for these pancakes. You can of course use fresh, though freezing the greens ensures that they won't go bad in the fridge and that you always have a nutritious veggie ready to enhance morning meals.
We added a rainbow of fruit to our plates to play up the spirit of the holiday, which was a fun way to incorporate a lengthy discussion about our favorite colors — and leprechauns.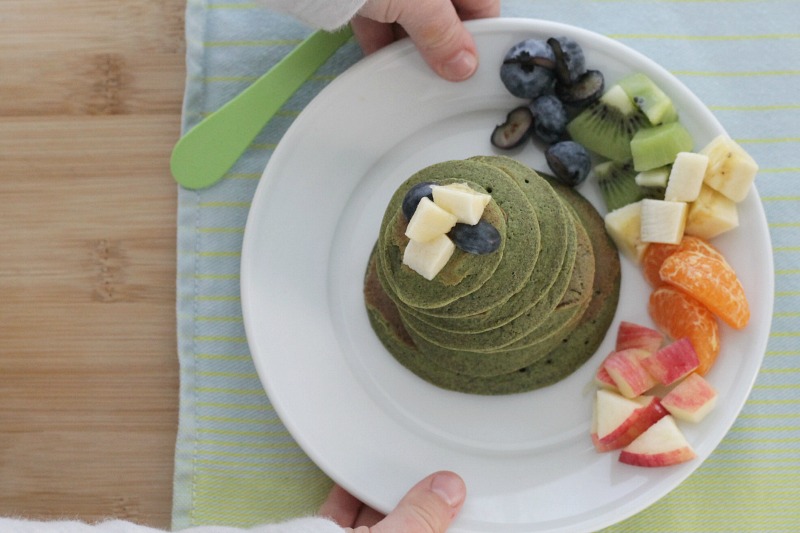 SWEET SPINACH BANANA PANCAKES
Serves 4-6
We like to use gluten-free buckwheat flour since it's high in fiber and protein, yet has a neutral and light flavor. It's available in most grocery stores. If you'd rather use whole-wheat, blend the rest of the ingredients well first, then pulse in the flour just until combined. This is a thin batter that makes tender pancakes.
Ingredients
2 small bananas (about 1 cup mashed)
2 large eggs
1 cup buckwheat flour
1 cup unsweetened almond milk (or other favorite milk)
3 cups lightly packed baby spinach
1 tablespoon ground flaxseed
1 1/2 teaspoons baking powder
1 teaspoon cinnamon
1 teaspoon vanilla extract
Coconut oil, canola oil or butter
Instructions
Add all ingredients to a blender. Blend on high until very well combined, about 20-30 seconds, or until you no longer see any noticeable flecks of spinach.

Warm a nonstick or cast iron skillet or griddle over medium heat and coat with oil or butter. Pour small rounds of batter onto the hot surface and let cook until bubbles form on the surface and the surface is mostly set, about 2-3 minutes. Flip and cook for an additional minute or two, or until fully cooked. Continue to prepare the rest of the batter, keeping the finished pancakes warm in a 275 degree oven if desired.
To store, let cool fully and keep in an airtight container in the fridge for up to 3 days. Warm slightly before serving. Or, store in a zip top freezer bag for up to 3 months and warm through to serve.
~ Amy Palanjian, Yummy Toddler Food
Amy Palanjian is a writer and recipe developer. Find more of her wholesome and happy recipes and feeding advice at Yummy Toddler Food.
What are you favorite ways to get festive for St. Patrick's Day? Share with us in the comments below!