The coziest season of the year is here. Along with the warm colors and crisp air come all of our most basic treat cravings — we're talking pumpkin-spice, apple-cider everything. While, we're fully ready to wrap up and indulge in all those fall flavors, we're not quite so ready to totally give up on our summertime nutrition goals, which is why we're obsessed with this smoothie recipe via The Blender Girl. It's the best of both worlds: the sweet and savory mix of pumpkin pie in a healthier alternative that you can even eat on the go. You're welcome: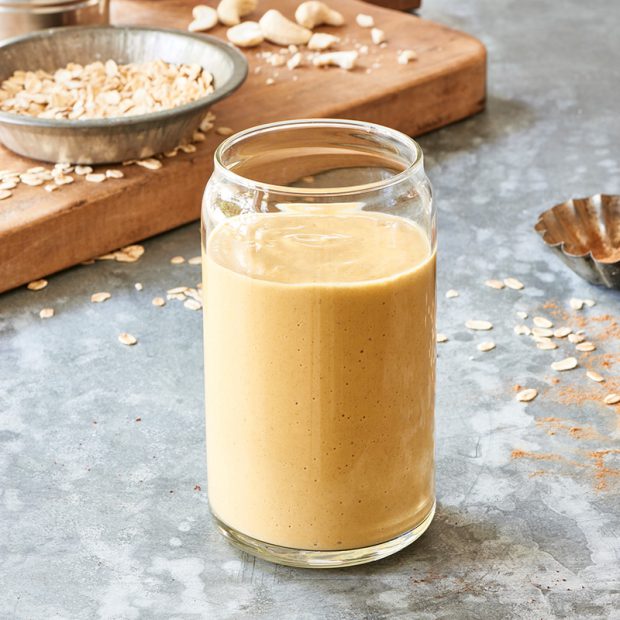 Image via Trent Lanz
Ingredients
1 1/2 cups (360ml) unsweetened almond milk (strained if homemade)
1/2 cup (70g) raw unsalted cashews, soaked
1/3 cup (30g) rolled oats, soaked
1 cup (255g) unsweetened canned pumpkin
2 tablespoons pure maple syrup
1 teaspoon natural vanilla extract
1 1/4 teaspoons ground cinnamon
1/2 teaspoon ground ginger
1/4 teaspoon ground nutmeg
Pinch of ground cloves
Pinch of Celtic sea salt
1 medium-sized frozen sliced banana
1 cup (125g) ice cubes, plus more to taste
Directions:
Throw all the ingredients (except the ice) into the blender and blast on high for 30 to 60 seconds until smooth and creamy.

Add the ice and blast again for about 10 seconds, until chilled.
Find more delicious and health-conscious smoothie recipes on The Blender Girl Smoothie App