This is a dessert to write home about — or serve at your next party! We had the pleasure of working with Kitchensurfing Chef Andrew DeRaspe to prepare a delicious farm-to-fork lunch for our Honest family and friends. When he originally suggested a beet cake, we immediately worried it would be too earthy. But, honestly, we were very wrong.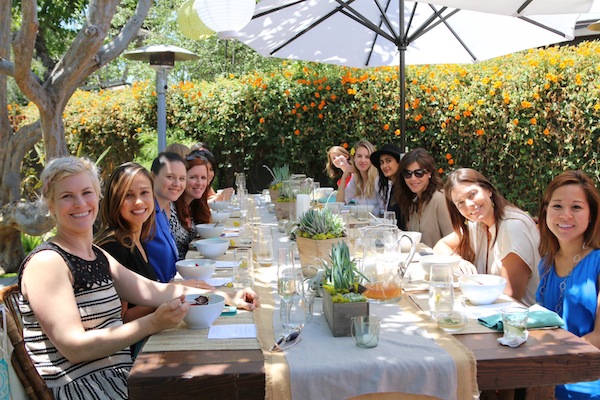 His healthier alternative wowed the crowd, even stealing the show from the poolside paradise where onefinestay invited us to dine (both were divine). Because everyone asked for seconds, we're excited to share Chef Andrew's recipe for this special occasion cake. As one guest said, "Let me tell you that this blew my mind — I was not expecting such a remarkable treat made from such healthy, mindful ingredients."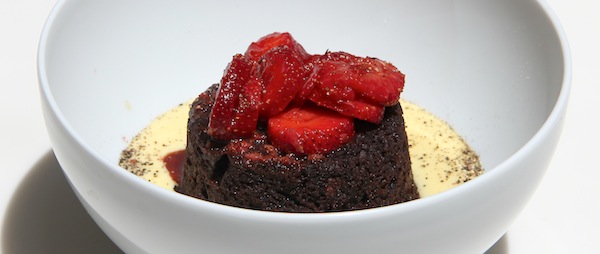 BEET GINGER CHOCOLATE CAKE
Items needed
2 large mixing bowls

Measuring cups

Measuring spoons

Microplane

Cheese grater

Peeler

Small knife

9" baking pan or 10 ramekins

Oven adjusted to 350°
Dry ingredients (use organic when possible)
1 cup gluten-free flour (brand Cup for Cup)

½ cup sprouted, ground almond

½ cup cocoa

½ cup sugar

1 teaspoon salt

2 teaspoon baking soda
Wet ingredients (use organic when possible)
5 Tablespoon coconut oil

1 Tablespoon apple cider vinegar

2 Tablespoons vanilla

1 vanilla bean, caviar (seeds) removed

2 large eggs

5 dates, pitted & minced

1 cup almond milk

1 large beet, peeled, grated

2 Tablespoons freshly grated/zested ginger

1 lemon, juiced & zested
1. Pre-heat oven with a pan of water on the bottom to create steam.
2. Measure out and mix all dry ingredients into a large bowl.
3. Whisk egg. Add coconut oil, almond milk, vanilla and vanilla caviar (seeds), lemon juice, vinegar, and whisk.
4. Mince dates, grate beets, zest lemon, zest (micro-plane) ginger, and add to the dry ingredients. Mix thoroughly and ensure all ingredients are coated with flour.
5. Add dry ingredients into wet in four stages. Stir and incorporate evenly at each stage. Consistency should resemble dough. Add more almond milk if needed, but only 1 tablespoon at a time.
6. Lightly coat the pan or ramekins with coconut oil, add the cake mixture and bake for 35 minutes or until a toothpick can be removed with little to no cake mixture.
CRÈME ANGLAISE
Items needed
Small saucepan

Whisk

Measuring cups

Metal bowl
Dry ingredients (use organic when possible)
½ cup organic, unbleached sugar

Scrapings of 1 vanilla bean

1 teaspoon fresh cracked white pepper
Wet ingredients (use organic when possible)
2 cups heavy cream

1 Tablespoon vanilla extract

8 egg yolks
Directions for Sauce
1. Measure out all ingredients — both wet and dry — but keep separated.
2. In metal bowl, whisk the egg yolks, sugar, vanilla bean caviar, and vanilla extract until it is creamy and evenly incorporated. Set aside.
3. Pour heavy cream into the small saucepan and turn heat to low. Stir mixture constantly until steam starts to rise and the sides are forming small bubbles.
4. Remove from heat and slowly pour hot heavy cream into egg yolk mixture. Wisk vigorously and watch mixture change to a custard-like consistency.
Tip: If the sauce is still runny, wash saucepan, add two inches of water, return to heat, and bring to a boil. Then, place the metal bowl with custard mixture atop the steam and whisk for a few moments until desired consistency is reached. Remove from heat and whisk quickly to keep custard from cooking too much.
5. Pour in a small bowl and nestle beet ginger chocolate cake in crème anglaise. Garnish with strawberries or berry of choice. And serve!