It couldn't be easier to share holiday cheer while making a positive difference with these gifts that give back. The presents we found support or fund various social and charitable efforts, so your gift recipient not only gets a cool new item, but you both can feel good knowing your purchase also helped a worthy cause.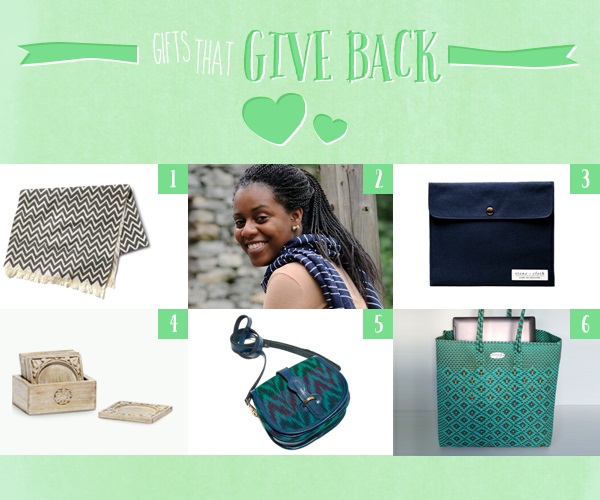 1. This gray chevron table runner from TOMS Marketplace benefits JOYN, an organization that provides medical care, employment, and educational opportunities to artisans in the Himalayas.
2. Beautiful and stylish, this Shiro Meda Collection Scarf is made by Connected in Hope, an organization that creates sustainable job opportunities, work-life balance, and support for female weavers and their families in Ethiopia.
3. This iPad protector and organizer from Stone+Cloth comes in a variety of colors; we're fond of the one shown here in "Pacific." The sale of this case will help fund scholarships for students in need.
4. This 6-coaster set made from sustainable mango wood features a flowering vine design. It's available on Mela Artisans, an online store that helps support small groups of artisans around the world.   
5. The purchase of this crossbody bag with ikat print and leather trim will help support women artisans in Guatemala.
6. Handcrafted by indigenous artisans in Oaxaca, Mexico, the Magnificent Mercado Bag is woven from 50% recycled plastic on a traditional wooden box frame. The sale of this waterproof bag, shown here in aqua and gold, benefits women artisans.
We know you care passionately about helping the community, so any purchases you also make through Honest this season helps us donate time, money, and product to charitable organizations that address critical health and social issues affecting children and families.
Tell us about a gift you've received in the past that benefits a charity.