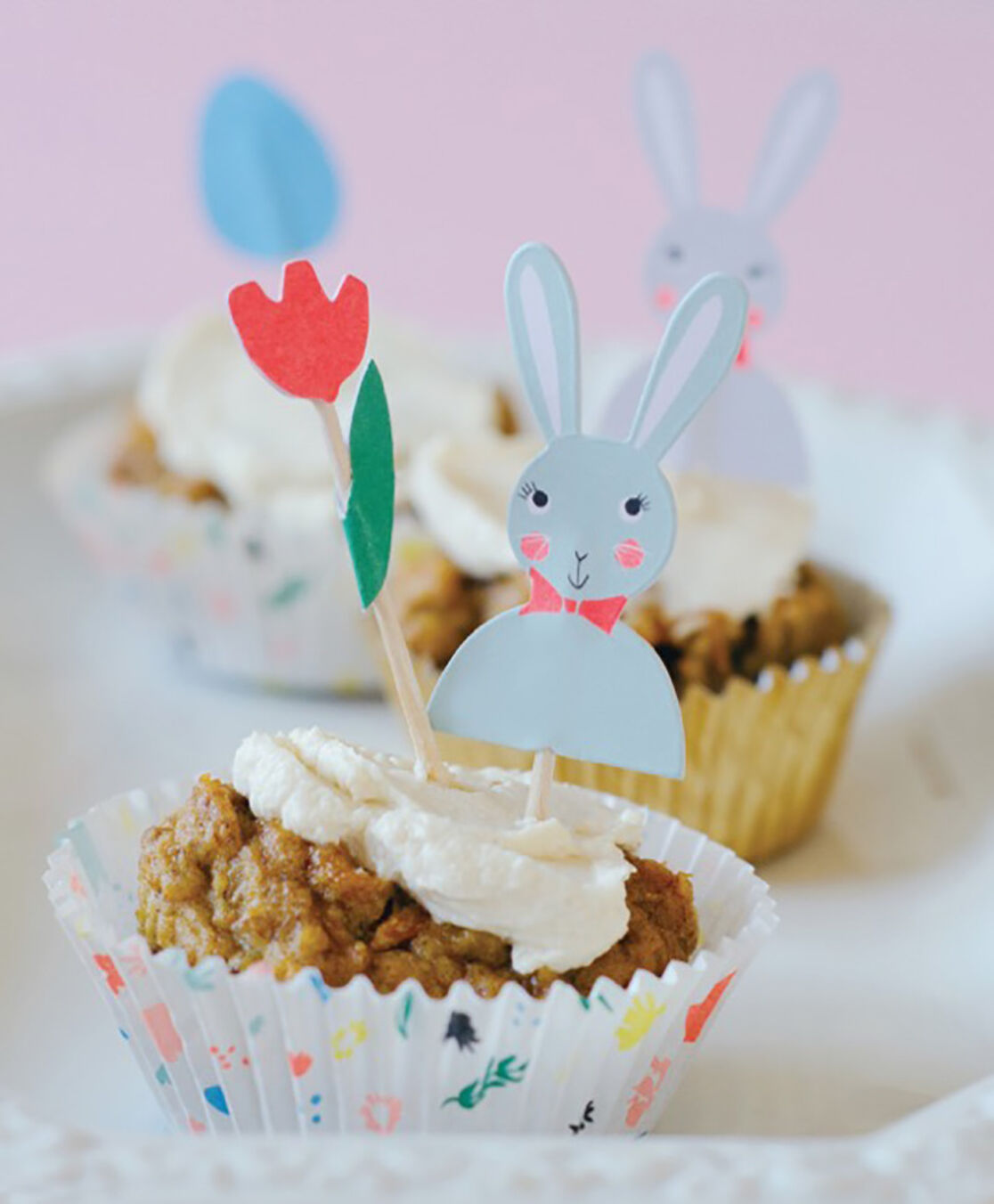 The moms behind There's a Beetroot in my Cake are back with a brand new cookbook — There's a Carrot in my Piñata — full of happy, sparkly and nourishing foods for little people's parties. Today's feature is a spin on a springtime favorite that little hands will love.
CARROT CAKE MUFFINS
Makes twenty muffins or one large round cake
Ingredients
4 egg whites
½ cup butter
¼ cup raw cane sugar or coconut sugar
4 egg yolks
½ + ⅛ cup light spelt flour
1 teaspoon baking powder
1 teaspoon cinnamon
⅛ teaspoon star anise
⅛ teaspoon cloves
⅛ teaspoon cardamom
⅛ teaspoon coriander
3⅛ cups almonds, finely ground
2 cups carrots, peeled and coarsely chopped (roughly 2 medium carrots)
Frosting
1 cup cream cheese
2 teaspoon honey
1 teaspoon cinnamon
1 tablespoon vanilla essence
Juice of a lemon
Instructions
Preheat oven to 350 F. Grease a cake tin or muffin forms.

Whisk the egg whites until stiff and set aside.

In a separate bowl, beat the butter and sugar together until fluffy and add egg yolks one by one. Then add spices. Sieve the flour, combine with baking powder and mix with egg dough. Fold in almonds, carrots, and egg whites by hand.

Spoon into muffin trays or cake tin.

Bake for 45 minutes until golden or a toothpick comes out clean. Allow to cool.

Mix all icing ingredients together and spread over top of cake or muffins.
Honest Tip: Make your own spice mix by adding all spices into a pestle and mortar and grinding them. You can also use a Chinese Five Spice mix.
~Judy Moosmueller & Jennifer Leckey, There's a Beetroot in my Cake
There's a Beetroot in my Cake presents everyday dishes that are stripped back, free from artificial ingredients, and turned into delicious healthy alternatives. Family favorites with a twist.
We aim to provide you with the most honest and credible information possible. This article was reviewed for accuracy by The Honest Team and was written based on trusted sources that are linked at the bottom of the article.
blog_review_statement