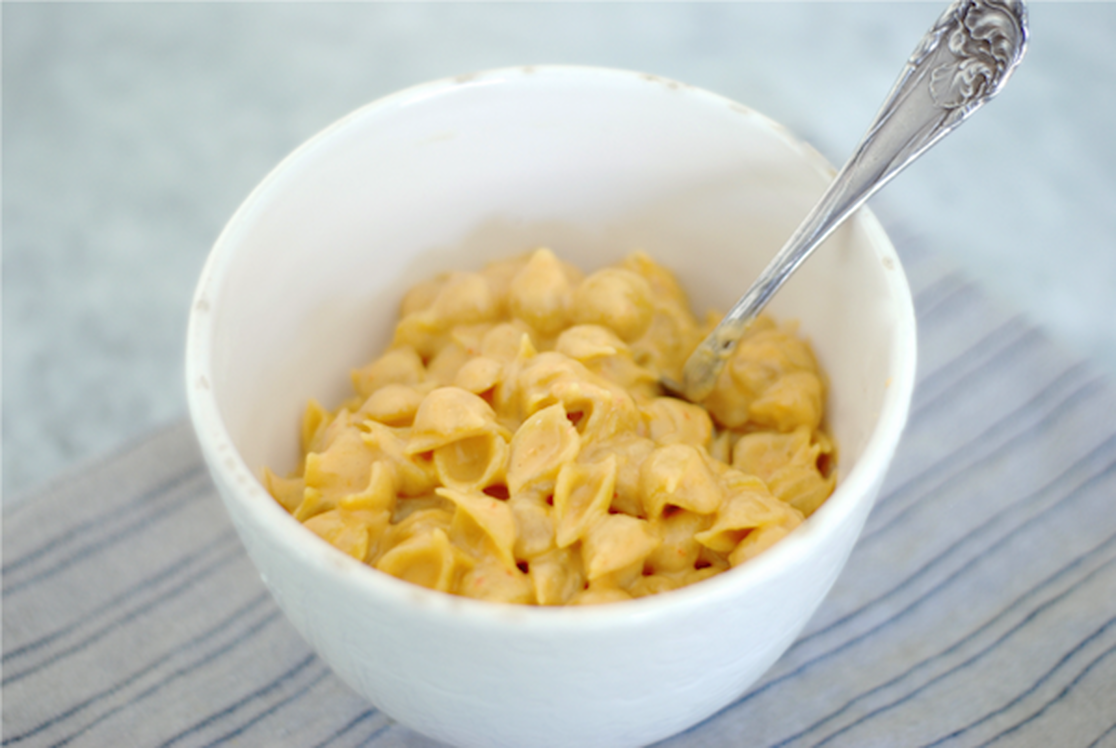 Did you know that eating less meat supports water conservation? A surprising, but true fact! So, we've got the perfect meatless meal for you — guaranteed to make people (and the planet) smile. Today, contributor Juli Novotny shares her secrets for making over the classic comfort food macaroni and cheese by giving it new life as a healthier vegan and gluten-free dish.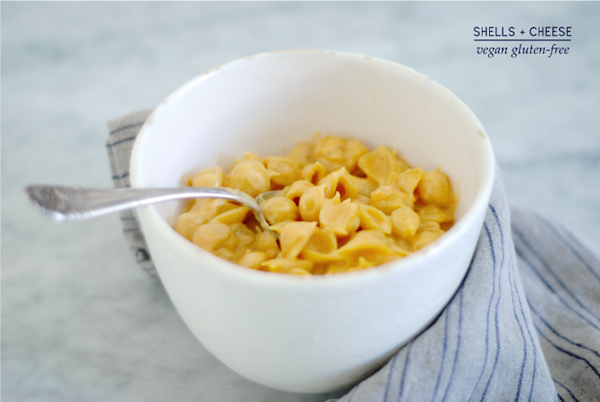 Mac and cheese is THE comfort food. And, for kids, it's often a dinnertime staple. However, I wouldn't call it a health food. There are often synthetic dyes, food colorings, or other unnatural additives in boxed versions. Plus, it's probably not organic.
But, let's face it, who wants to say goodbye to mac and cheese forever? So, I challenged myself to create a hearty, comfort food that mimics the texture and flavor of creamy mac and cheese.
If your child is one of those mac and cheese "experts," like I was as a kid, he or she might have a hard time adjusting to this dairy-free alternative. But it's worth trying the recipe a few times because saying goodbye to the questionable ingredients in the processed kind is a good thing. On the other hand, vegans or those who enjoy a clean, plant-based diet will probably think this rendition is a slice of Heaven. It really is comforting. I ate two bowls of it myself tonight! (No, I'm not joking.)
If you're not a fan of vegan cheese, you can make your own raw vegan sauce or substitute real dairy. I know there isn't much that can replicate the taste of creamy cheese, but this recipe is pretty darn close if you ask me.
Enjoy!
Vegan Shells + Cheese*
*makes 3-4 bowls; use organic ingredients when possible
Ingredients
1/2 cup soaked cashews  + 1 Tbsp. pine nuts (soaked for at least 2 hours)

2 Tbsp. fresh lemon juice

3 Tbsp. water

3 Tbsp. nutritional yeast

1 Tbsp. organic miso paste

2 Tbsp. chopped red bell pepper

1/2 tsp. sea salt

3/4 cup loosely packed daiya or other shredded vegan/vegetarian cheese

Gluten-free noodles of your choice (fresh or bagged)

2-3 Tbsp. almond milk
Directions
1. In a blender, combine the first 7 ingredients. Blend on high until super smooth and creamy (no chunks). Add the shredded cheese and blend again until smooth.
2. Cook the noodles in a large pot according to package. When ready, strain and bring back to the warm pot. Add a few tablespoons of almond milk or another vegan milk you drink. Then, add the sauce from the blender. Add sauce one spoonful at a time, until desired consistency is reached.
3. Serve warm.
~ Juli Novotny of Pure Mamas
We aim to provide you with the most honest and credible information possible. This article was reviewed for accuracy by The Honest Team and was written based on trusted sources that are linked at the bottom of the article.
blog_review_statement